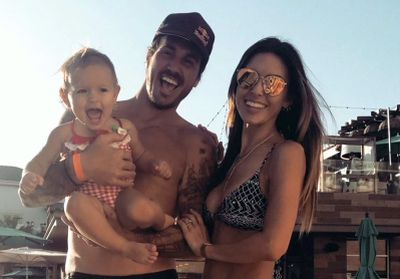 The hills are alive…with short-lived marriages! Audrina Patridge has filed for divorce from husband Corey Bohan after less than a year of marriage.  TMZ broke the news on Thursday, stating that the former star of The Hills is also seeking protection from Corey, the father of her one-year-old daughter Kirra.
According to the court documents obtained by TMZ, Audrina states that Corey has put her through a series of emotionally and physically abusive episodes, starting in mid-August. She claimed that Corey–a pro BMX rider– pushed her while she was holding Kirra in August after he accused her of cheating on him. According to Audrina, Corey then proceeded to empty out her backpack and purse, punch himself in the head and threaten to hit himself in the head with a metal canister if she left.
Audrina claims September brought more frightening behavior from Corey. After an alleged screaming episode, Audrina says she called the police, and Child Protective Services visited the house to talk to her.
The former MTV reality star claimed that Corey pulled another stunt this weekend. While Audrina was sitting on a panel at a beauty event, she claims that Corey showed up and followed her on stage, vowing to go get his daughter. (Audrina's Instagram account shows her at an industry event in Newport Beach, California, last weekend.)
On September 18, Audrina filed for and received a temporary restraining order against Corey.
Corey has not responded publicly to Audrina's filing. He has, however, since made his Instagram account private. In his Instagram bio he still describes himself as "husband."
Corey and Audrina got hitched in Hawaii in November 2016.
To find out what the other stars of 'The Hills' are up to these days, click here!
(Photo: Twitter)