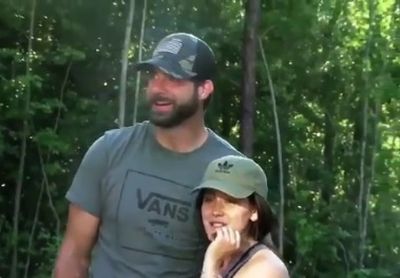 Teen Mom 2 star Jenelle Evans is planning to get hitched (again) on Saturday, and, unlike her first wedding which took place at a courthouse, tomorrow's wedding will be quite the celebration…and The Ashley has exclusive details!
As The Ashley previously reported, Jenelle will marry David Eason on "The Land" where she, David and their assorted children reside. The North Carolina affair is being filmed for 'Teen Mom 2,' and The Ashley's sources are on the ground giving her the 411 of "The Teen Mom Wedding of The Century!"
From what The Ashley hears (and remember, this can change at any time), Jenelle and David are planning to lay down hay for their wedding guests to walk on (and possibly on the aisle Jenelle will walk on). Jenelle will be "given away" by her oldest son, Jace.
Once Jenelle makes it down the aisle to her soulmate, it will be time for her and David to say their vows. On September 13, Jenelle tweeted that her choice of wedding officiant is going to be "epic," and now The Ashley can reveal who will be marrying these two lovebirds!
The officiant will be…Andre Sanders, Jenelle's 'Teen Mom 2' security guard!
"Andre was already ordained," The Ashley's source tells her. "He didn't get ordained specifically to marry Jenelle and David."
After Jenelle and David say "I do," guests will be treated to a meal. From what The Ashley has heard, Jenelle really wanted Olive Garden to cater the wedding.
"Jenelle definitely looked into it, but I'm not sure if she pulled the trigger on it," the source tells The Ashley.
Breadsticks for all…except Jenelle's mother, Barbara, who is still not invited!
She will have a full wait staff to man the buffet line and serve guests.
After the meal, Jenelle and David's guests will be allowed to dive into the new pool that was just put on "The Land."
The backyard will be decked out with a full bar, and a DJ will be spinning tunes.
The enchanting evening is scheduled to go from 4 p.m. until about 11 p.m.
A very large 'Teen Mom 2' film crew is in North Carolina to film the events. In addition, a media outlet is paying Jenelle and David a sizable amount to cover the wedding exclusively.
This will be the second wedding for both Jenelle and David. She was previously married to Courtland Rogers, while David was married to Whitney Johnson, who is the mother of his daughter Maryssa.
Stay tuned! The Ashley will have plenty more wedding details, coming soon!
(Photo: MTV)