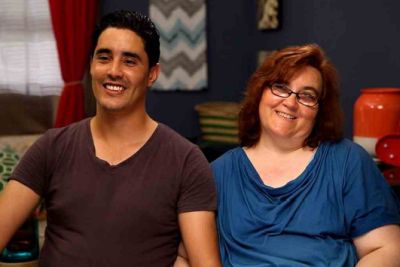 They say you can't put a price on love…but Danielle Mullins of 90 Day Fiance fame just did! According to the controversial reality star, the "love" she had with her ex-husband Mohamed Jbali was worth $12,500 to be exact.
Starcasm broke the news that Danielle is suing Mohamed for fraud, claiming that her ex lured her into a fraudulent relationship that cost her thousands of dollars in living and travel expenses.
"Defendant committed fraud against Plaintiff by luring Plaintiff into a romantic relationship to secure funds and immigration status," the court papers, obtained by Radar Online, read. "As a result of Defendant's fraudulent actions, Plaintiff has been economically harmed in the amount of approximately $10,000."
We first met Danielle and her ex Mohamed several years ago when they were long-distance loves. After Mohamed came to the United States to be with Danielle, things quickly turned sour…in more ways than one, apparently.
Mohamed left Danielle (and allegedly cheated on her) and she chased after him.
The pair are now starring on the spin-off 90 Day Fiancé: Happily Ever After? which is documenting their break-up and divorce proceedings. On September 8, Danielle filed the civil action lawsuit against her ex, suing him for $12,500.
Danielle stated in an episode of 'Happily Ever After?' that she wants to recoup some of the losses she incurred while bringing Mohamed to the United States from Tunisia. Sponsoring a visa and bringing someone to the United States is not cheap. (And, as the show's fans know, Mohamed was never one for holding down a job while he was here.)
The $12,500 sum given in the lawsuit also includes the amount of TLC money that Danielle claims Mohamed took from her. In the court documents, Danielle claims that she and Mohamed received a joint check for $5,000 for appearing on '90 Day Fiance,' and Mohamed kept the entire $5,000 payment for himself.
Neither Danielle nor Mohamed have mentioned the lawsuit on social media, but they have both apparently moved on in their love lives since they officially divorced in March. Danielle is dating someone new and attending college classes to become a nurse. Mohamed is posting on social media that "love is happening." (According to Starcasm, that "love" may be documented– on camera. Apparently Mohamed recently received a lucrative offer to star in a p0rn movie.)
While this is probably just a stunt to draw out their storyline on '90 Day Fiancé: Happily Ever After?', the court case is real. According to Starcasm, the case is waiting on a civil summons to be served to Mohamed in Florida.
(Photo: TLC)