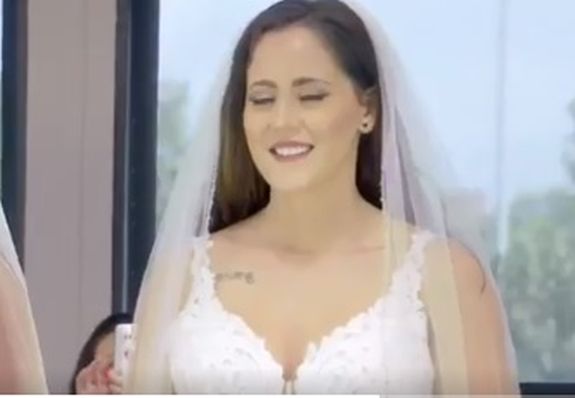 It's going to be hard to top the wonderfulness that was the previous episode of Teen Mom 2, what will all the lipstick motivations and baby birthin' and whatnot, but we'll give it a shot!
On this episode, Leah blesses us all with another "speaking", Chelsea gets her kid vaccinated, Kail finally graduates college, Briana deals with the repercussions of going soulmate searching in 'da club,'and Jenelle goes shopping for a wedding dress. (Apparently the ripped jeans and Victoria's Secret PINK sweatshirt she wore for her first wedding back in 2012 to Courtland, the Cold Sore King, won't suffice for her upcoming swamptastic nuptials to Lurch.)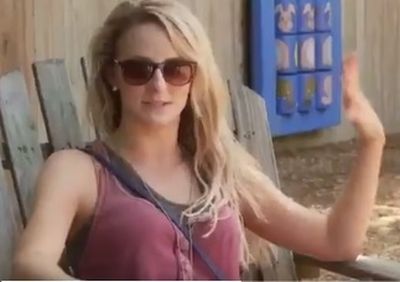 The episode starts off with Leah, who, fresh off her cringe-worthy "speaking" event in the creepy lipstick-loaded basement, has loaded up her crew and is heading to South Carolina to visit an old friend.
Unfortunately for us this "old friend" is not Robby, the dude Leah couldn't stop going to the boneyard with while she was married…both times. Put your deer cams away, kids, we sadly won't be needing them today.
Leah's pal is actually a chick named Ashton. Boo. They take the kids to the zoo and while the kids run wild, Leah and Ashton are enjoying some girl time, which largely consists of Ashton encouraging Leah to do another speaking event.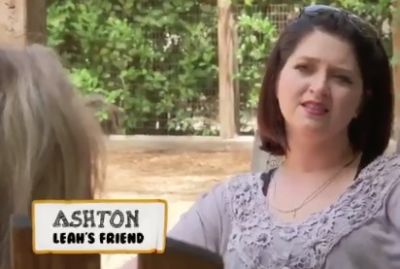 Is Ashton deaf? No, seriously, is she? Because if she didn't hear Leah's last "speaking" then it's understandable she doesn't know what a complete disaster it was. Seriously, #NeverAgain
Leah is still determined to be a life coach/motivational speaker/lipstick hawking extraordinaire. She tells Ashton that she wants to make a difference in peopleseses' lives. After all, she's been so many struggles. I mean, who can't relate to being married and divorced and the mom of three frosting-eatin' kids by the age of 25?
Leah then reveals the root of all of her problems—it's those ding-dang daddy issues she's been a-fightin' since she was a frosting-eatin' kid herself!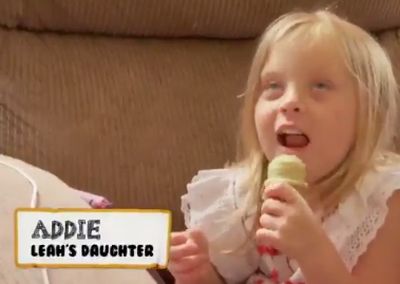 Leah thinks that, had her daddy not left her when she was knee high to a dern grasshopper, maybe she would have made some better choices. But…then you wouldn't be on 'Teen Mom 2' and have the money for hair extensions and an endless supply of cars and Sour Patch Kids, so it's kind of give and take.
MTV should really send a thank you card to all of these girls' dads once a year for being such trashbags because, if they hadn't been, these girls may have turned out normal and we wouldn't have a show to gawk at.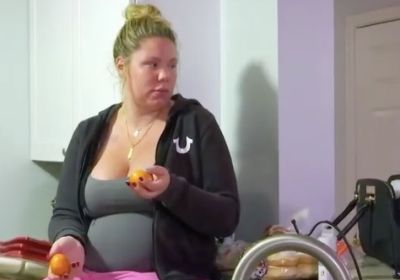 Over in Delaware, Kail is getting ready to graduate from college. Sadly, though, there will be no Smirnoff Suzi appearance at the graduation. (Raise your hand if you, too, were hoping—just a little—that ol' Suz would get all sauced up on CVS-brand vodka and buy herself a bullhorn to scream obscenities during during the graduation ceremony.)
Kail says that her family isn't coming to the ceremony, and neither are her baby daddies Jo and Javi. Kail tells her friends she doesn't want any of her baby daddies at her graduation, but then corrects herself and tells them she wants Chris, aka Baby Daddy #3, to come. She tells her friends she doesn't have any feelings, but we all know it bothers her to not have her family and breeding partners there to support her on one of the biggest days of her life.
Luckily, Kail will have plenty of pals attending the ceremony. (Has anyone ever noticed that the names of Kail's friends all sound like colors in one of those Kardashian eyeshadow palette? There's Bone and Sterling and Quay and…some other ones.)
Meanwhile, down in Florida, Briana's newest addition, Stella Star, is making her way home from the hospital and big sis Nova is less-than-thrilled about having another person sucking up oxygen in the DeJesus apartment (aka Man-Hating Manor).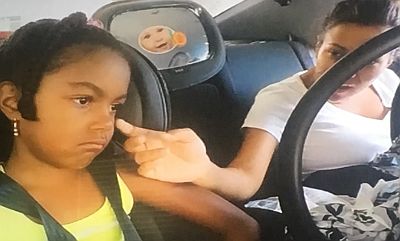 Stella doesn't seem too psyched about the situation herself, and is screaming in the car the whole way home. (Hey, kid, it could be worse. You could be like Jenelle's daughter, who got a one-way ticket to "The Land!" Quit your belly-aching!)
Roxanne tells Briana that Stella is hungry and needs to eat. But, of course, she can't say it like that. Instead, she tells her daughter, "Just take out ya tit and put it there" — a phrase Briana has surely heard a time or two in "da club." Briana whips out her Dr. Miami-enhanced boob and little Stella simmers.
Once they arrive at the apartment, they see that Luis has made himself at home on the couch. As per usual, he's just sitting there slack-jawed, doing nothing, so Roxanne takes the opportunity to grill him on how long he plans to freeload off of her.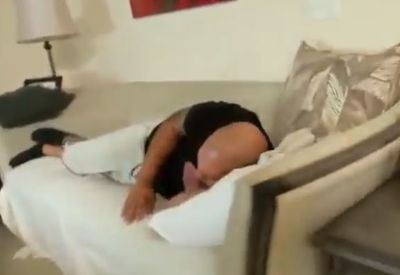 Luis tells her he plans to stay as many nights as he needs to… when he's not DJing on the weekends, of course.
I mean, there's no way Luis can take time off to get to know his newborn daughter. Without Big Lu spinning the greatest hits of the '90s and today in the TGI Friday's across Orlando, the club scene will basically die out before Briana can shuck off her breastfeeding bra and stuff her post-partum body into a Spandex dress and get back out 'dere!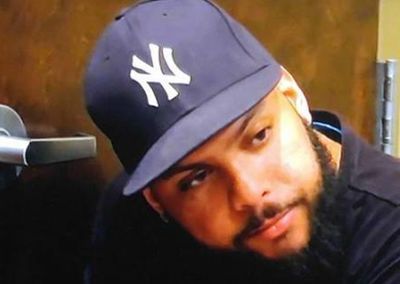 Roxanne asks Luis about "the trucking" and he continues to sit there quietly. She tells him he needs to have a plan for paying for diapers, wipes, formula and other items that don't offer Instagram sponsorships. (However, for the record, I would very much enjoy seeing Luis hawking "Fit Tummy Tea" and the like. Just sayin'…)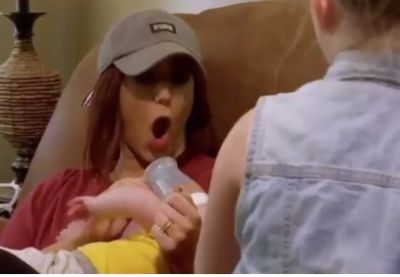 Up in South Dakota, Watson is feeling gassy and Aubree is being sassy, calling out her mom for her impressive flatulence. Chelsea and Cole are discussing Watson's upcoming shots. Cole tells Chelsea he'll try to make it to the appointment but isn't sure because he has a lot of stuff to do at work. (That's a four-letter word on 'Teen Mom,' Cole! I'm surprised MTV to didn't bleep it out when he said!)
It's also worth noting that Chelsea and Cole are wearing 'mom' and 'dad' shirts in this scene. That is all.
Over in the cesspool of class that is "The Land," Jenelle is watching Lurch as he rakes debris around and pretends to be useful, while Kaiser plays with a dog nearby.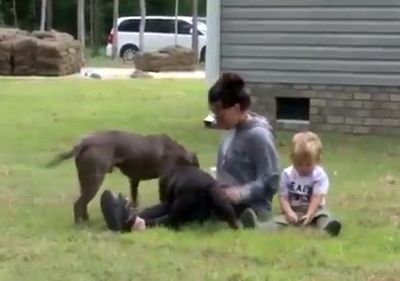 We then see what is quite possibly the saddest yet most accurate depiction of who Jenelle is as a mother. While sitting on the ground, she yells, "Come here pumpkin wumpkin" and both Kaiser and the dog come running toward her. To the surprise of no one (except poor Kaiser Roll) Jenelle was talking to the dog and greets him with a giant hug while Kaiser half-hugs her shoulder and flops to the ground.
After successfully inflicting (more) emotional damage upon her child, Jenelle is off to complete her next task of the day: talking to Lurch about their upcoming wedding. Jenelle (aka "Babe") and Lurch (aka "Babe") also talk about their upcoming trip to New York. They are going there so Jenelle can get her wedding dress.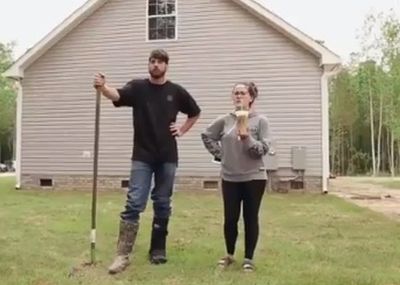 She can't be caught dead in a dress from North Carolina, guys! This is a "more classier" wedding, after all! Plus, Jenelle figures if she can get MTV to pay for her and her straight-from-the-HeeHaw-cornfield soulmate to go on yet another vacation, why the hell not?
The couple then discusses where on "The Land" they should hold their swamptastic shindig. (There will have to be ample space for the police cars to park, after all.)
Jenelle then talks about bringing in her favorite restaurant, Olive Garden, to cater the event. (The Ashley told you about this weeks ago!) She hopes that she and Lurch can exchange "I do's" with bellies full of buttery breadsticks.
Over at Barb's house, Jace is flipping on furniture and Barb is venting about Jenelle to Producer Kristen, who is looking more and more beat down by this "bitch of a job" by the day. Barb says Jenelle is still heated about how things went down in the "cahhhtroom" but she insists that keeping Jace off "The Land" is for his own good.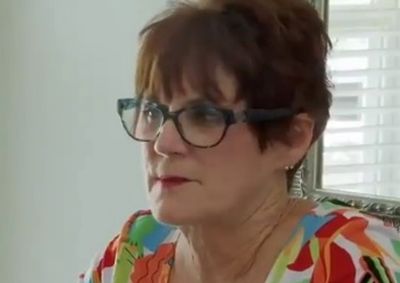 Back in Florida, Luis has left the (apartment) building to go home and grab some more T-shirts and baseball hats to wear while he loafs around Briana's apartment. Briana tells Roxanne that Luis isn't contributing to Stella (or society for that matter). They talk about him always falling asleep while "helping" with the baby,  and Briana says his presence makes her uncomfortable. Maybe he can make her a mix tape to ease the tension?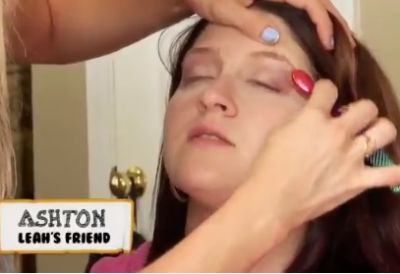 Speaking of tension, Leah is uncomfortable because it's almost time for her to do her next "public talking." Her friend Ashton is still around, so Leah is getting her pal "prettied" while explaining that, this time around, her speaking is going to be so much better. She's actually thought out what she's planning to tell these people, and Ashton has even "helped her print it out." (Um…?)
Leah explains to her friend (who is looking more and more like the Crypt Keeper by the second, thanks to Leah's "contourin'" skills) that she wants people to feel stronger and more worthy after listening to her talk about her own struggles.
They then head out to the restaurant (which is, appropriately enough, called "Rail House").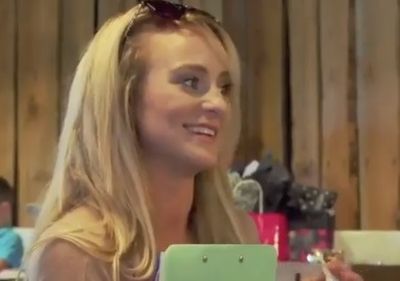 She's done "brung" everything she needs to deliver one hell of a speaking. She's got the youngins all gussied up and she has about 537 bags (which probably contain a bunch of  lipstick shades, and possibly some of that old Mary Kay makeup Jeremy bought her that she's still trying to hawk), and her trusty green clipboard that contains her "notings" for the speech.
Leah walks in, and most of the randoms in the crowd give her that goofy look that people give "celebrities" when they see them in real life and don't know what to say.
Five seconds into the speech, Leah has already introduced herself to the crowd twice and admitted (AA-style) that she's terrified.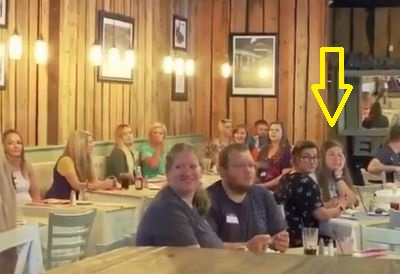 "I'm gonna talk a little bit about my story—but not my story a little bit…I just…um," Leah begins as a few ladies in the crowd begin to shift uncomfortably in their seats as they instantly regret coming to this s**tshow.
Leah is moving through her life story faster than Addie plows through a container of Duncan Hines frosting. She says her childhood wasn't the best, and then she had her own kids. She says she had the world judging her, and that she had no idea what she was doing…you guys.
Leah talks about hitting rock bottom and standing in her power, while encouraging others to do the same. She then makes everyone write down their biggest fear on a card and announces that they're gonna go outside and burn those cards, y'all!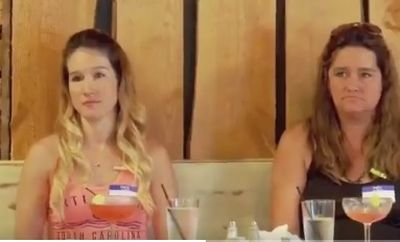 Leah and the audience members stand (in their power) and head outside, fixin' to make the biggest bonfire the state of West Virginia has ever seen! Ashton collects everyone's cards (in the cookin' pot Addie used to sit on in lieu of a highchair, from the looks of it). Leah then lights her fears on fire.
Leah tells the group that, because they all burned a 3M note card, they're no longer going to be failures or fear rejection.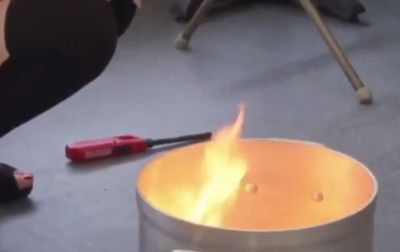 "Stand in your power, you guys! Every single day!" Leah tells the crowd again.
Leah's speaking has come to an end and for a grand finale, she brings out her kids to share their "I ams" and make them super uncomfortable as 30 strangers take photos of them to post on Instagram. After the group heads out to go stand in their own power, Leah tells Ashton how pumped she is about the event went down.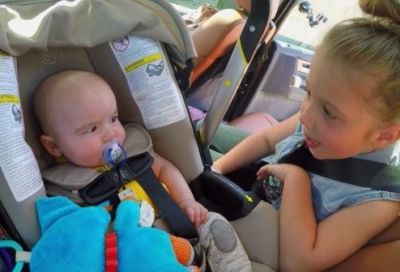 Meanwhile, Chelsea is getting the kids ready for Watson's appointment. She tells Aubree she has to behave while they're there (and not tell anymore embarrassing fart stories about her). While driving, Chelsea points out her old workplace to Aubree, who then asks where she works now. Chelsea tells her she's what is called a stay-at-home mom — I mean, obviously, that's what her shirt even says.
They all head into the office, and can assume that Watson got his shots. In the backseat of Chelsea's car, Aubree comforts her little bro and calls him a tough man. She has him giggling almost instantly, because it's a lot easier to be a happy child when your parents aren't psychos.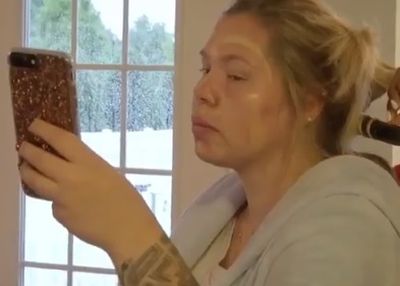 In Delaware, graduation day has finally arrived for Kail. Her friends are serving as her personal assistants, shellacking her face and curling her hair. Kail tells them how rough it's going to be to start at "the bottom of the totem pole" in the workforce after doing 'Teen Mom' for eight years. Kail's friends pretend to be sympathetic to her situation, despite the fact that Kail can make more money doing one post on Instagram than they make in a whole year working at the Applebee's.
It's almost time for Kail to get her diploma and she's cap and gown (and scowl) ready. During the commencement speech, the speaker (who is not Leah, unfortunately) asks the graduates to stand up and applaud those who helped them get to where they are today. Unfortunately for Javi, he missed his chance to get an obligatory thank you from Kail. (We all know that, even if Javi had come, Kail probably would have stayed seated just to spite him.)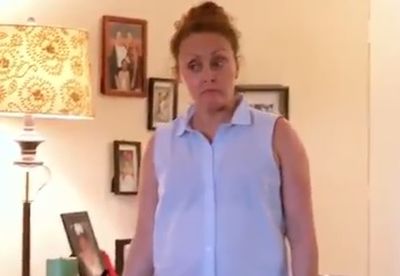 Back at Briana's, Luis comes in just as Roxanne finds out about a job opening through Briana's friend. Roxanne suggests Luis look into the job…or, hell, any job. Once again, the subject of "the trucking" comes up and Luis reveals he's looking to get into it in a few months, which sets Roxanne off.
"When I decide to go to the trucking, I'll go," he tells her, adding that he doesn't need to explain to her what's going on. Roxanne then tells him he's a "loser, bro" and Briana agrees, telling him he "would've been made moves" if he were a real man.
Um…obviously Briana won't be challenging Kail any time soon to become the reigning 'Teen Mom 2' scholar.
Briana also calls  Luis out for being a 31-year-old with two kids and nothing to show for himself. Well, Bri, that's great and all but…other than the age, you just described yourself so…
Meanwhile in New York, Jenelle is getting ready to go wedding dress shopping and has found willing participants Katrina and Krista to join her for the day and pretend to be her friends. (Where the hell is Trashbag Tori in all of this?! Who better to help Jenelle choose a dress that makes her look "more classy" while still allowing her ample room to twerk in, than Tori?!)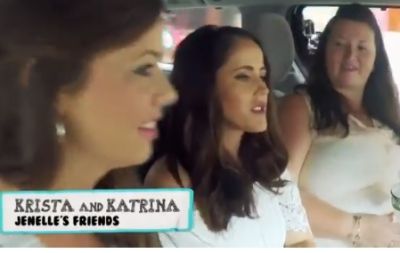 Once again, Jenelle reminds anyone who's still listening that Barb will not be receiving an invitation to the wedding. She takes it a step further by adding that Lurch corrects her when she slips and calls Barb "mom." Just when you think this guy can't get any creepier…he always does.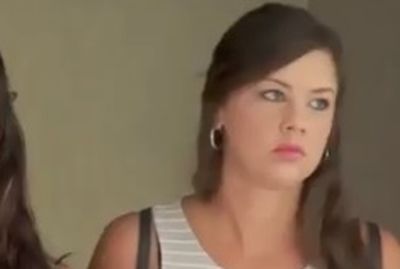 Naturally, Jenelle is having her makeup done in the hotel before going shopping to "get the full look." Jenelle tells her "friends" that she has more time than most people because she works at home… obviously she's using the term "work" very, very loosely. Screaming at Lurch and then selling a story or two to Radar Online doesn't really classify as 'work' but, hey, whatever pays for "The Land"…
Soon Jenelle and her rented pals are off to terrorize the bridal shops of New York. She goes into the first one and announces that she's looking for a dress with a slimmer style. She doesn't just want any dress, though, because she insists that she is someone who likes to "to think outside the box."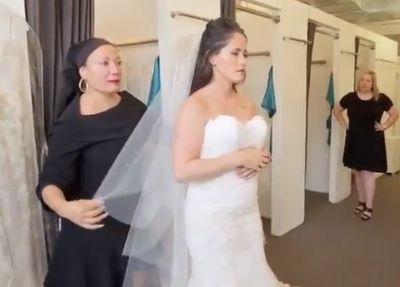 Wearing a white wedding dresses when you have three illegitimate kids by three different dads, five failed engagements and a divorce under your belt is already going "out of the box."
At the next shop, Jenelle continues trying on dresses and finally makes her selection. She can't wait for Lurch to feast his bugged-out eyes on her in this!
Finally, we check in with Kail one last time. She's in the midst of the graduation excitement, but she still finds the time to ask a random classmate if they think Baby Daddy #3 Chris showed up for the ceremony. (The classmate just blurts out, "NOPE!") In a sea of blurred out faces, Kail finally makes her way to the stage and receives her diploma.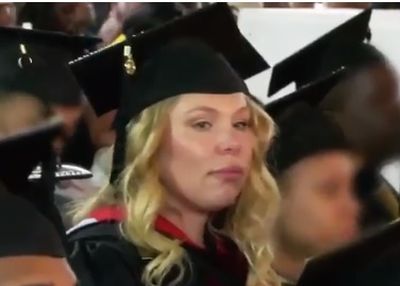 Once she double checks to make sure it's not another court-related document, she is greeted by a very excited Lincoln and Isaac. The boys are clearly happy for their mom and it's a sweet moment. It's nice seeing one of these girls "made moves" for their future!
To read our previous 'Teen Mom 2' recaps, click here!
(Photos: MTV)