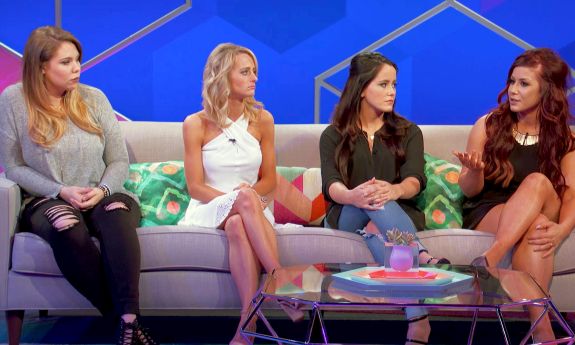 The girls of Teen Mom 2 are rumored to be itching to leave the show that made them famous, but The Ashley can exclusively report that the show's stars– Jenelle Evans, Kail Lowry, Chelsea Houska, Briana DeJesus and Leah Messer— aren't going anywhere for a long time!
The Ashley can reveal that MTV has exercised its option to extend the girls' Season 8 contracts to include a "B" season! This means that there will be plenty more episodes of 'Teen Mom 2' in the future. From what The Ashley's sources are telling her, some of the members of the show's cast have not even been informed of this fact yet!
"The girls signed on to Season 8 knowing that the network has the opportunity to extend the season and basically do a whole other season of episodes under the Season 8 contract," one source tells The Ashley. "MTV has done this for several of the previous seasons."
While the current season of 'Teen Mom 2' is causing a lot of controversy (more on that later), that controversy is certainly not slowing production down. While The Ashley's sources tell her that Season 8B does not yet have an episode count, Season 8A will be the longest in the show's history at a whopping 18 episodes, not counting the Reunion and "Unseen Moments" episodes!
"Some of the cast members are already filming for Season 8B, even if they don't know it yet," one crew member tells The Ashley.
What does that mean for the cast? From what The Ashley has been told (and she can not 100 percent verify this), the girls will get additional income for the season, but not a full salary amount. The contract terms are re-negotiated (as are salaries) before each new season.
Last night, Jenelle declared in an Instagram rant that she was "probably done" with the show after this season of 'Teen Mom 2'; however, the season has a long way to go now before it is completed.
One source tells The Ashley that Jenelle is aware that Season 8 has been extended but, "she doesn't care. She's refusing to film."
(The Ashley's production sources tell her that Jenelle legally can't do that, as it's a breach of contract.)
Anyway, The Ashley does not have an air date for Season 8B yet, as MTV has not even come up with that yet. From what The Ashley hears, though, there will be a season of Teen Mom OG in between 'Teen Mom 2' Season 8 and Season 8B.
Stay tuned, The Ashley will have more details soon!
(Photo: MTV)