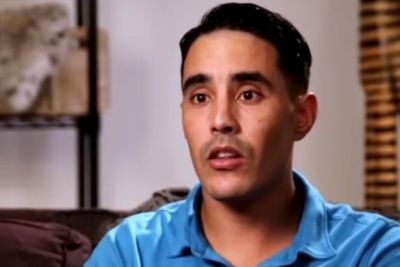 Mohamed Jbali's stay in the United States might be up!
Starcasm broke the story that the 90 Day Fiancé star may soon be on a plane back to Tunisia…all because of the United States Postal Service. Mohamed recently posted an Instagram video to explain what happened.
"Since I came to the States three years ago — over three years ago, I used the Post Office services for, like, maybe over 50 times. Over, even, a lot — so many times," he told his followers. "I never, ever used the insurance when I'm sending something. This time, I was trying to send an application to the Immigration so I can get the condition removed from my green card and get the 10-year green card. Guess what happened? They lost the file!
"I never sent anything with the Post Office and got lost. This time, when I used the insurance — and this was an overnight mail — they lost my application. Now they've started an investigation," Mohamed added.
Fans asked Mohamed what he was going to do next and he replied, "All I can do now is wait until they finish investigating."
Some fans wondered if Mohamed's role on TLC's '90 Day Fiancé' could be to blame for the "lost" documents.
"Wtf!! Someone must have seen the name Mohamed and knew who you were," one fan posted. "This was done on purpose!! I hope they find it if not get a layer!!"
Another fan asked Mohamed if he thought someone at the Post Office (perhaps an angry '90 Day Fiance' fan?) was purposely holding his documents back.
"Maybe because this is not the first time it's happened to me," Mohamed replied. "Before when they sent me the first green card and they said it was lost in the mail."
This statement, of course, contradicted the statement he made just minutes before in which he said that nothing like this had ever happened to him before.
Mohamed is applying to have the conditional status removed from his green card. As the show's fans know, he received the K-1 Visa when he came to the United States to marry Danielle Mullins. (The pair has been documented their divorce on 90 Day Fiance: Happily Ever After?)
 Starcasm explained the conditional status a bit more in its post.
"Your permanent residence status is conditional if it is based on a marriage that was less than 2 years old on the day you were given permanent residence," the site reports. "You are given conditional resident status on the day you are lawfully admitted to the United States on an immigrant visa or adjustment of your status to permanent residence. Your status is conditional, because you must prove that you did not get married to evade the immigration laws of the United States. To remove these conditions, you must file Form I-751, Petition to Remove Conditions on Residence."
Many people think that if you get divorced within five years that you must return to your home country, but that is not true. According to the immigration laws, "if you…Entered a marriage in good faith, but the marriage ended through divorce or annulment" you may be able to stay.
However, according to Starcasm, Mohamed only has—you guessed it! — 90 days to get this all done or it's back to Tunisia for him!
This is not the only legal situation Mohamed is involved in. As The Ashley previously reported, he is being sued by Danielle for $12,500 in civil court.
Somewhere in Ohio, Danielle is probably getting quite the chuckle over Mo's unfortunate post office problem!
(Photo: TLC)