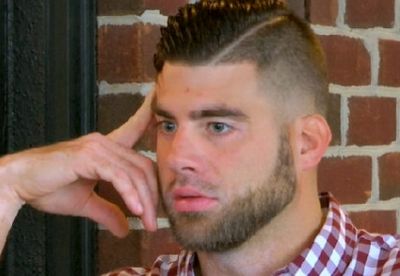 Things got a little, um, stabby last night during a filmed party for the Teen Mom casts, thanks to the husband of Teen Mom 2 star Jenelle Evans!
The Ashley can exclusively confirm that David Eason had a meltdown while filming an end-of-the-year party segment on Friday night– and he ended up busting out his trusty pocket knife in the process!
"All of the cast was drinking and having a good time while filming this party, which will be used during an end-of-the-year clips show featuring both casts. The producers thought David was drunk," The Ashley's source tells her. "They cut him off at the bar. When David found out they wouldn't serve him more alcohol he got super mad."
The source says that David stormed off the staged area and ran into a big bunch of balloons.
"He took out his pocketknife and started slashing the balloons with it!" the source says. "This took place a few feet away from where the cameras were filming, so there's a slight chance it may be captured on film."
The Ashley, at first, found this hard to believe, even for David, but a second on-set source confirms it did, indeed, happen.
"It freaked everyone out," the second source said. "Everyone just kind of froze in disbelief. Jenelle realized everyone was creeped out by what had just happened and she said he was 'just having trouble getting through' or something."
The first source tells The Ashley that the production team was very concerned that David came to set with a knife.
"Before filming started today everyone– cast, crew, audience– had to go through a security checkpoint, get patted down and wanded and have their bags checked," the source said. "The cast and crew have never had to do this before really. The production staff doesn't want to take any chances now. Things get really intense on these sets and they can't have someone possessing a weapon of any kind.
"No one ever thought the day would come where they would have to check their own cast for weapons," the source added. "It's gotten to the point where it's not even funny anymore. People are legit feeling unsafe."
The Ashley wants to make it clear, though, that no one was hurt (other than the festive decorations, of course).
The second source confirms to The Ashley that this is just the tip of the iceberg in 'Teen Mom' Reunion gossip, so stay tuned!
(Photo: MTV)