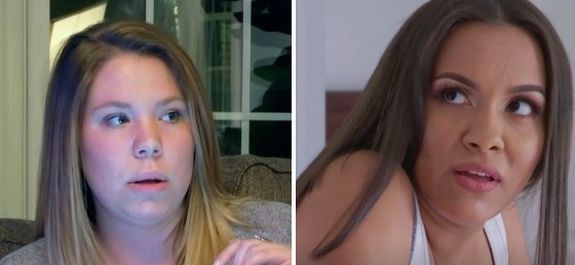 The recent Teen Mom 2 Season 8A Reunion taping was full of drama, with cast members at each others' throats all weekend!
The Ashley broke the news that Jenelle Evans, David Eason, Nathan Griffith and a few others were involved in a major altercation on Saturday afternoon during the Reunion taping, but she can exclusively reveal that is not the only screaming match that went down behind-the-scenes of the filming! Cast members Briana DeJesus and Kail Lowry reportedly got into it as well on Saturday!
While on-set sources tell The Ashley that their fight was nowhere near as crazy as the Jenelle/Nathan/David fight, it was heard all the way down the hall.
Things have been tense between Kail and Briana ever since Briana and Kail's ex-husband Javi Marroquin have been hinting that they are dating, and apparently things came to a head when both girls found themselves side-by-side in the makeup room.
"Kail was talking to someone about how the cast doesn't really get along anymore, and Briana must have assumed Kail was making a dig at her," one on-set source says. "From there things got ugly."
It's not known what was said during the fight, but the source says it had to do, at least in part, with Javi.
"Briana's mom was in the room with her and she jumped into the argument," the source said. "Then Brittany [Briana's sister] heard what was going on and came into the room and jumped in too."
"Leah was kind of caught in the middle," the source added. "She ended up leaving the set in tears one day because of what Briana said to her earlier that day over a conversation they had about Kail."
The source says that producers and crew were present during the incident but didn't try to stop it. In fact, the entire thing was filmed, so it may be shown when the Reunion airs!
(The Ashley wants to make it very clear that this was not a physical fight in any way. It was strictly a verbal argument.)
"It was incredibly tense and uncomfortable for pretty much all of the cast members on Saturday because most of the cast does not get along," the source added.
At one point, Kail got along great with Briana and her sister, Brittany. As you may remember, the trio even got plastic surgery (via Dr. Miami) together back in January 2016.
To read all of The Ashley's exclusive stories about what went down at the 'Teen Mom 2' Reunion taping this past week, click here, here and here!
(Photos: MTV)