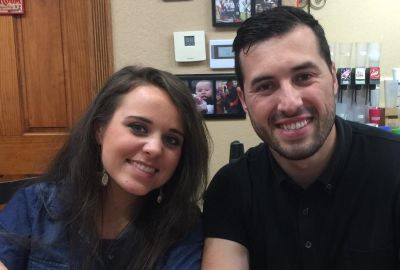 Jinger (Duggar) Vuolo celebrated her first wedding anniversary with husband Jeremy Vuolo on Monday and, while that is a big milestone, the Counting On stars have also accomplished what some Duggar family fans thought was impossible: they have made it a year into their marriage without announcing a pregnancy!
Jinger is the first married Duggar offspring to go a whole year without announcing that she had a blessing on the way.
Her older sister Jill barely made it to her two-month anniversary with husband Derick Dillard before she was with child, and her younger sister Joy-Anna announced that she was expecting only three months into her marriage to Austin Forsyth.
Fans have been wondering for months when a pregnancy announcement would come from Jing and Jer, since the Duggar parents encourage their kids to "be fruitful and multiply" (a lot) after marriage. Even Jinger's siblings have said they are shocked that she has yet to announce a pregnancy.
So far, though, Jinger has been sporting a flat tummy, spending the year enjoying being married to Jeremy, and attending a bunch of weddings for siblings and friends. They also bought their first house, learned Spanish, and bought Jinge some jeans. (Yes, we've seen those Instagram pics of you rocking the skinny jean, Jinger, and we like it!)
Jeremy took to Instagram to praise his bride.
"To say she is the woman of my dreams would not quite capture it seeing as, even in my dreams, I never could have imagined a woman so staggeringly beautiful, genuinely lovable, and sincerely Christ-like as my dear Jinger," Jeremy gushed in the caption of a photo of him and Jinger holding hands. "This year has been the best of my life. I love you and always will."
Jinger also gushed about her man on Instagram.
"It's been one year since the day we said, 'I do…' it's been the best year of my life!" Jinger wrote in the caption of a wedding photo she posted. "Jeremy you have shown me such love that is too amazing for words. Whether we are talking, going on an adventure together, or simply doing everyday life together- I cherish every moment with you. I love how you lead me in the Word and prayer. Your selflessness and sensitivity and care is remarkable. I love absolutely everything about you and couldn't be more grateful to God for giving me the most incredible husband in the world! I love you, babe!"
For those of you keeping track at home here's how long it took for each married Duggar kid to welcome their first baby after tying the knot. (The Ashley is not judging them; she is simply posting this for "scientific purposes.")
Josh and Anna Duggar: Daughter Mackynzie born 1 year, 12 days after their wedding
Jill and Derick Dillard: Son Israel born 9 months, 15 days after their wedding
Jessa and Ben Seewald: Son Sprugeon born 1 year, 4 days after their wedding
Joy-Anna and Austin Forsyth: Baby will be born about 10 months after their wedding
Newlyweds Joseph and Kendra Duggar have been married for almost two months and have yet to announce a pregnancy.
(Photos: TLC, Instagram)