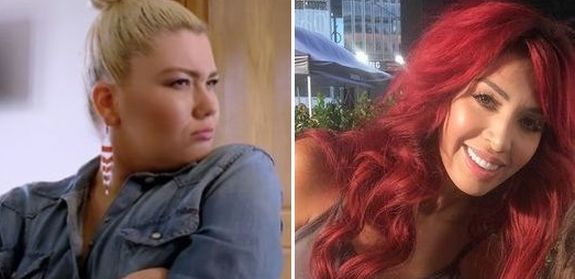 Amber Portwood was supposed to be in Omaha this weekend, celebrating the wedding of her Teen Mom OG co-stars Debra Danielsen and Dr. David Merz, but due to sickness from her just-announced pregnancy, Amber was unable to attend the festivities. While Deb told The Ashley she was sad that Amber could not attend the under-the-sea-themed, rapped-filled wedding, her daughter, Farrah Abraham was happy that Amber—or anyone from 'Teen Mom'– didn't come to the wedding.
"You see who really showed up to the wedding," Farrah told The Ashley exclusively. "Not all the fake people who are production puppets like Amber, or any other wackjob that you've been seeing in the press before today. They're not here."
Farrah told In Touch Weekly (who was the only other media outlet other than The Ashley present at the Debz OG wedding), "[Amber] wasn't going to be here anyway, so I wish her all the best with her unplanned pregnancy and all of her bulls**t."
Farrah told The Ashley that she felt that the folks from 11th Street Productions, which is the company that produces 'Teen Mom OG,' were trying to "sabotage the wedding" and she was glad that the wedding was not filmed for the show.
Debra was understanding of Amber's situation and said that she had no hard feelings toward Amber for not attending the wedding.
"I told Amber, 'I love you, you look beautiful," Deb told The Ashley. "I told her that I just hoped that she was feeling better because I remember how much morning sickness she had [when she was pregnant] with [her daughter] Leah. She was sick the whole time. [I told her] I hoped it was much better this time."
Amber was confirmed to attend the nuptials with her new baby-daddy and boyfriend, Andrew Glennon but she called Debra before the wedding to cancel.
"She goes, 'I'm really sorry but I just can't' and I told her no problem," Debra told The Ashley. "She said 'Well I hope to see you really soon.'"
This is not the first event that Amber has had to miss due to her pregnancy. In October, she was the only main 'Teen Mom' cast member who did not go to Los Angeles to film a series of 'Teen Mom' specials and aftershows. Farrah and Debra were in attendance for that taping, but soon after that all hell broke loose for the Backdoor Teen Mom.
As The Ashley reported last week, Farrah claimed that she was fired from 'Teen Mom', only to change the story a day later and state that she had only been fired from the 11th Street Productions, not Viacom or MTV.
"It's not up to me [if I'm on 'Teen Mom']. It's up to 11th Street Productions. Viacom is separate," Farrah told The Ashley. "I'm still employed by Viacom. I wasn't fired. The production company was bullying me and portraying Farrah as a p0rn star bitch, and I'm really not that."
The Ashley attended the wedding and can confirm that Farrah was a good sport throughout the festivities on Sunday night, even making a sweet toast to her mom and (sometimes verbal sparring partner) David. Farrah also helped spit some Debz OG rhymes on the dance floor with her mother during the reception. (Is it even a wedding if no one raps?!)
For more on the Debz OG wedding, click here!
(Photos: MTV/ Instagram)