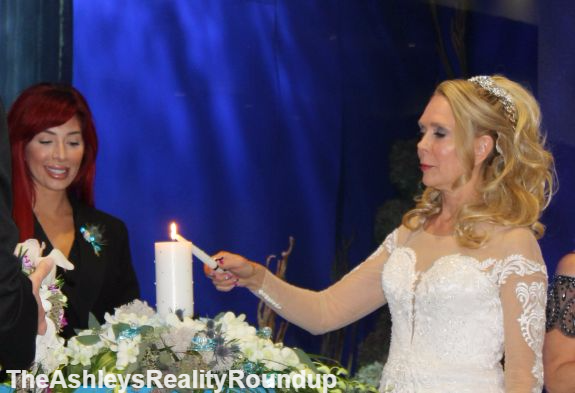 For months, Farrah Abraham stated that she would not be attending the wedding of her mother, Debra Danielsen, to Dr. David Merz, but the Teen Mom OG star had a change of heart right in the nick of time to serve as the "Honorary Maid of Honor" for her mother when she got hitched on Sunday night at the Aquarium at the Omaha Zoo.
Debra was hopeful that Farrah would show up to the wedding, despite her strained relationship with David, but up until the afternoon of the wedding, it did not look like Deb's famous daughter would be there to see her mom say "I do."
Debra told The Ashley that one of the best parts of her wedding day was when she saw Farrah appear.
"My favorite part [of the day] was [saying] our wedding vows, but my second favorite part was to see Farrah," Debra told The Ashley exclusively. "She showed up and surprised me. It was beautiful."
At the rehearsal dinner the night before the wedding, friends of Debra's were telling The Ashley that Deb was very sad and upset that her youngest daughter was choosing not to attend the wedding. David stated that he believed Farrah would show up, but up until the minute Farrah popped her head in the room, Deb did not think she would come. Farrah was listed as the "Honorary Maid of Honor" on the evening's programs, which seemed to indicate that she was not expected to attend.
"It was the best thing," Deb said of seeing Farrah. "It was a gift from God. It meant everything to me. I love my children.
"We are making progress [in our relationship] and we're happy," Debra added.
Farrah told The Ashley that recently cutting ties with MTV had a lot to do with her deciding to attend the wedding. (As The Ashley previously reported, the network was scheduled to film Deb's wedding but they did not actually film, due to the conflict currently going on between the production company and Farrah.)
"I think I decided to come when I stopped working with the production company who was sabotaging this whole wedding," Farrah told The Ashley. "I'm here on my own terms and I'm happy that they're not here filming and it's not about them.
"I'm here being the nice person that I am and that's all that matters," Farrah added.
Farrah was reluctant to discuss where her relationship with her new stepfather David stands, but she did say kind things about him during her Maid of Honor speech. (She even gave him a hug!)
"David and my mom have a relationship, and I'm supportive of their relationship and I'm happy they got married today," Farrah told The Ashley.
While Farrah changed her mind and attended her mom's wedding, her eight-year-old daughter, Sophia, apparently did not. The little girl was not in attendance, although her name was on the guest list.
(Farrah told E! News in September that "Sophia doesn't really want a relationship with my mom but I'm still trying to make sure that she is around and keep that relationship is surviving and alive… Sophia is not approving of it but I am happy for [my mom] and supportive.")
While Debra was surely disappointed that Sophia did not come, she luckily still had two grandchildren at the wedding– her daughter Ashley Danielsen's children Sylvia and Axel.
"It's huge to have four generations of women all together," Debra said. (Her mother, Carmella was front and center for the ceremony and reception.) "We even had all of our Mom & Me condiment and wines and family traditions there with us to celebrate. It was a big special moment."