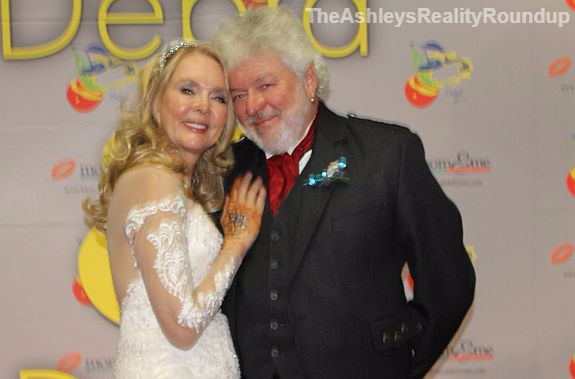 Teen Mom OG star Debra Danielsen has officially tied the knot!
The mother of Farrah Abraham married Dr. David Merz on Sunday night in an under-the-sea-themed ceremony and reception at the Scott Aquarium at the Omaha Zoo…and The Ashley was there to witness it all!
"We've been on this quest to find each other," Debra told The Ashley of her new husband. "It's like, you knew this person was out there, you just had to find them…that's how I feel."
Wedding guests were greeted to the sounds of Scottish bagpipes as they walked through the aquarium exhibits toward the room where the ceremony took place.
The Ashley can exclusively reveal that the wedding was not filmed by MTV, although the network had planned to capture the moment for 'Teen Mom OG' up until last week, when Farrah was fired by the production company that produces the show. (You can read more on that here.)
While MTV was not in attendance, both of Debra's daughters were. Farrah had stated numerous times in the press that she did not plan to attend the wedding, due to her sometimes strained relationship with David. However, the 'Teen Mom OG' star dashed in at the last minute to stand by her mom while she said "I do."
"I think it means the world for me to be here," Farrah told The Ashley exclusively. "It really mattered to me and it's important to me."
The Ashley has all the wedding details!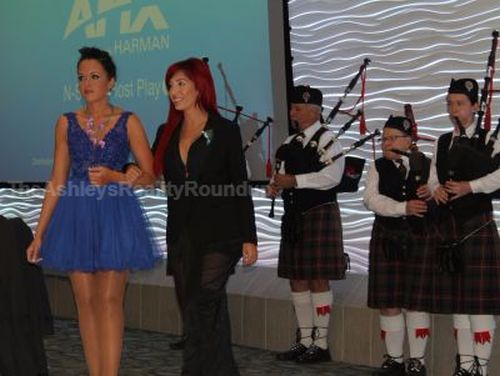 Bridal Party: A squad of bagpipers opened the wedding ceremony and played as the bridal party walked into the room. Debra's friend served as the Man of Honor, while Farrah was named the Honorary Maid of Honor. (Deb's other daughter, Ashley Danielsen, was a bridesmaid.) Ashley, wearing a blue party dress, walked arm-in-arm with Farrah (who donned a pants suit and was the only person wearing black). Ashley's daughter Sylvia was the flowergirl, and her son Axel was the ring bearer.
Guests: Debra and David's family and friends celebrated with them, as did several 'Teen Mom' fans who won a raffle to attend. No MTV producers or crew members were in attendance.
Notable No-Shows: Farrah's daughter, Sophia, was not in attendance. (Farrah previously stated that her eight-year-old daughter was not allowing her to attend the wedding, but obviously Sophia had a change of heart and let Farrah go.)
Other no-shows included Farrah and Deb's 'Teen Mom OG' co-star Amber Portwood and Courtland Rogers (who was previously married to Teen Mom 2 star Jenelle Evans and has recently become friends with Debra…somehow). Debra's ex-husband Michael Abraham and Farrah's sometimes-beau, Simon Saran, were not in attendance.
Dress & Details: Debra donned a white jeweled mermaid gown and a sparkly crown for the big day. She purchased the dress in Omaha on a shopping trip with her mother, Carmella.
"I wanted to make sure my mom could pick out the wedding dress with me," Debra told The Ashley. "We had fun. It's a mermaid dress and it has a 101-inch train on it."
David and his groomsmen wore traditional kilts. Debra's bridesmaids and attendants all wore blue, with the exception of Farrah, who wore black.
Debra's bouquet was a nod to the aquarium and under-the-sea wedding theme, as it contained a large seashell. Debra told The Ashley that David carried something special as well for the ceremony.
"He had a photo of us on our very first date, and a photo of us attending our first opera in New York together," Debra said.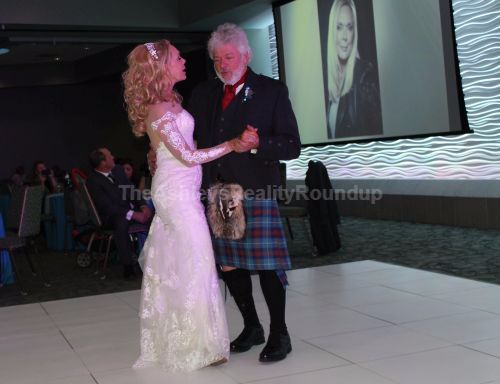 Reception: Deb and David danced to "A Thousand Years" by Christina Perri for their first dance as husband and wife.
Guests feasted on a buffet of mini tacos, carved meats and chocolate lava cake. (There was no traditional wedding cake.) Debra's Man of Honor gave the first speech, remarking that sometimes "the attention goes elsewhere" and that people don't get to see what a wonderful couple David and Debra are.
Farrah gave the next speech (more on that here), followed by Ashley.
Bottles of Debra's "Mom & Me" wine sat on each table. (The Ashley must admit that the wine was really good!) A slideshow of pics of the couple and their families played in the background. (There were even pics from Farrah's 16 and Pregnant days, naturally.)
Red Carpet: A photo backdrop and red carpet were set up in the front of the aquarium (because…hey, this is a Debz OG wedding, after all!) Debra's "Mom & Me" products were on display, as was as a poster promoting her "Debz OG" music. Deb and David posed for photos with guests on the red carpet.
Other Fun: No "Debz OG" wedding would be complete without some signature Debz rap tunes. Debra took the mic and rapped along to her song "Debz OG" while guests danced around her. Farrah joined in briefly and was dancing on the dance floor with her niece Sylvia.
She also debuted a preview of her new music video!
For more exclusive wedding details and photos, click here!