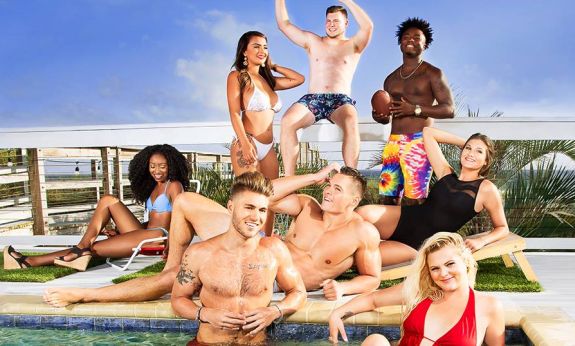 It's out with the GTL and in with the PCB as the "Shore" franchise makes its return to MTV this month with Floribama Shore!
MTV has announced the second show in the 'Shore' franchise will follow eight young adults as they spend the summer on the shores of Panama City Beach… and undoubtedly embarrass themselves along the way.
SallyAnn Salsano's 495 Productions is the team behind this Southern social experiment of a show and yes, that's the same team who introduced us to the Seaside Heights crew eight years ago. Sally and her crew are no doubt hoping 'Floribama Shore' will have the same success as 'Jersey Shore,' which ran for six seasons and launched the reality TV careers of Snooki, JWOWW and the rest of the "T-shirt Time" gang.
MTV released the first full trailer for 'Floribama Shore' this week and while the lack of poofs, fist pumps and orange bodies is noticeable, viewers are still promised a season full of fighting, nights at the club, hooking up and trips to the gym.
The cast of partiers set to embarrass their families while on the Gulf Coast includes 22-year-old Jeremiah Buoni of Amelia Island, Florida, 25-year-old Codi Butts of Westminster, South Carolina, 21-year-old Kortni Gilson of Panama City Beach, 24-year-old Aimee Hall of Perdido, Alabama, 25-year-old Kirk Medas of Atlanta, 23-year-old Nilsa Prowant of Panama City Beach, 24-year-old Candace Rice of Memphis, Tennessee, and 22-year-old Gus Smyrnois of Tallahassee, Florida.
MTV describes 'Floribama Shore' as the story of these young adults as they party it up on Panama City Beach and "put the real world on hold for just a little bit longer," which is code for "these eight people are willing to let us film them acting a fool in exchange for a small profit and the hope of landing a social media sponsorship or two."
'Floribama Shore' premieres Monday, November 27 on MTV.
Watch the trailer below!
(Photo: MTV)