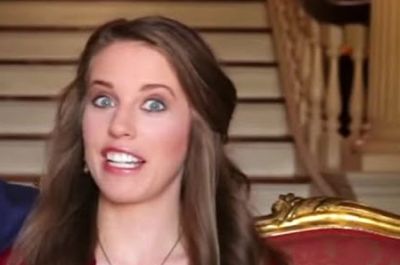 H-E-double hockey sticks has frozen over, y'all! Jill Duggar Dillard has been spotted wearing pants in public!
Let's all take a moment to let that sink in.
Jill, who up until this point has been arguably the most devoted Duggar daughter in terms of following dress code and family rules, took a page out of her younger sister Jinger Vuolo's fashion book and sported pants during a trip to the Silver Dollar City amusement park this weekend!
Jill and her (now unemployed) husband Derick Dillard took a photo with Counting On fans at the theme park, and in the photo, Jill appears to be wearing what looks like jeans!
Having fun at Silver Dollar City! pic.twitter.com/DuWA1Lzkqq

— Duggar Sisters (@DuggarSisters) November 12, 2017
This would not be a big deal but Jill is from a family that notoriously only permits its female members to wear skirts and dresses. The Duggar family is known for their modest dress and intolerance of pants on females. (The Duggar girls have been known to wear a skirt over their track pants while working out!)
To date, Jill and Jinger are the only Duggar daughters who have dared to wear pants in public. (Jessa Seewald was pictured wearing snow pants in a blizzard once, however.)
Jill's mother, Michelle Duggar, has been outspoken about why she and the girls dress modestly and only wear skirts and dresses.
"My daughters are the second generation of modest dressing in this family," she has said. "They've grown up being dressed modestly, and in clothes that are definitely more feminine apparel. I've told my daughters this has been a joyful journey for me to learn what my Lord has called me to. I really feel like the Lord is impressing upon me that I should be modest in what I wear. And also, that I really should be defining who I am as a woman by choosing to wear dresses and skirts."
Up until now, the Duggar daughters have strictly adhered to their parents' dress code. In one memorable episode of 19 Kids and Counting, Jill refused to wear a standard firefighter's uniform (that included pants) while working as a volunteer firefighter EMT. She opted, instead, to modify the pants into a skirt.
However, now that more of the kids are living outside the Duggar compound, it seems that they may be bending the family rules. (Jinger has even dared to wear shorts since marrying Jeremy Vuolo last year. They were long shorts, but shorts nonetheless! Not even the Duggar boys wear shorts!)
While Jill's outfit may be 'risque' (by Duggar standards, anyway), she's still technically within the Duggar modesty rules. They believe that females should keep the area from the neck to the knees covered so there's no "defrauding" going on. (The Duggars define defrauding as "stirring up desires [in men] that cannot be righteously fulfilled.")
Take The Ashley's poll and vote on which Duggar gal you think will be the next one to sport pants!
(Photos: TLC, Instagram)