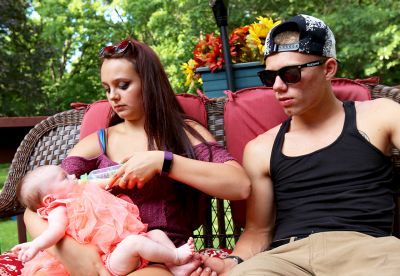 TLC's new teen pregnancy show 16 and Pregnant er….Unexpected premieres tonight and to commemorate the show's first episode, 16-year-old Lexus Scheller sat down with Us Weekly to chat about 'Unexpected'—and slam its predecessor, Teen Mom!
"Our show's a lot different…there's not as much drama [as on 'Teen Mom']," Lexus said. "I think it's more real. Our problems are more realistic than [those of the girls on] 'Teen Mom' and shows like that. I feel like our stories are better!"
While the 'Unexpected' girls have a long way to go before they reach the level of fame (and ridiculous wealth) of MTV's resident drama mamas, they already have plenty of good storylines. Unlike on 'Teen Mom' and "16 and Pregnant," all of the pregnant teens featured are actually the product of teen mothers themselves.
"In the beginning, she wasn't supportive so it was hard," Lexus told the magazine of her 31-year-old mother Kelsey. "It took her a while to get supportive after that. I mean, I'm glad she's experienced it too."
Kelsey was worried that Lexus and her 17-year-old boyfriend, Shayden Massey, were not mature enough to be parents.
This is evident in a new clip of the show released by Us Weekly. In the clip, Lexus can be seen on the phone telling her mom that she forgot to bring anything for herself or the baby to Labor and Delivery at the hospital. But don't worry….Shayden has Skittles and she has her phone charger. You know, the important things!
But according to Lexus, things turned out fine. She told the magazine that, since giving birth to her daughter Scarlet, she is still in school and that Shayden works a full-time job (to pay for his baby and Skittles habit, obviously). She said they spend lots of downtime at home with the baby.
"We have a pretty boring life," she said.
Now that definitely wouldn't fly for 'Teen Mom!'
As The Ashley previously reported, 'Unexpected' has a 'Teen Mom' franchise connection (beyond the obvious similarities between the shows.) Heather Walsh, who worked on 'Teen Mom' for years before being fired a few months back, is helping to produce 'Unexpected.'
'Unexpected' premieres tonight on TLC at 10 p.m.
To watch a sneak peek clip of 'Unexpected,' click here!
(Photo: TLC)