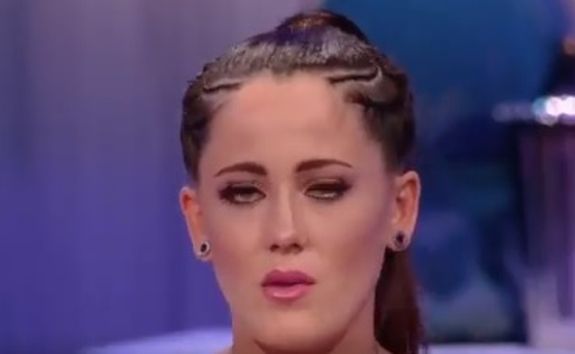 After another eventful season of Teen Mom 2, it's time to bring in Dr. Drew and the four five moms to chat about the 18 episodes that covered four births, two weddings, countless meltdowns and a partridge and a pear tree.
Part 1 of the Season 8 "Check Up with Dr. Drew" kicked off with a brief recap of some of the highs (both literally and figuratively) and lows of the year. (This, of course, included every single girl on this show shooting out another baby—except for Leah, who previously held the title for most "fer-tile" 'Teen Mom.' Things are getting weird, folks.)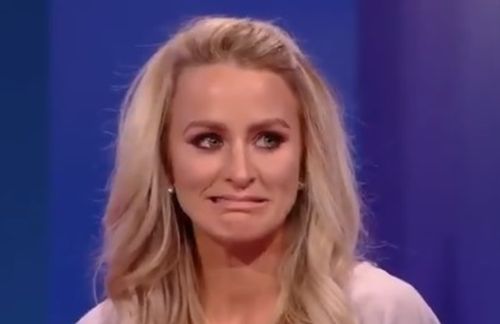 Dr. Drew talks to Briana about her joining the show (and, of course, they quickly shoot the camera over to Kail's mug just in case there's a bitter eye roll or something.) Drew asks the girls if it was hard to shoot this extra-long season of the show.
"It's hard," Kail says. "It's always hard."
Kail, now is not the time to talk about Javi's pickle when he's around Briana! We're discussing the show here, geez!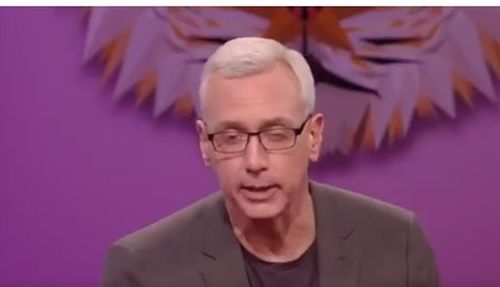 In addition to shamelessly plugging Teen Mum (ugh, no), the Reunion special also revealed a new format, spreading out the time with each of the girls and their baby daddies/families into two episodes… or at least the ones that decided to stick around for filming, but more on that later…
Up first in Dr. Drew's Hot Seat of Hokey Questions is Kail, who relives her graduation, pregnancy announcement, baby daddy drama and the day she expelled yet another living being from her lady tunnel. Kail gets emotional while watching the clips and tells Dr. Drew it's because her pregnancy was "rough."
She says Isaac and Lincoln love their new brother. Dr. Drew snarkily asks if the poor kid has a name and she reveals it's Lux.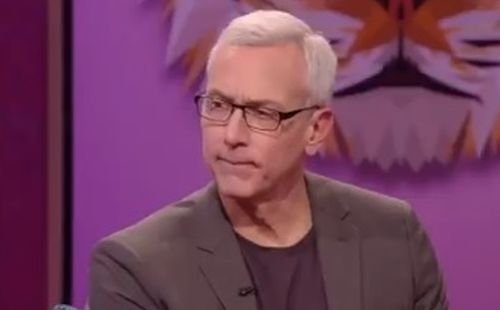 "Lux…that's….cool," Dr. Drew says, obviously attempting to stifle his laughter.
Kail reveals that she's most likely done popping out babies. (Snort…Yeah, and Jenelle is working on an advice book about how to pick a good man!)
Kail then starts breaking down the latest baby-daddy drama in her life. This time, it involves Baby Daddy No. 3, Chris. (Of course the fact that Baby Daddy No. 2, Javi, is off somewhere backstage at this time whispering Drake lyrics into Briana's ear is also shooting quite the load of drama (pun intended) into Kail's life.)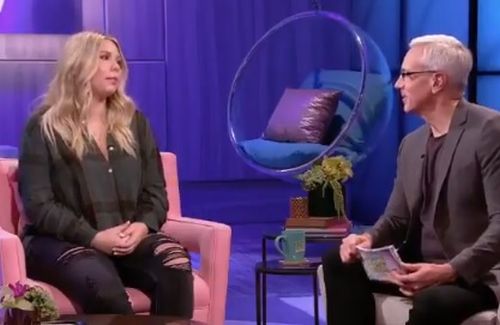 Kail reveals that Chris hasn't seen his son, Lux, in a whole month.
"He cheated on me my whole pregnancy," she said. "The things I went through all the way leading up to having him was something that I wouldn't wish on my worst enemy."
(So consider yourself lucky, Briana!)
In addition to Chris' absence, Kail says her mom remains MIA in her life as well as her kids' lives, but it's something she's come to terms with. (Oh, Smirnoff Suzi, how we miss ye…We raise a shot of rot-gut vodka in your honor, wherever you are…)
She says her (oddly named) friends are her main support system, to which Dr. Drew recommends she also enlist the help of a therapist, to help with "her picker" if nothing else. I think we can all agree that Kail's "picker" is not good at picking, um, "pecker," so it may not be a bad idea.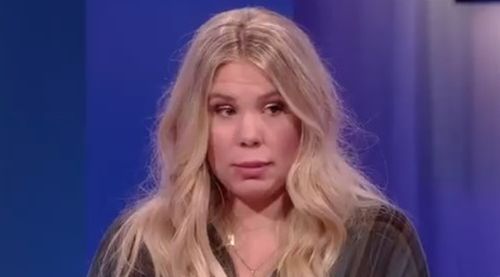 Kail tells Dr. Drew things with Javi were good before the Reunion but she's unsure of where they are at the moment, partially because she's avoiding him, she says. (I'd check 'round back of the makeup trailer if I were you, Kail. Look for a pair of Size 8 Jordans sticking out from under a bush and listen for a girl calling him 'Papi' in an annoying voice. You'll probably find both him and Briana if you do that.)
While things with No. 2 and No. 3 are rocky, Kail is getting along great with Baby Daddy No. 1, Jo. Hey, a somewhat decent relationship with one of your three baby daddies isn't all that bad on this show!
Next up on the stage is Leah, who endured a year of juggling her girlses' daddies, giving "speakings" in the basements of random restaurants, burning slips of paper in stew pots, getting her learn on (and then off) and standing in her own power. She busier than a pharmacist that sells Plan B after a West Virginia prom, y'all!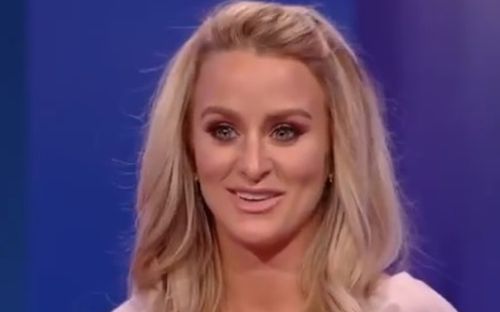 Dr. Drew brings up the fact that Leah dropped out of college decided to take online classes.
"What are you studying right now?" he asks her.
"I wanna make people feel beautiful inside and out!" Leah answers.
Dr. Drew gets the hint; Leah's no longer in school (whether it be on campus or via The Computers). He also understands that Leah's probably about to try to sell him one of her Lipsense Christmas Beauty kits right there on the damn stage!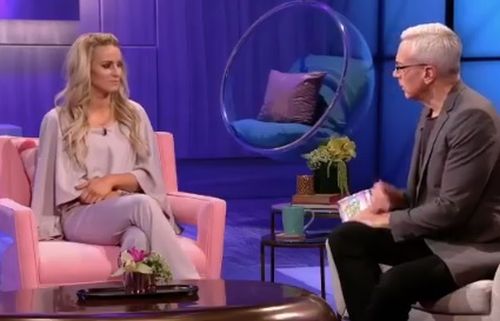 Sensing Leah is about to launch into a sales pitch, Dr. Drew changes the subject to something much more uplifting—suicide. He reminds Leah that she once claimed to be suicidal and he wants to dig down deep into that. Leah is less-than-thrilled to relive the painful times.
"Um…I think everyone saw me at my worst," she says as she gives the good Doc a side-eye. (Yup, we can almost smell the canned raviolis as we relive those days.)
Next, Drew brings up Leah's ex-husband Jeremy. Dr. Drew can't resist going all Chatty Cathy and diving into the rumors that Leah and ol' Jerm are once again playing "sink the sausage" in between Jeremy's breakups with Brooke. Leah denies that she's getting frisky with Jeremy (although she does have a big grin on her face as she denies it.)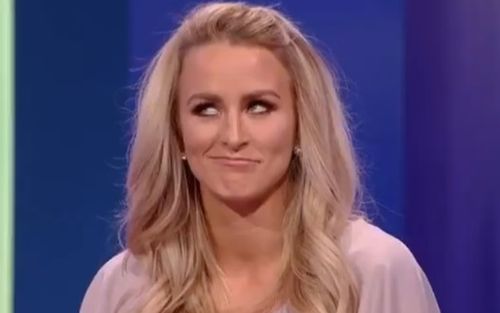 "Jeremy…he don't know what he wants!" Leah proclaims.
Leah then says that joining the dating site Bumble is like "putting DTF on your forehead!"
OK, see…now that's what Jeremy wants!
They shuffle Leah off and bring up Chelsea next. We can't help but think this order was done on purpose to show the stark comparison between her lifestyle and Jenelle's. While both girls went through similar things this season– having a baby, getting married, dealing with baby daddy drama, things couldn't be more different between what's happening on The Land and what's happening in the flanneled DeBoer home.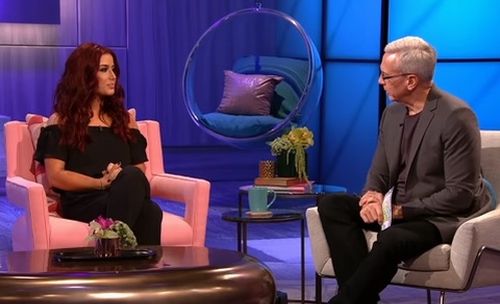 Dr. Drew touches on the one toxic part of Chelsea's story — Aubree's dad (and the South Dakota penal system's most-notorious reality star) Adam. Chelsea tells Dr. Drew she's attempted to explain Adam's hot mess of a life to Aubree, but refrains from flat-out telling her that her dad is a drug addict.
On a more positive note, Chelsea talks about baby Watson's easy delivery and the fact that her body "just gets those babies out," which is pretty much music to MTV's ears.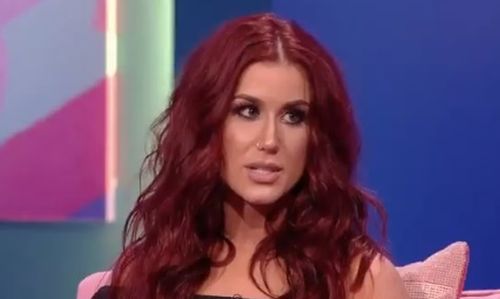 Chelsea tells Dr. Drew how great Cole is (not that he had a tough act to follow) and that she feels like she's in a good place. While this makes for a great life story, it is kind of snoozy for a reunion segment. If Amber could come a'chargin' out on stage and try to smack someone right about now, that'd be great.
Since we can only hear so much about Chelsea's perfect life, they scoot her off and it's finally time for Jenelle to hit the stage. We can always count on Jenelle to get defensive, trash her exes and cry about who didn't play Yahtzee with her and whatnot.
For the occasion, Jenelle's got the front of her hair all braided up like she's one of those Bratz dolls. She's also sporting a necklace with a tiny "D" pendant which we can assume is for her soulmate, David Lurch.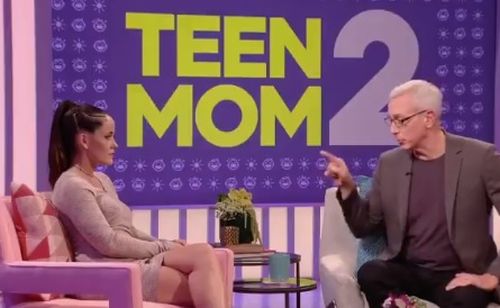 We watch a few clips from the season, including the time the kids all got to meet Baby Ensley (via their dead eyes); Jenelle complaining that she can't get her fitness on because she has no time between throwing hot dogs into Kaiser's cribs and playing on her phone; and Jenelle fighting with Lurch/Nathan/Barb/Doris/the state of North Carolina/ man-kind in general.
Jenelle gets emotional after watching the recap of clips from the past season. Of course, she's not crying because she had to relive the drama with her mom, or the time her soulmate yanked her son Kaiser by the arm as the poor kid screamed for food. She's not even crying because she's being reminded that she still doesn't have custody of Jace. She's actually tearing up rewatching clips from her wedding (otherwise known locally as the Romp in the Swamp).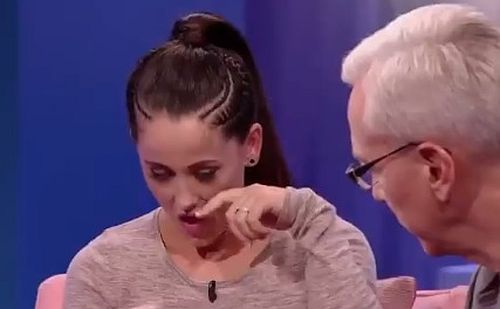 MTV is getting all fancy this Reunion. We are treated to a backstage "Lurch Cam," so we can basically watch Lurch watching Jenelle as she tapes her segment onstage. His eyes are redder than Farrah's ratchet Little Mermaid wig. (Surely, it's because he's been crying while watching the wedding footage, too. Yeah, that's it…)
When asked about her ongoing battle with Barb, Jenelle tells Dr. Drew she hates her mom because she refuses to give Jace back. (Jesus God Leah, this is a kid we're talking about, not a pair of "more classier" white court heels that Barb borrowed and hasn't returned!)
Jenelle tries to show us her smarts by using some fancy lingo.
"I don't have any care in the world…how she feels," Jenelle tells us of her mother. "She should care how I feel!"
With that, Jenelle bursts into tears, the veins in her forehead causing her baby bang braids to lift up as she wails.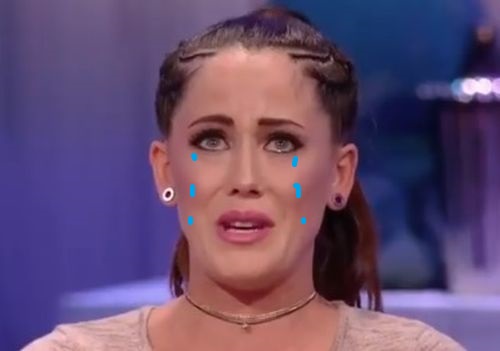 "I had no family there at my wedding!" she cries.
Jenelle is upset that Barb wasn't on-hand to help stuff her into her wedding dress and give her a loving shove down the aisle toward Lurch. The nerve of that, Barb, I'll tell ya! How dare she not stomp onto The Land (dodging a gun-toting Lurch) and burst into Jenelle's dressing room uninvited! (Hell, she probably should have. It may have saved Jenelle from the disaster that was her veil placement.)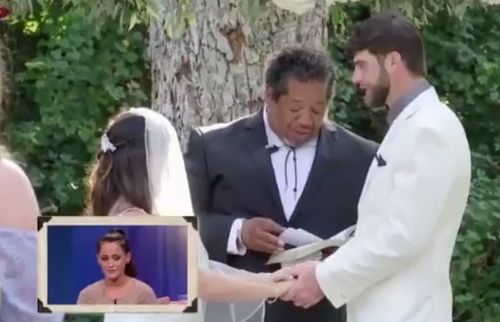 While Jenelle's mother, father and siblings weren't at her wedding, Jenelle says it's OK because she had her friends present and "that's all that matters!" (Surely the ones who were not able to physically attend the festivities sent their best wishes from whatever jail cell they are currently residing in!)
"I do not care about my mom!" Jenelle declares.
Jenelle tells him Barb has been selling stories about her to the press. She then goes off about how everyone is basically ganging up on her and David and they're just sitting back and keeping their mouths shut because they're mature… and not because the things they're being accused of are true or anything.
Dr. Drew then brings up the topic of Nathan's mom, Doris, and her concerns about Kaiser's well-being. Jenelle says that she was actually the one with concerns, not Doris.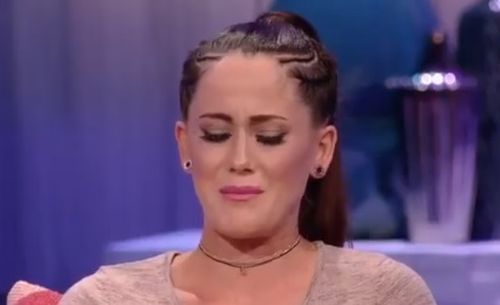 Listen here, Doc. That kid clearly gets his recommended one to two servings of hot dog a day tossed into his Crib of Doom.
Dr. Drew asks if Jenelle or David spank the children, and Jenelle says no.
Meanwhile, the stellar camera crew is focused on David (via Lurch Cam) like Addie on a tub of County Crock, cutting to him for reaction shots. He starts cussing and most likely picturing filling Dr. Drew with "uppercuts."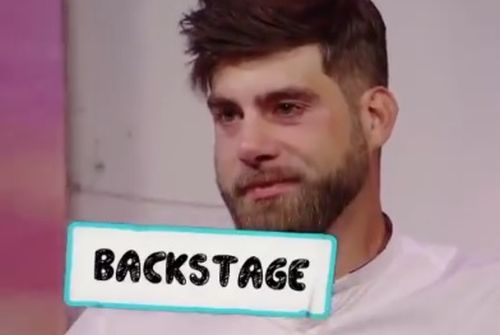 Dr. Drew asks Jenelle about her relationship with Lurch. He basically reminds her of the yutz parade that's traipsed through these Reunions on her arm over the past eight years or so, and asks why Lurch was the one she took down to the swamp hitching post and married.
Jenelle is determined to sell us all on Lurch—hard. She talks about how protective, wonderful and smart he is. (Lurch is smart, eh? Yeah, and Jenelle is going to start doing YouTube tutorials on how to have great eyebrows.)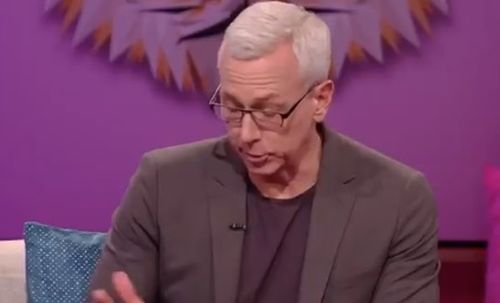 She tells Dr. Drew it makes her upset to see people bashing her Prince Charming and Dr. Drew suggests Lurch's explosive and frightening angry outbursts could be the reason people are afraid of him.
"He treats me the best way possible!" Jenelle wails.
In an effort to deflect from Dr. Drew's point, Jenelle brings up Nathan's rage issues, calling him the "real abuser." (Um…girl, you boinked both of these men and had their babies…what does that say about you?)
While Dr. Drew mentions Jenelle's history of being attracted to aggressive men, Lurch is gradually getting more and more enraged.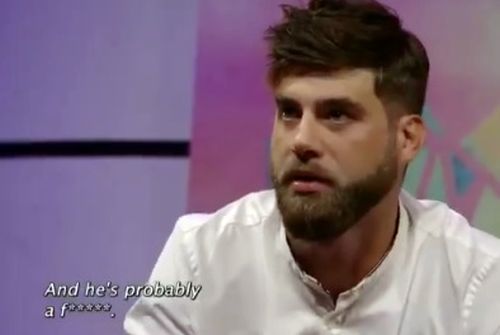 He's backstage telling someone he and Jenelle are "leaving after this." As Dr. Drew continues, Lurch calls him a drama queen backstage and also says "he's probably a f***t." (If you're unsure what word he said, it's the gay slur that starts with "F.")
Jenelle continues to tell everyone how wonderful, supportive and kind Lurch is—while, unbeknownst to her, he's backstage raging and basically getting ready to rip off his plaid button-down, Hulk-style and charge at the Doctor. The irony is almost too much to handle.
As Dr. Drew throws to a commercial break, the cameras continue rolling and we see Lurch complain some more and ultimately creep his way on the stage to tell Jenelle he's leaving and that she can leave with him or stay.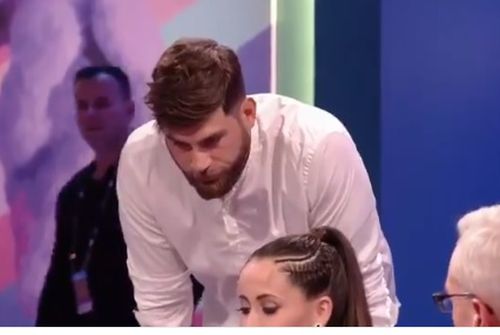 She asks him why he wants to leave and he tells her he'll explain in the car. Producers and crew (and nosy cast members) lurk around the curtain to see what's going on…and to be witnesses…you know, just in case…
After returning from the commercial break, we see Jenelle walking to the car with Lurch.
"If I don't leave with him, he's going to be at the hotel by himself," Jenelle tells a crew member.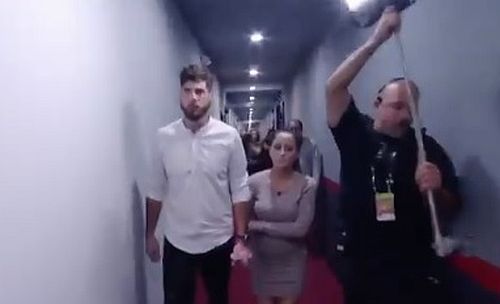 Yeah, I mean, if he gets a hold of anything sharp or flammable, things could go south real fast.
"I have to go, I'm his wife!" she declares.
Um…you're also MTV's employee…who's been paid a crap-ton of money to be here, regardless if your soulmate-of-the-year is having a tantrum.
We see Jenelle get in the car with Lurch as Producer Larry literally begs Jenelle to stay. She does not because she quite literally rides or dies for her man.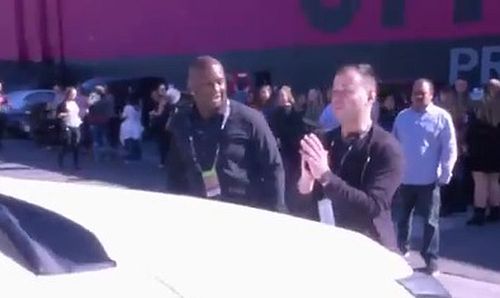 In the words of the great Amber Portwood… "That's a REAL woman!"
Luckily (we suppose) Nathan is here to keep the segment rolling with Dr. Drew. Nathan tells Dr. Drew that Lurch is controlling and oversteps his boundaries as Kaiser's stepparent. Nathan mentions the infamous "feed me" scene viewers saw this season, telling Dr. Drew, "it's all chaotic."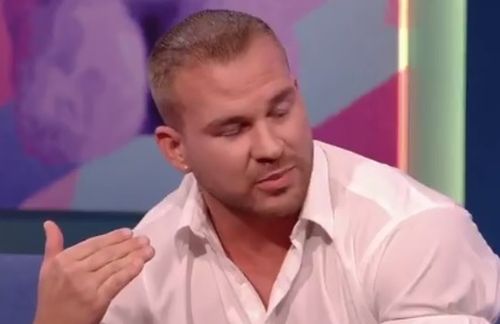 Drew suggests that it's good that Lurch is "containing" Jenelle.
Wait…what?! Anyone else want to fill this whole set with uppercuts!? Why does Drew keep insisting it's good that Jenelle's with a controlling and possibly abusive man!?
Nathan's mom, Doris, joins him on stage to talk about her concerns with everything going down on The Land. She tells Dr. Drew that Nathan was brought up in a respectable home and is a good person— not entirely evident by his behavior, but we won't fault her entirely for her son's bouts of 'roid rage and love of spray tans. Doris tells the doc that she is "terribly frightened for Kaiser."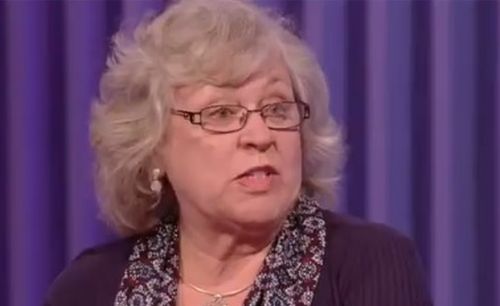 "I worked for youth services for 10 years, I worked for the state of Ohio for 31 years in different capacities and I've seen abuse, I've seen children go through it, I know the red flags and I see red flags. They're popping up everywhere," she said.
Doris tells Dr. Drew she's trying to get custody of Kaiser (as The Ashley previously told you) and while she's not accusing anyone, she feels that there is drug abuse going on somewhere on The Land.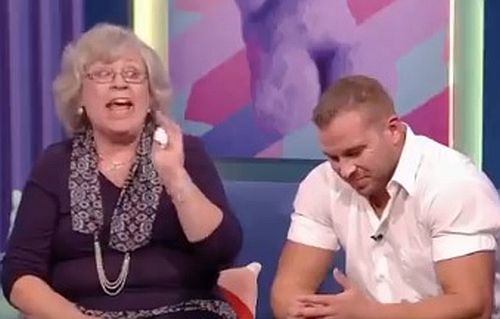 Nathan and Doris also tell Dr. Drew about an incident of Kaiser saying David had punched him. Doris emotionally tells Dr. Drew all she wants is for someone to protect her grandchild.
Next up, Barb joins Dr. Drew to rehash (for the millionth time) the custody drama with Jace and Jenelle's abysmal dating life. If Dr. Drew thinks Kail has a "broken picker" we think it's safe to assume Jenelle was born without a picker all together and simply grabs onto the biggest, loudest, most controlling, city-jail-dwelling single father within a mile radius of her current location.
Barb talks about Lurch's controlling tendencies and Dr. Drew plays (literal) devil's advocate, pointing out that Jenelle actually needs some control in her life.
"They're like two peas in a pod, man," Barb tells Dr. Drew.
Barb tells Dr. Drew she has a bad feeling but she still wants Jenelle to be happy. While crying, she says Jenelle hates her guts but if she wanted Jace back, she should have tried long ago. Barb says she wants a relationship with her other grandkids, but has been told by Lurch that if she steps foot on The Land, the cops will be called.
As for her dating life, Barb tells Dr. Drew she has too much going on to need a man and the offers for boat sex she previously received on dating sites have scarred her for life… and us as well, to be totally honest.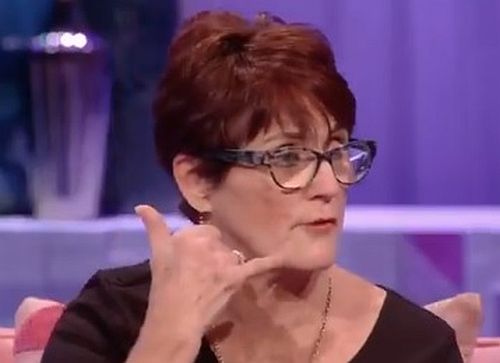 Unlike her bitch of a daughta, Barb doesn't need no man to make her happy…but if Dr. Drew were to ever suddenly become single (or sleazy) Barb would probably be interested.
Since MTV left all the delicious behind-the-scenes footage of what went on during the filming of this reunion, you can click here and here to get the scoop!
Click here to read The Ashley's recap of Part 2 of the 'Teen Mom 2' Season 8 Reunion!
(Photos: MTV)