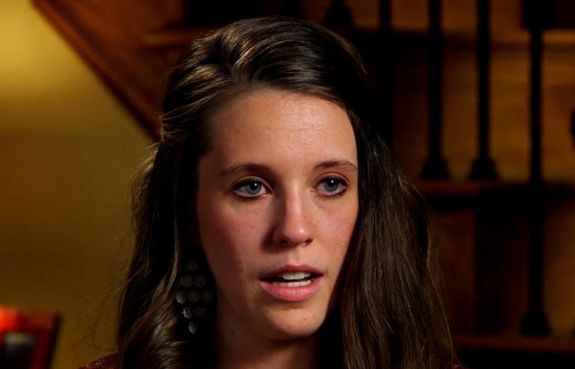 First pants….now piercings?!
Jill Dillard is quickly becoming the most fashionable Duggar daughter. (Now that's something we never thought we'd type!)
The married mother-of-two—who just weeks ago was spotted daring to wear pants in public—debuted a facial piercing at the Duggar Family's annual Thanksgiving bash!
That's right, kids, little Jilly Muffin got her nose pierced!
In photos posted to the Duggar website, Jill can be seen sporting a tiny stud in her nose. Normally, it's no big deal for a young woman to get her nose pierced, but when you're a Duggar it certainly is!
Patriarch Jim Bob Duggar has made plenty of comments about "treating your body as a temple" and "properly adorning your body." While most of the Duggar girls have their ears pierced, none of the girls (or guys) has any other piercings that we know of. Tattoos are also off-limits (although Jinger Vuolo's husband Jeremy does have a tattoo that he got long before he met Jinger.)
The Duggar clan has not made any statements about being against facial piercings; however the Bible does kind of state that body mods are not cool.
Leviticus 19:28 states, "You shall not make any cuts in your body for the dead nor mark any tattoos on yourselves. I am the Lord."
(For the record, The Ashley is not posting this to judge Jill. In fact, we think she looks great!)
Jill was happy to show off her nose stud in a photo posted to her Instagram account on Monday. Based on the comments the photo got, it seems that the majority of her fans are thrilled to see Jill breaking out of her family's conservative dress code.
"She is becoming herself, which is great!" one person wrote.
"Love the nose ring! Keep doing your own thing," another fan posted.
So far, none of Jill's sisters (other than Jinger) have gone outside Duggar dress code and tried wearing pants (or body jewelry) but perhaps it's just a matter of time before Jana Duggar gets her belly button pierced!
(Photos: TLC, Instagram)