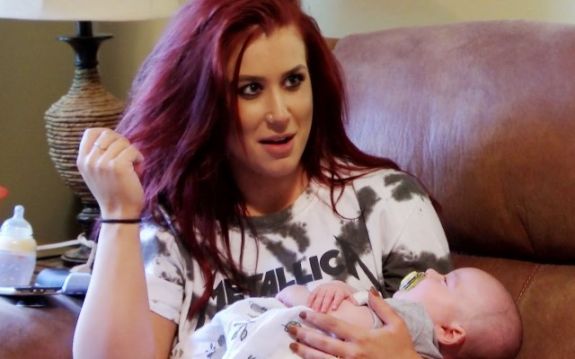 Many will remember 2017 for being a tough year, full of political turmoil and celebrity deaths, but this year wasn't all doom and gloom. 2017 also saw the births of many reality TV babies!
Here, The Ashley has provided a complete listing of all of the babies born to reality TV stars in 2017. (If you see a reality TV star's baby that was missed, please include it in the comments section.)
To see all of the reality TV star weddings of 2017, click here!
January
January 4: Shai Aleksander (Parents: Peta Murgatroyd & Maksim Chmerkovskiy of 'Dancing With the Stars')
January 7: Phoenix Roy (Parents: Ashley Salazar & Justin Lane of "16 and Pregnant")
January 20: Soltan Rahmati  (Parents: Asa Soltan Rahmati & Jermaine Jackson Jr. of 'Shahs of Sunset')
January 24: Ensley Jolie (Parents: Jenelle & David Eason of 'Teen Mom 2')
January 25: Watson Cole (Parents: Chelsea & Cole DeBoer of 'Teen Mom 2')
February
February 6: Henry Wilberforce (Parents: Jessa & Ben Seewald of 'Counting On')
February 17: Kerrington Ray (Parents: Sarah Robertson of "16 and Pregnant" & Justin Fine)
February 21: Golden Sagon (Parents: Nick Cannon of 'Wild & Out' & Brittany Bell)
February 24: Marchesa Anna (Parents: Lauren Manzo & Vito Scalia of 'Manzo'd With Children')
March
March (Date Unknown): Baby Girl (Name Unknown) (Parents: Katie Yeager of 'Teen Mom 3' & Tyler Thayn
March 2: Beau Dean (Parents: Tori Spelling & Dean McDermott of 'True Tori')
April
April 7: Ryder (Parent: Cheyenne Floyd & Cory Wharton of 'The Challenge')
April 17: Journey (Parents: Natalie Nunn of 'Bad Girls Club' & Jacob Payne)
April 28: Meia Grace (Parents: Hope Harbert & Ben Lagle of "16 and Pregnant")
 May
May 9: Birdie Joe (Parents: Brie Bella of 'Total Divas' & Daniel Bryan)
May 12: Jackson Kyle (Parents: Tori & Zach Roloff of 'Little People, Big World')
May 20: Axel James (Parents: Madison & Caleb Brush of 'Sister Wives')
June

June 7: Forrest Henry (Parents: Candice & John Cody of 'Survivor')
June 12: Joshua Dee (Parents: Meghan & Joshua Tavernier of 'Arranged')
June 16: Lenyx Kai (Parents: Val & Jeremy Collins, 'Survivor')
June 19: Leia Josephine (Parents: Edyra Sliwinska & Alec Mazo of 'Dancing With the Stars')
July
July 2: Stella Star (Parents: Briana DeJesus of 'Teen Mom 2' & Luis Hernandez)
 July 5: Liam James (Parents: Lauren Conrad of 'The Hills' & William Tell)
July 8: Samuel Scott (Parents: Jill & Derick Dillard of 'Counting On')
July 20: Isabella (Parents: Daya & Brett Otto, "90 Day Fiance")
July 27: Sonny Sanford (Parents: Whitney Port of 'The Hills' & Tim Rosenman)
August
August 5: Lux Russell (Parents: Kail Lowry of 'Teen Mom 2' & Chris Lopez)
August 8: Everly Sue (Parents: Kacie Boguskie of 'The Bachelor' & Rusty Gaston)
August 17: Emerson Avery (Parents: Jade & Tanner Tolbert of 'Bachelor in Paradise')
August 21: Kinnley Layla (Parent: Danielle Cunningham of "16 and Pregnant" )
 August 22: Henley Grace (Parents: Jamie & Doug Hehner of 'Married At First Sight')
September
September 12: Mason Garrett (Parents: Anna & Josh Duggar of "19 Kids and Counting")
September 18: Leo Grey (Parents: Jordan Ward of "16 and Pregnant" & Manny Hinkson)
October
October 1: Gunner Stone (Parents: Heidi Montag & Spencer Pratt of 'The Hills')
October 6: Liam Jordan (Parents: Alan & Kirlyam Cox, "90 Day Fiance")
October 18: Jack & Jesse (Parents: Rachel Robinson of 'The Challenge' & Natalie Gee)
October 20: Porter (Parents: Courtney Ames & Scott Snody of "16 and Pregnant")
October 25: Paisley Ann & Jackson James (Parents: Lindsey Nicholson of "16 and Pregnant" & TJ Nicholson)
November
November 11: Palmer Corinne (Parents: Cameran Eubanks of 'Southern Charm' & Dr. Jason Wimberly)
November 12: Gatlin Avery (Parents: Emily Maynard of 'The Bachelorette' & Tyler Johnson)
November 14: Scarlett (Parents: Millina Kacmar of "16 and Pregnant" & Dylan Borowicz)
November 30: Avah (Parents: Melanie &  Devar Walters of '90 Day Fiance')
December
December 8: Ella Grace (Parents:  Lauryn "Pumpkin" Shannon & Josh Efir of 'Mama June: From Not to Hot')
December 14: Mila Rose (Parents: Caleb Reynolds of 'Survivor' & Ashley Reynolds)
December 16: Julius Drake (Parents: Aleah LeBeouf of "16 and Pregnant" & Drake Page)
December 23: Phoenix Wolf (Parents: Bam Margera of 'Jackass' & Nicole Magera)
(Photo: MTV)