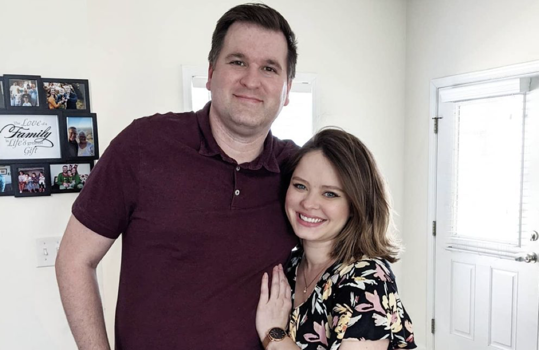 Kirlyam and Alan Cox of 90 Day Fiancé Season 1 have welcomed their second child together.
The '90 Day' OGs announced their new arrival on social media with photos of the two of them and baby Enzo, as well as a couple of photos featuring Enzo and his big brother Liam, Kirlyam and Alan's three-year-old son.
"Enzo is here!" Alan told fans on Thursday.
Alan praised his wife for her strength during the labor and delivery.
"We couldn't be more happier!" he wrote. "Mom and baby are doing great. [Kirlyam,] you are the strongest person I know. I could not do what you did. The pain you went through, all for little Enzo shows how much love you have. Your sheer determination and grit in that labor room absolutely amazed me and I'm so proud of you.
"I said it with Liam's birth and I'll say it again, you are a warrior," he continued. "You are an amazing mother and Liam, Enzo and myself love you with all of our hearts!"
Kirlyam— who is originally from Brazil— kept her announcement short and sweet with just a photo of her two boys and the caption, "Blessed."
As "90 Day" fans may remember, Kirlyam and Alan revealed they were expecting their second child late last year with a memorable Friends-inspired announcement on Instagram.
"Alan and I are both big 'Friends' fans," Kirlyam told fans of the pregnancy announcement. "So we decided to do some fun announcement using one of our favorite episodes. YES! WE ARE EXPECTING ANOTHER BABY BOY."
Alan and Kirlyam met while Alan was on a Mormon mission trip in Kirlyam's hometown in Brazil. Kirlyam came to the U.S. to be with Alan and the two went on tie the knot in a Mormon temple.
They welcomed son Liam in October 2017.
Alan and Kirlyam are one of the four couples who appeared on the very first season of "90 Day Fiance." To date, all four couples are still together and all have welcomed at least one child since their times on the show.
RELATED STORY: 'Darcey & Stacey' Season 2 To Premiere This Summer, With Darcey's Ex Jesse Meester Making An Appearance; Watch A Sneak Peek
(Photos: Instagram)