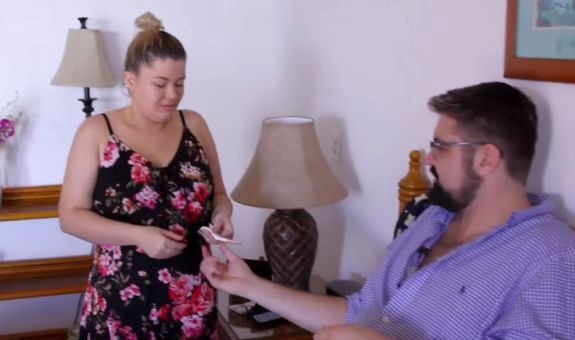 On this episode of Teen Mom OG, the gals are all jetting off to exotic places and going on fun trips; you know, living the typical teen mom lifestyle. Of course, none of the moms actually have their kids with them on these trips, (except for Farrah, ironically enough), but this is par for the course for this show.
The episode kicks off with Farrah and Sophia touching down in Italy. They are meeting up with Farrah's dad, Michael and his girlfriend Amy. Farrah's mom, Debra, is also coming on the trip, but will be arriving a day later than the rest of the gang. (She no doubt had to take some extra time to ensure her pleather pants were packed so that they didn't get any creases!)
Farrah tells us that she wants to keep her parents "separated throughout the trip." Um…then maybe just invite one of them and not the other?
Italian Farrah is just a little piece of heaven. She has barely set foot in the country and she's already spreading her special type of "amore" to the locals and her family alike, snapping at people and losing her temper.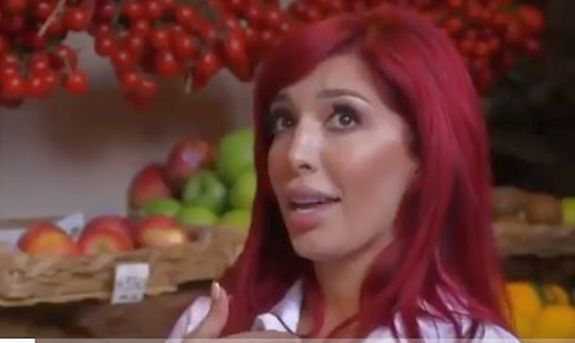 She tells Michael and Amy that she is hoping that Debra will arrive in Italy, meet some sort of Fabio (who has a thing for ladies wearing crop tops and multiple belts) and fall madly in love with him, and not marry Dr. David.
Back in Omaha, Deb and her mother Carmela get their drink on while Deb talks about the Italy trip that she, at this point, assumes she will be taking only with Farrah and Sophia.
Wait wait wait….record scratch! Farrah did not tell Deb that her ex-husband and his new broad were going to be on this trip with them?! That's cold, even for Farrah.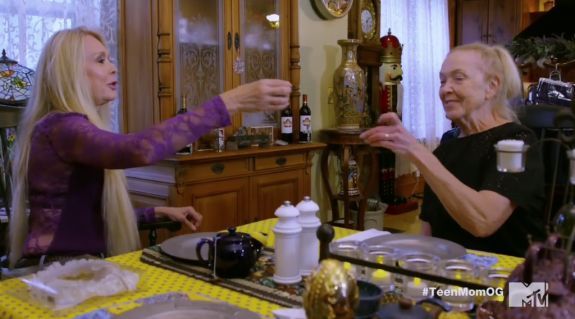 Debra, totally unaware of what sort of dysfunctional family fight-fest is waiting for her in Italy, tells her mom she hopes the trip will mend some fences before her big day with David. Debra and her mom both get emotional when talking about the possibility of her walking down the aisle without Farrah and Sophia be there.
Debra is so sure that Farrah and Sophia will change their mind and attend the wedding that she has already purchased a dress for Sophia to wear. She's even cooked up a job for her granddaughter: Train Carrier. Deb gets choked up just thinking of having to have someone else besides Sophia holding up the back of her dress while she delivers her rap classics to her wedding guests.
Over at Maci's, Taylor is on baby duty while Maci treats herself to a girls' trip. Maci and her friends are spending the weekend in Knoxville and attending a football game.
Later, Maci's pals know they have to put in the required conversation about Ryan if they want MTV to foot the bill for their Air BnB. Someone asks Maci if Ryan has taken his drug test yet so he can see Bentley. Maci says that Ryan has yet to take the drug test and therefore cannot see Bentley.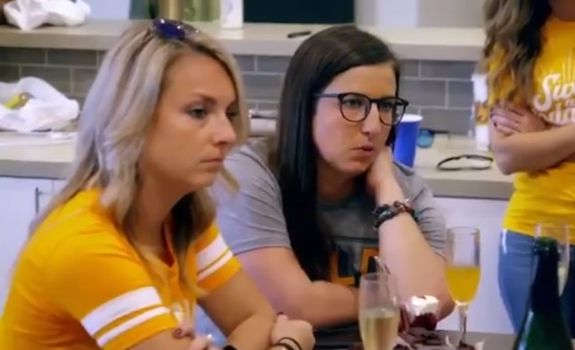 Speaking of Ryan, we check in with him at his parents' house. We learn that (fresh-out-of-rehab) Ryan is about to head to Las Vegas with Mackenzie and all their best pals to celebrate their joint bachelor/bachelorette party in Vegas. What better place for a newly sober person to go than Las Vegas!? Seriously, did Amber come up with this plan or…?
To add to the nonsense of this trip, we learn that Jen and Larry are tagging along. Jen insists that they hit up "da club" while they are in Vegas, and jokes that Larry will have to bust out the Geritol to keep up with the youngins. Apparently, that idea has really surprised Ryan because his eyes are as big as saucers in this scene!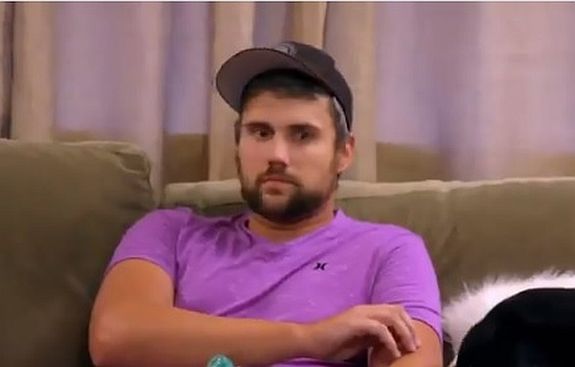 I feel like we've seen this before…is anyone else having déjà vu?
Also getting ready to take a trip is Amber, who is planning to take off to Hawaii with her daughter — just kidding, you know Amber's bringing her new man candy Andrew! Leah's stuck slumming it in the chicken coop at Gary's place while Mommy jets off to the islands!
While packing for the romantic getaway, Amber says she's ready for some downtime and needs to relax on a hotel couch for a while before coming home to her own treasured Lazy Boy collection. She also mentions that she misses Leah, ya know, just not enough to take her on the vacation.
Amber says she is excited to be going to Hawaii because she loved Puerto Rico…which is, of course, nowhere near Hawaii. #BuyAmberAMap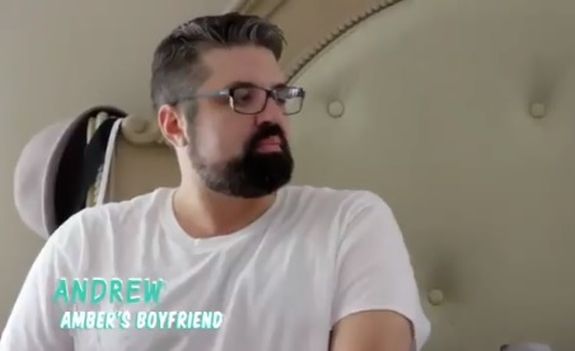 Amber tries to make up for her absentee parenting by patting herself on the back for always picking up souvenirs for Leah when she takes her various trips. Nothing says "Mommy Loves You" like a plastic keychain that you pick up at the gas station before you return your rental car! Maybe she'll even get Leah a shirt that says "My Mom Went to Hawaii and All I Got Was This Stupid Shirt."
Well, that and a new sibling. #SpoilerAlert
Meanwhile, Catelynn and Tyler are the only ones who are not out jet-setting the world. They are home in Michigan without much to talk about, so, once again, the storyline of them having another baby comes up. Cate and her mom April are lunching and discussing birth control while sporting their finest "Tierra Reign" T-shirts.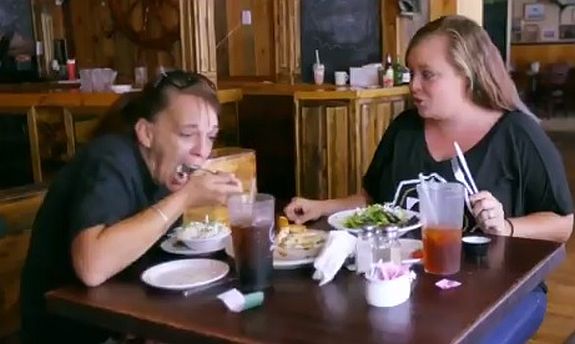 Over a plate of cheese fries, Cate tells her mom that she may be ready to pop out another kid. After all, she's "already 26!"
If they have a kid on 'Teen Mom,' and that kid's not illegitimate, did it really even happen, though?
Cate says she wants to be done birthin' babies by the time she's 30 and then she is sending Tyler to "get his balls snipped." April cackles at the thought.
I, on the other hand, now have a mental picture of Tyler I can never erase from my mind.
Cate decides that she needs to get her birth control yanked out and go with the typical mantra the Teen Moms have when it comes to family planning.
"Whatever happens, happens!"
The subject of Butch comes up, and April says she's worried because he "looks like hell lately." April says that she does not miss being married to Butch, having to stress out and play "hide the evidence" any time the parole officer visits.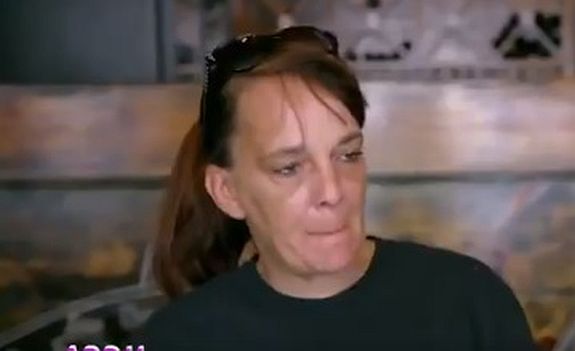 Speaking of Butch, he makes a rare appearance on the show because he is helping to build a fence at Catelynn and Tyler's new house. Construction gets temporarily halted so that Dr. Butch can remove his grandson's foot cast…with a hacksaw and pliers.
AS.YOU.DO!
Nephew Jordan has had a cast on his foot for a while now and, since Tyler's sister Amber "don't take him to the doctor," Butch decides that he can take care of that business right here and now with what he has in his toolbox. As some random shirtless dude (with a man bun, naturally) looks on, Butch explains that the boy hasn't had a checkup "or nuthin'" since he had the cast put on.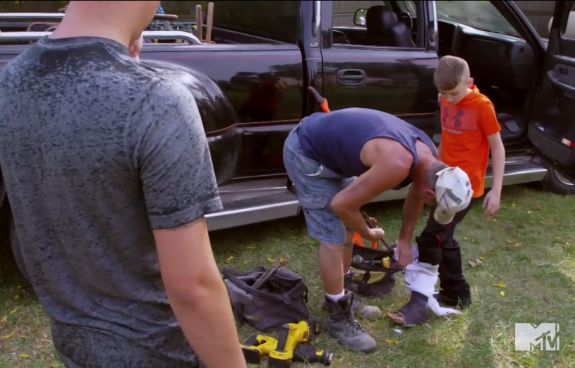 Butch secures a pair of pliers and starts tearing into the cast like it's a bag full of crack. He's slicing pieces of the cast off, with cotton (and/or bone matter?) flying everywhere. Soon, Dr. Butch removes the rest of the cast, revealing his grandson's mangled foot for all to see. (Dear God, can you imagine the smell?!)
We all need to get down on our knees and thank the Baby Jesus that the MTV film crew just happened to be there on this day to capture this Kodak moment in time!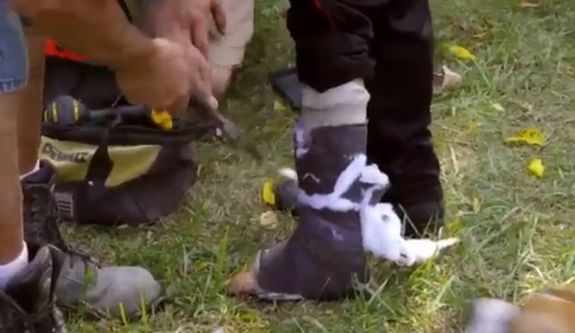 Dr. Butch is quite proud of himself. Producer Kerthy is just standing there, marveling at the trashiness of what she just saw.
Meanwhile, in Italy, Debra sashays into the Italian hotel, ready for her (alleged) girls' trip. While she settles in, Farrah, Michael, Amy and Sophia do some sightseeing. Farrah is, for some reason, wearing a crushed velvet stripper dress to go boating. Her get-up, along with her Little Mermaid hair, and the fact that she's touting an entire MTV film crew with her, attracts quite a crowd.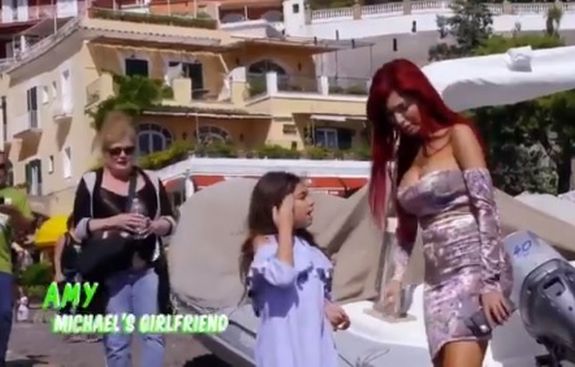 As they are making their way to the beach, Sophia warns her family to be careful not to slip, fall into the water, drown and then die —you know, a completely normal statement to come out of a kid's mouth. (We all know Farrah will be safe, given that she has those two giant overblown flotation devices bobbing around in her shirt! Safety first!) The adults just laugh off Sophia's creepy statement.
Later that day, Deb is wandering around, chatting with Producer Kristen (who is probably stoked she got a free trip to Italy during her first season on the job!) Producer Kristen gets winded from walking up a bunch of steps, and Deb—being the saucy little minx that she is—gets in a good jab at the much-younger Kristen.
"You've got to work out more," Deb tells her flatly, not even out of breath from the excursion.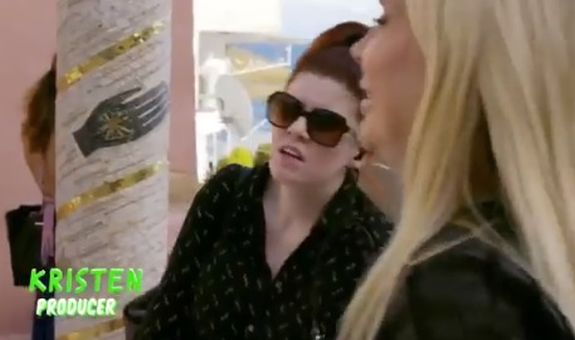 Debra's good mood doesn't last long. As she is talking to Producer Kristen, she sees Farrah and Sophia and Michael and Amy. Debra has no idea that her ex-husband and Amy are crashing her supposed Girl's Trip, so she's understandably surprised.
"Oh my God…there's Michael and Amy," Debra says. "How….exciting is that."
Deb actually looks like she's about to cry, realizing she's 1) been set up to be ambushed and 2) had her dreams of a single ladies trip with her daughter and granddaughter ruined.
Deb sucks it up and greets them. Sophia is ready to stir the pot. As soon as she sees Deb, Sophia asks her if she likes Michael's new squeeze. Debra tells her granddaughter that she loves Amy and even Michael. They all do some awkward hugging and cheek kisses while Farrah tries to hide her disappointment at seeing her parents act like adults.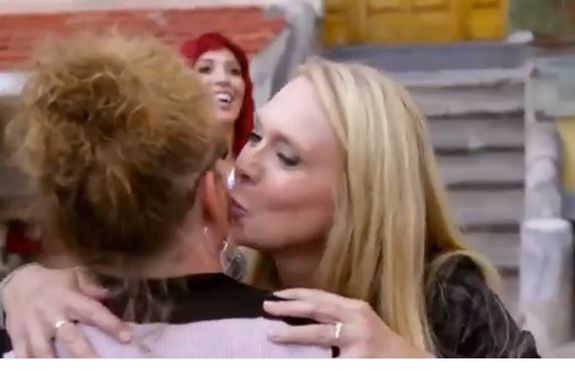 Later, Farrah and Deb check out the local produce and Deb tells Farrah she was "surprised" to see Michael and Amy in Italy. Farrah tells Deb that this was basically a way to teach her a lesson not to be jealous of Farrah and Amy's relationship…or something. Debra assures Farrah that she can keep it together.
Over in Las Vegas, Ryan, Mackenzie & Co. have arrived for the faux bachelor/bachelorette party. Ryan kicks things off by riding through the desert in a truck with his friends. Ryan dubs the outing "good sober fun" and we must agree. After all, it's good to see him behind the wheel driving badly intentionally for once.
While that's going down, Jen, Mackenzie and Mackenzie's two friends go to lunch. Mackenzie tells them she and Ryan will be re-tying the knot (so… double knotting it?) exactly six months to the day that Ryan got sober.
Um…
Mackenzie says she's invited Maci and Taylor to the wedding and everyone, including the producers, look confused. Mackenzie then starts laughing like a Disney movie villain at the fact that her husband's baby mama will be at her do-over wedding. It gets downright creepy and incredibly awkward.
That night, the entire group hits the Sin City club scene. Mackenzie is throwing back some drinks while Ryan suggests that she "ease up." Of course, Ryan's "sobriety" isn't going to stop him from chugging shots at "da club."
Larry continues to drop it like it's hot (that Geritol must be kickin' in, y'all!) as Ryan paces around the patio uncomfortably. He looks sweaty and, again, must have gotten some sort of surprise or something, because his eyes are really big.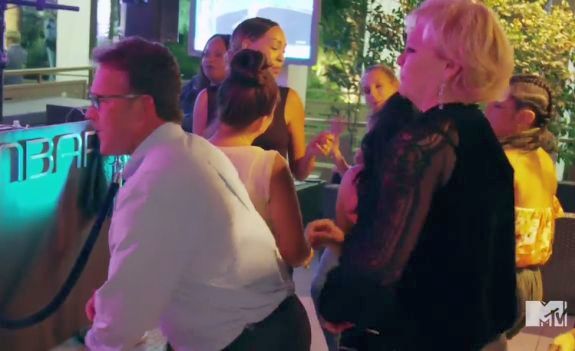 The next day, Mackenzie, Jen and the rest of the girls are getting their hooves oiled up at the spa when Mackenzie announces she and Ryan are ready to pop out some kids the following year.
Mackenzie's friend probes her about the first wedding she and Ryan had, which immediately causes Mackenzie to get emotional. She tells the girls she realized after the ceremony just how bad things were with Ryan. (Really, that car ride didn't tip ya off?)
Jen expresses concern about Ryan slipping back into the bad stuff. Mackenzie says she's focusing on the now… when producers aren't prompting her friends with these conversation topics, that is.
At Ryan's rental house in Vegas (after a toast to "titties and beer" featuring Larry) Ryan confirms to producers that Maci and Bentley were invited to his wedding and when Larry says "Maci and Taylor" in an effort to correct him, Ryan shakes his head.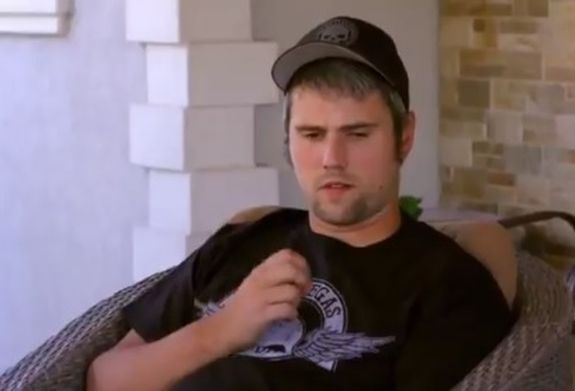 Back from her girls' trip, Maci tells her friends she received Mackenzie and Ryan's wedding invitation, which Taylor's name was strangely left off of. Despite the apparent diss, Maci decides she'll be the bigger person and RSVP "yes" to the event, because she's never been one to turn down an open bar.
In Michigan, Cate is outside puffing on a cigarette while Tyler entertains their friend Hayley inside. Tyler tells Hayley it doesn't make sense that Cate is still smoking when they're thinking about her getting pregnant. Tyler is mad that Catelynn hasn't kept up with the pact they made to have both quit smoking by the time Nova turned one.
"I'm not doing anything until that incubator is clear!" Tyler says about his wife.
That may or may not be the least romantic thing Tyler has ever said on this show…and that's saying something.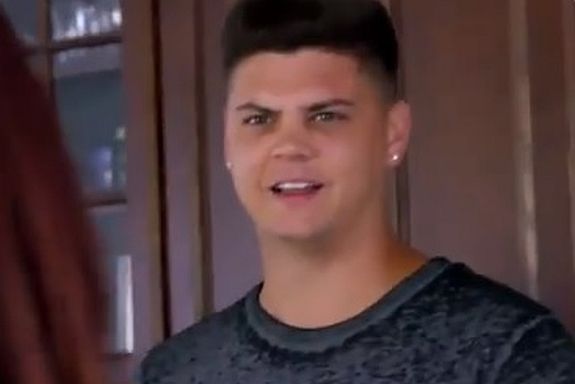 Later, Catelynn tells Tyler she's going to ride her horse. She does have her feet in the stirrups, but she's actually at the gynecologist's office, getting ready to get her birth control plucked from her body.
At the appointment, Cate's doctor drills her on whether or not she's certain she's ready for another baby. The doctor brings up the fact that it may not be a great time to get pregnant, given that Cate is still puffing the ciggies on the regular, is overweight and is still recovering from the post-partum depression she suffered after having Nova. But, you know, other than that…why not?!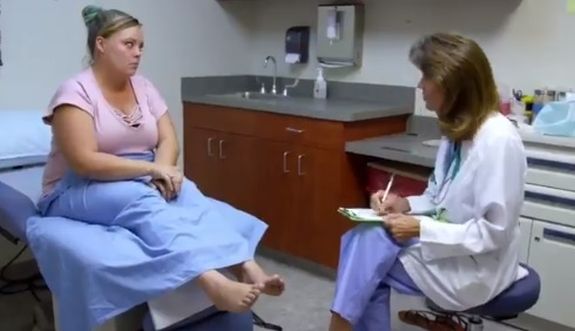 Catelynn actually allows the doctor to reveal her weight on-camera. We learn that Cate now weighs in at 189 lbs, with a BMI of 35. The doctor tells her that she needs to get her weight down ASAP (no more giant quesadillas!) and Catelynn agrees.
We also learn that Catelynn will be ovulating soon. I could have gone my whole life without knowing that but, it is what it is…
Thankfully, the MTV cameras cut out before we have to watch the IUD getting yanked from Catelynn's cervix. (We do get to hear her talk in great detail about how painful the process was, though.)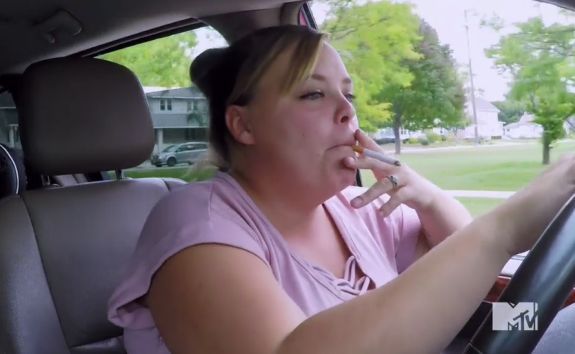 She's thinking she might get pregnant as quickly as she did with Nova. Despite that, she's not planning to quit smoking just yet, but says it will be easy to quit cold turkey once she confirms Tyler's spawn is inside of her. So in the meantime, leave her and her Parliament Lights be.
Unfortunately for Amber and Andrew, getting to Hawaii proves to be difficult. Amber has picked up a mysterious stomach bug (hmmm…) and spent their layover yakking in the airport bathroom. She was so sick that they couldn't even make their connecting flight from Los Angeles to Hawaii!
Maybe it was some bad airport Chinese food? (All airport Chinese food is bad, after all.)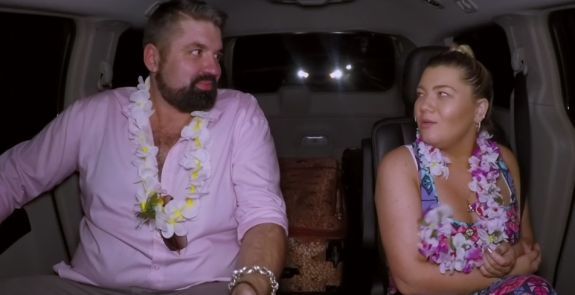 After they finally arrive in Hawaii, Amber and Andrew get into their condo, which Amber states is "so old school." (Naturally, the Hawaiians can't keep up with the level of cutting-edge modern home furnishings Amber has in her home back in Indiana.)
She marvels at the condo's couch and declares she's sleeping on it. She legit looks more lovingly at that couch than she ever looked at Matt—and he was HER MAN!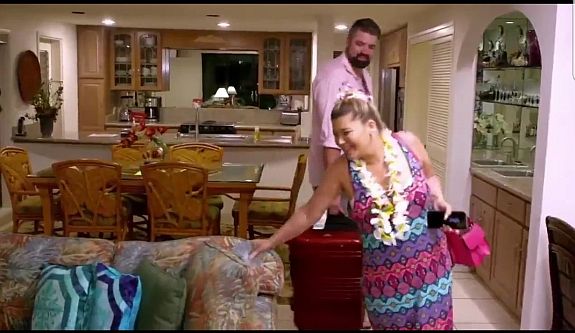 Amber tells producers about her mysterious stomach ailment, adding that the last time she was this sick was when she was pregnant with Leah. What a coincidence!
Amber says it must have been something she ate. Spoiler alert: it's not.
It's just ridiculous, guys. You both know Amber is pregnant. The producers all know Amber is pregnant. Why are we still doing this charade? Blame the airport Panda Express all you want, but we know your "incubator" is full, Ambie.
Later, Amber is puking her brains out. (We know this because we are treated to hearing her puke said brains out. Thanks for that, sound department!) Although she's still sick, Amber is determined to keep it together because Andrew really wants to go snorkeling. Nothing helps an upset stomach and nausea more than getting on a snorkel boat!
We watch as Andrew and Amber strap on some fins and the MTV cameramen get all tricky with the GoPro to give us some great underwater shots of Amber and Andrew's undercarriages.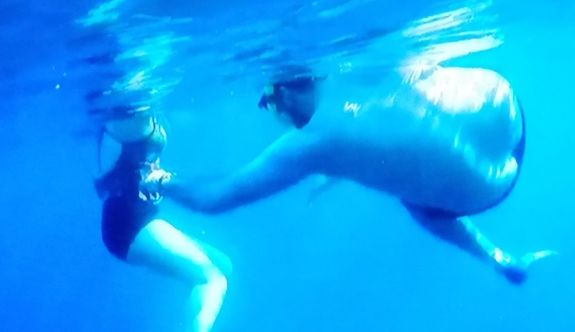 While Amber and Andrew are busy lei'ing each other in Hawaii, Gary and Kristina have gotten wind of Andrew's shady past (which The Ashley previously told you about). Gary is less than thrilled to be dealing with yet another potential Matt situation and says Amber should have waited before jumping back into a relationship.
Gary tells Kristina he doesn't have the option to not be a parent unlike Amber, who is free to jet off to wherever she wants and explore the couches of the world!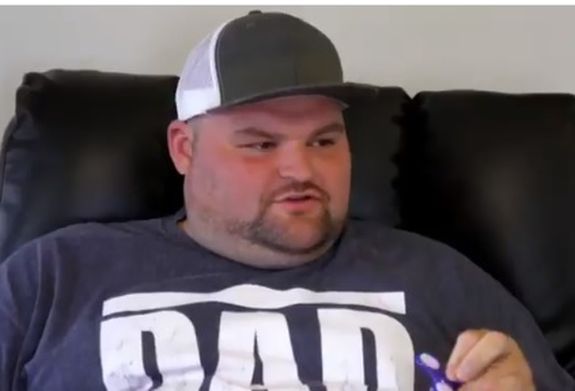 Kristina says that Leah is now old enough to notice that her mom goes M.I.A. any time a new man comes into her life.
"Leah told me, 'Matt was in the picture, Mommy broke up with Matt. Mommy don't come around then because she's too depressed but then she brings over Andrew' and then she asks me 'If she was too depressed to see me, she wasn't too depressed to find a new man?' What do I say to that?"
In.The.Face.
Kristina says she wishes they could adopt Leah. (This comment sent Amber off on Twitter last week! Check it out!)
We now head back to Italy, where Deb, Farrah and Sophia are taking a cooking class.  The poor Italian lady tasked with teaching them to make pasta is trying to introduce herself but Farrah ain't got time for that nonsense. She just cuts her off, blurting out, "Do we need some aprons or what?"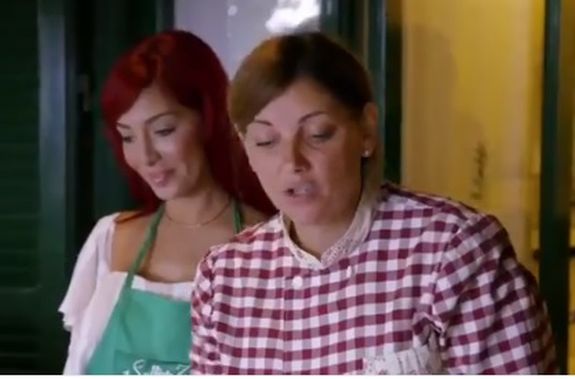 Once the girls are properly approned, the chef again tries to explain what they'll be doing, but everyone keeps interrupting her. As they are making the sauce, Deb mentions that her fiancé, Dr. David, is quite the chef, and Farrah is not happy that her mom dared to mention him.
Sophia has decided that she wants to randomly mix eggs around a bowl, so Farrah demands that the chef stop what she's doing and go fetch those things for Sophia. Farrah asks someone else in the kitchen to go get those things for her, but the person seems to not understand.
"Oh? No speaka English? Egg. Bowl. Put it together," Farrah barks. "Egg and bowl are the same in every language."
This is why people in other countries hate us, guys…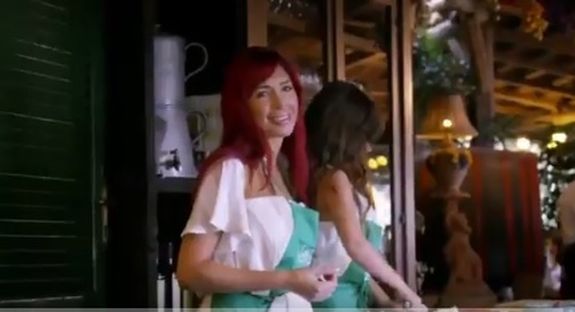 As the Italian kitchen staff no doubt whispers about the "red devil," the chef brings out the prepared pasta meal.
"Gratzie..or gratzia or whatever," Farrah tells her.
They shovel the pasta into their gullets and even Farrah has to admit that it's good.
"This is real Italiano cooking!" Deb declares, as Farrah shoots her dagger eyes. (Apparently Farrah is the only one in the family who is allowed to butcher the Italian language?)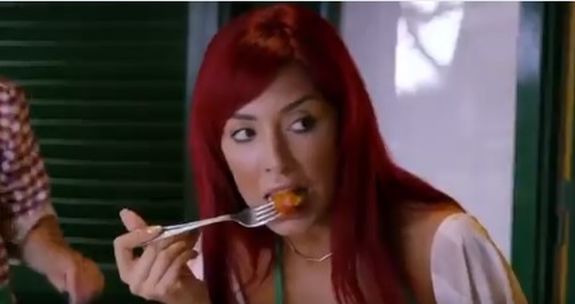 That night, Deb, Farrah and Sophia are having dinner together at a fancy restaurant. You know it's fancy because, as Debra tells us, "they have real Chianti," except she pronounces it like "D'Ante." Fancy!
Also…Debra is sporting a red rhinestoned hat that may or may not have been worn by Gloria Estefan while she was on tour in the 1990s. This, of course, just makes everything feel fancier. I'm just waiting for Deb to kick the chair out of the way, swing her blond extensions around and treat the locals to her rendition of "Turn The Beat Around."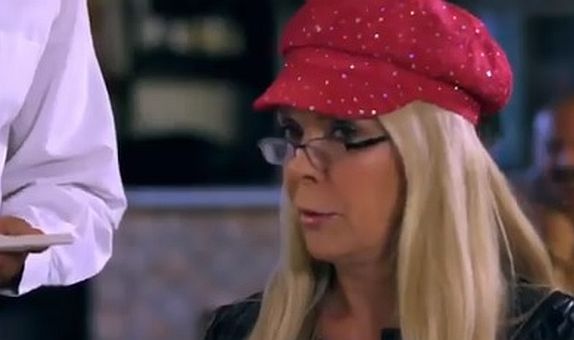 Unfortunately, there is no performance. (Unlike Sophia, The Ashley doesn't always get what she wants.) Instead, Farrah and Deb discuss Debra's wedding. Deb says her hairdresser will be the "man of honor" and Farrah will be the maid of honor, whether she's there or not.
Deb tells Sophia (who is busy slathering olive oil all over her face, as you do) that she will get to be her official "Dress Attendant." Sophia is less than thrilled.
Never one to let a nice moment happen, Farrah tells her mom the trip to Italy is going well without David being there so Deb shoots right back that it's also going great without Simon being there. The two then get into a depressing competition of whose ex or current significant other has been the biggest piece of crap.
"This just shows that you are not mental wherewithal to have a family environment," Farrah tells her mom. (Apparently, in addition to Italian, Farrah can't speak English either.)
Once Sophia leaves the table Farrah jumps down Deb's throat for mentioning Simon in front of Sophia and then calls her an "evil bitch." We're just disappointed she didn't attempt to say it in Italiano: "La bitcho del evil-o!"
Finally, we head to Hawaii one last time to check in on Amber and Andrew. Amber still isn't feeling well so she decides to take a pregnancy test to see if that's what's wrong with her. Amber finally goes to pee on the stick, as Andrew attempts to look like he has no idea what's going to happen!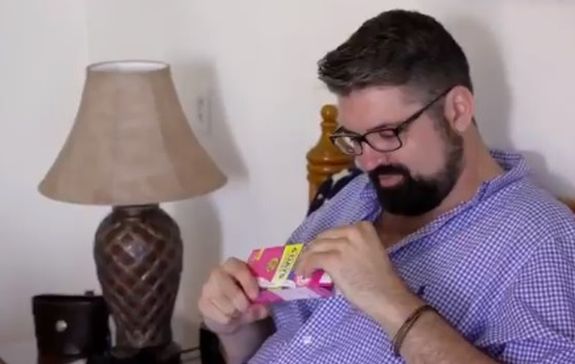 To the surprise of no-one, Amber is knocked up. Andrew stares at the pregnancy test in amazement. Hey, buddy, this is what happens when you date a 'Teen Mom' star—you boink for a month or two and within the year, you're in court fighting for custody of your kid. Lather, rinse, repeat. Welcome to the baby daddy club, Drew!
We're sure Leah will be thrilled to find out she's getting another sibling… that is, once she gets past the excitement of the Hawaiian snow globe souvenir Amber buys her as a souvenir.
To read The Ashley's other 'Teen Mom OG' recaps, click here!
(Photos: MTV)