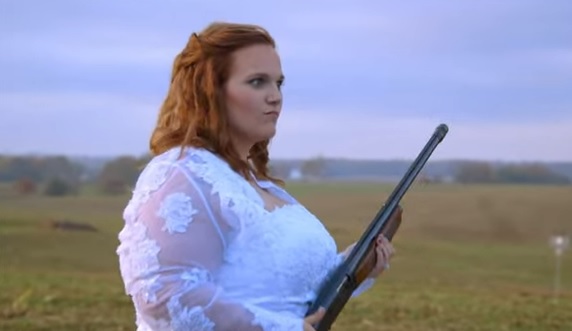 There is certainly no lack of wedding-themed reality TV shows on the air currently, but the one that started them all is finally coming back! A brand-new season of Bridezillas is coming our way, and, this time, the brides are more horrific than ever before!
Five years after the show went off the air, the wedding-themed drama-fest is back with a bang for its 11th season. (There is literally going to be a bang, as the just-released first trailer for the season shows a bride wielding a shotgun!)
As The Ashley previously reported, WEtv has picked up 'Bridezillas,' and each hour-long episode will follow women who have become drunk with power before their weddings.
In the trailer, we get to see the women screaming at loved ones and caterers, throwing cakes on the floor, flipping tables and just generally losing their minds. We also get to see their grooms-to-be brawling with guests and family members alike.
As the shotgun-wielding bride screams in the trailer, "It's the best freaking day of their lives-can't you tell?"
It's gonna be awesome.
Marc Juris, the President of WEtv, released a statement about the new season.
"Years after saying goodbye to our last 'Bridezilla,' we have been asked consistently to bring this show back by viewers and fans," she said. "With its built-in fan base and continued cultural relevance, the 'Bridezillas' franchise is a strategic growth asset that we can leverage across our business and we are thrilled to be bringing it back to WEtv."
And this season's brides have a tool that the brides of previous seasons didn't have: social media. With Twitter, Facebook, Snapchat, Instagram and other social media sites, these brides have more reach than ever. We see one bride on the trailer threaten to "ruin" some poor person's business via social media because they didn't meet her demands.
'Bridezillas' returns on Friday, March 2 on WEtv.
Watch the season's first trailer below:
(Photo: WEtv)