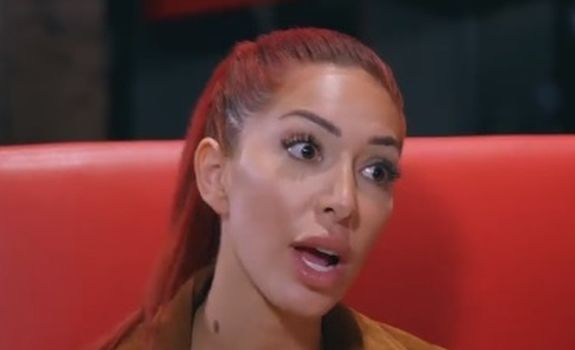 Just one day after MTV fired Teen Mom 2 star David Eason for going on a homophobic Twitter rant, the franchise's other fired star, Farrah Abraham, has hit the network, its production companies and Teen Mom OG's executive producer Morgan J. Freeman with a $5 million lawsuit!
Farrah, who got the boot from the long-running reality show on October 30, 2017 (and has been squawking about it ever since) filed the lawsuit in a Texas District Court, claiming that she was harassed, wrongfully terminated from her job, forced to endure a hostile work environment and was made to "fear for her life" on the day she was fired, to name just a few things listed in the lawsuit.
According to the legal paperwork acquired by The Blast, Farrah claims she was wrongly terminated from her 'Teen Mom OG' gig and harassed for "not conforming to gender stereotypes." She also claims her firing came in part because she complained about said harassment. In addition, she claims she was discriminated against and not paid out the full amount that was agreed upon in her Viacom contract.
The lawsuit names Morgan J. Freeman, New Remote Productions, Viacom, Eleventh Street Productions, and Anxious Eleven as defendants.
As The Ashley told you back in October, Farrah was canned in part due to her continued work in the adult industry. (Her poor treatment of the show's producers and crew was another reason she was let go, according to Morgan J. Freeman in a clip released by MTV of the episode Farrah is fired.)
After her "Backdoor" sex tape was released in 2013, Farrah continued to dabble in the sex industry (blow-up sex dolls, anyone?), but it wasn't until the Fall of 2017 that she really ramped it up by signing up to participate in a series of live web cam sex shows.
In the lawsuit Farrah claims she was "harassed, humiliated, discriminated, disrespected, ridiculed, degraded and sex shamed" by Morgan and the production crew for being involved in the adult industry.
Farrah claims that Morgan also threatened her future work with MTV.
She also states that she was scared that Morgan was going to kill her during the incident.
"Given Freeman's hostile tone, mannerisms and body language, Ms. Abraham feared for her life," the lawsuit states.
To help her recover from the "emotional pain, email suffering, inconvenience, mental anguish, loss of enjoyment of life, and other losses" that Farrah says she has suffered from this incident, Farrah is requesting a payout of $5 million.
"[The harassment interfered with Farrah's] work performance and psychological well-being," the lawsuit states.
Fans will get to watch (some of) the termination drama unfold on next week's episode when Morgan sits down with Farrah to discuss how people should treat one another.
In a statement to E! Online, Farrah explained (in her typical "Farrah Speak" fashion) why she is suing those associated with 'Teen Mom OG.'
"I am here to make a change for the LGBT and female community at large, and I'm proud I stay true to my identity as a business entrepreneur, reality star and single mother," she said. "I am a business women and female celebrity leader who will not be shamed or discriminated against by Viacom, MTV, my peers as it's illegal for me to do the same to them."
Farrah's father Michael Abraham, who spoke to The Ashley in November about Farrah's firing, defended his daughter on Twitter on Wednesday, stating that the Abrahams are armed and ready to do battle in court!
"[They] have all the security footage from my house system [from the day Farrah was fired] and it shows the truth… and it's going to court not the MTV footage which is edited lol!"
"If you knew the truths about how Farrah and her family has been treated you would have done the same," he told another fan in a tweet. "No employer would get away from the discrimination, hating, and harassment that was done … but you won't see that on TV. But the facts will be out soon."
Watch the clip below of next week's episode in which Farrah's firing will be shown.
(Photo: MTV)