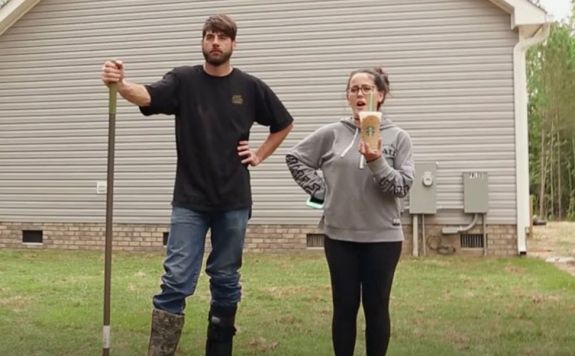 Life on "The Land" has not been easy for Jenelle Evans since her husband, David Eason, got himself kicked off of Teen Mom 2 for blasting the LGBTQ community in a Twitter rant on Monday.
The Ashley has turned to her sources who have given her an update on what's been going on with Jenelle and David in the days since everything went down.
"Basically, after it happpened, [the show's producers] were trying to give David every chance to not get fired," one behind-the-scenes source tells The Ashley. "They were on the phone with him, telling him to apologize and try to make it right, but David would not budge. He kept repeating that those are his beliefs and he doesn't have to apologize for what he said because it's true. I think that's when the producers knew they couldn't write this one off. They issued the statement later that night, right after that phone call with David. Jenelle was shocked."
While Jenelle has not been fired from 'Teen Mom 2' (as of press time), she has been extremely scared for her own job.
"Everyone from MTV was freezing Jenelle out after this happened, which made her even more worried," another source told The Ashley. "No one from MTV would even return her texts or calls."
As The Ashley told you before, MTV execs met on Wednesday to discuss several topics, including Jenelle's future on the show.
Shockingly, the one person who has come to Jenelle's defense in all this is her estranged mother, Barbara Evans.
"Barbara has been sympathetic to Jenelle through this and is supportive of her daughter right now," the first source said. "It make sense, though, because if Jenelle doesn't continue to film, Barbara won't film either. That's how it's always been in the past at least; if the principle girl doesn't film, the secondary cast doesn't either."
(The Ashley wants to note here that, while this used to be the general policy, things have changed in recent years. Secondary cast members have continued filming even when one of the main girls has 'quit' in the past, so there's a chance Babs could continue on with the show even if Jenelle does not.)
The Ashley's crew sources tell her that there are several members of the show's production/crew who have stated that, if Jenelle continues on the show, they do not want to go back out to Jenelle and David's home on "The Land" due to this incident.
So how will David's firing affect the Eason Family Finances?
The Ashley's sources tell her that David was likely pulling in about $4,000 for every episode of 'Teen Mom 2' he appeared in. David will not appear in any new episodes; however, they are in the middle of production on the next season of 'Teen Mom 2' and David will likely appear in all of the episodes that were filmed before the firing. (He will be paid for the episodes he appears in, regardless of the firing.)
There's likely only a few episodes left to film, so he stands to lose out on about $10,000, give or take, according to The Ashley's sources.
The Ashley also hears–but can't 100 percent confirm yet–that David has been banned from attending or appearing on the 'Teen Mom 2' reunions. (He may be allowed to travel to the reunion site as Jenelle's guest, but will not be present on set or appear on stage.)
As far as Jenelle is concerned, David's firing has not affected her personal promos or sponsorships, as of yet. His rant did, however, cause several advertisers to pull their ads from airing during the 'Teen Mom' shows.
The Ashley will update this when she has more information! Stay tuned!
(Photo: MTV)