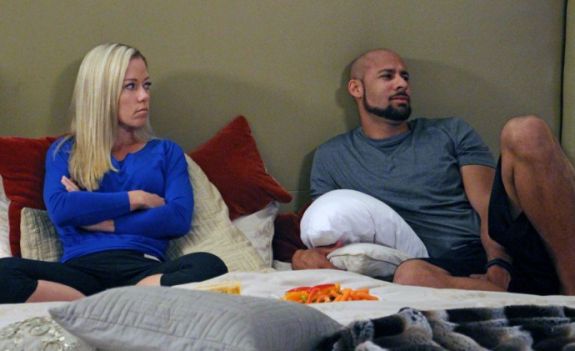 For years, viewers have watched the marital drama of Kendra Wilkinson and Hank Baskett, Jr. play out on various reality shows, particularly Kendra's WEtv reality show, Kendra On Top. (Who could forget Hank's alleged affair in 2014, which Kendra managed to stretch across several seasons of the show?)
Fans have long-speculated that the drama on the show was fabricated for ratings, but now even the tabloids are getting in on the accusations!
After a tabloid accused Kendra of "faking a marriage crisis" in order to secure another season of 'Kendra On Top,' Kendra blasted the magazine, insisting that her marriage really is bad.
In a now-deleted Instagram post, Kendra posted a screenshot of the article. She captioned the photo with a whole host of reasons explaining why she's not faking her problems with Hank.
"1. How do you fake marital problems? Makes absolutely no sense," Kendra wrote. "2. Yes we are having issues. 3. My job has been reality TV for 13 years. 4. My show was a comedy and lighthearted til sad times happened then we had to change my show from comedy to drama. Not what I wanted but was part of my journey and story."
She also discussed her marital problems in more detail.
"These issues Hank and I are having in our home which we are trying hard to overcome, everyone knows about, including producers and network, friends and family," Kendra wrote. "My job is reality TV and I love my job. Unfortunately these issues at home are affecting my decisions cuz the last thing I want to do is hurt Hank.
"I hope to get back to the fun Kendra you all know. That's all I want and aim for," Kendra wrote, before adding the laughable line, "I hate drama!!"
Fans started wondering what was going on when Kendra tweeted, "2018 has been so far the hardest start to a year in my life," on January 11. Although Kendra insists her marriage to Hank is strained, the tabloid's insider stated that the reality star is "fabricating the marital problems in order to get WeTV to commit to a seventh season of 'Kendra On Top.'"
The insider claims it's all part of Kendra's plan.
"She's pretty much creating problems with Hank to drum up interest and get them to commit to renew the show," the insider said. "In reality the marriage is fine."
In her post, Kendra denied that her marriage is in good shape.
"Thank you all for your support and understanding me at his time," she posted to Instagram. "I've been in a lot of therapy lately n hope all gets resolved for me, Hank, kids, and even for TV. Lol."
WEtv has not yet announced if it will be renewing 'Kendra On Top.'
(Photo: WEtv)