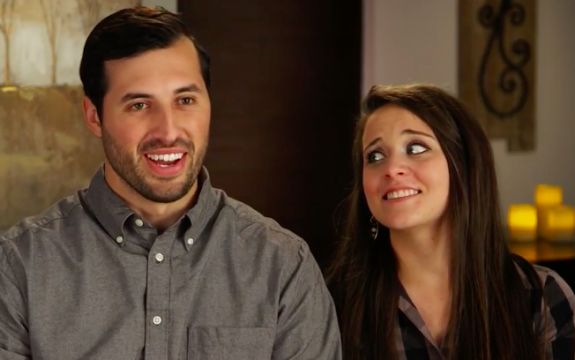 Jinger Vuolo's "baby spice" will be a girl, the Counting On star and her husband, Jeremy, revealed to their family (and People magazine) over the weekend.
The magazine reports that the Vuolos invited the entire Duggar clan to Texas for their gender reveal party, which was held on Saturday. Once there, an assortment of Duggars were split into a blue team and a pink team to run amok through an obstacle course to find out the baby's gender.
"One by one, a member of each team had to eat a single serve container of ice cream before running an obstacle course," People reported. "The captain of the first team to finish the race had the honor of flipping the switch on a 'Baby' neon light, revealing the sex, and Jinger, 24, and Jeremy, 30, sprayed everyone with pink silly string."
As you do.
The gender reveal was followed by a surprise baby shower thrown by Jinger's friends. (It appears that the regular "Duggar baby shower thrower", the wide-eyed Sierra Dominguez, had nothing to do with this shower.)
Jinger, who is 25 weeks into her pregnancy, will be the first of her sisters to give birth to a baby girl. Jessa Seewald and Jill Duggar each have two boys, and Joy Forsyth recently gave birth to a son. (Her sister-in-law, Anna Duggar, does have two girls with Jinger's brother Josh, though.)
"We are so happy to announce that we are having a little baby girl!" Jinger and Jeremy told People. "We could not be more excited and are eagerly anticipating meeting our little lady this summer. We especially love thinking forward and realizing that she will have excellent role models in both of her grandmothers, who cannot wait to shower her with love."
People posted the photo below, showing Jeremy, Jinger and Jinger's growing baby bump standing next to the pink "Baby" neon sign:
To get the stats on all the Duggar babies, click here!
(Photos: TLC, Instagram)