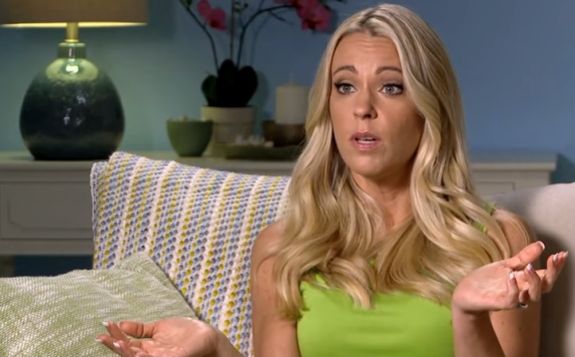 Kate Gosselin is back on the dating scene and ready to get her groove on.
Um…yay?
People announced on Monday that the divorced mother of eight will star in a new reality show that focuses on her dating journey. The TLC show has been given the cringe-worthy title Kate Plus Date.  
We first met Kate when she starred alongside her eight kids and then-husband Jon on TLC's Jon and Kate Plus 8. Their marriage crumbled after 10 years and Kate took on the role of single mom to the kids. (She also took over the family's reality show and kicked Jon to the curb, changing the show's title to Kate Plus 8.)
After eight years of being single, Kate says she's ready to mingle.
"I'm nervous, I'm excited, and I'm forcing myself to do this," Kate told People, adding that this is the perfect time for her to start prowling the dating scene again. Her two oldest kids, Cara and Mady, will go to college in the fall, and the sextuplets are now 13.
"As we're talking about Mady and Cara going off to college…it almost became like a worry for them, too, like, 'Mommy, you're gonna be all alone soon,'" Kate told the magazine. "But it was very apparent, now that they're older and talking about dating and how they're all gonna get married someday…it became apparent: they want someone for me. They want me to have somebody in my life."
Kate said she didn't want to be alone for the rest of her life.
"[I] started picturing myself sitting in a rocking chair, knitting, and words like 'old maid' and 'spinster' started to come to mind, and I realized that no, I don't want that to be my fate," Kate said. "I sort of forgot about the dating thing. It's never really fit into my life."
Kate said she wanted to do the dating show because it's safer than going out on dates like a regular person.
"If I'm going to date someone, I can't just go out on a date — it's creepy to me to think of just going out somewhere with some stranger, and so I actually feel like doing it like this is the best and safest way for me to go on a date — a camera crew will be there! I'll be safe!" she said. "And the person will have been vetted by a matchmaker. I won't be just doing some scary online thing."
Kate says her 'celebrity' status has made it hard to get into the dating scene.
"I mean, online dating, seriously — I put my profile in there and people will know who it is within 90 seconds," Kate said. "No, this is probably the safest way for me to date, let's be honest."
When asked what type of gent she's looking for, Kate said she is interested in a man who has his own life.
"I do want someone with a set career, who is confident," Kate said in a somewhat jab to her ex-husband Jon, who has floated from job to job since their divorce. "[I want] a grown-up with their own life, their own agenda, who knows who they are. If someone travels for work that would be great, because I'm used to being on my own and being self-sufficient."
TLC has not revealed much about 'Kate Plus Date.' At this point, it is not known if the show will have a 'Bachelorette'-like format, where Kate dates a lot of guys at once and eliminates them one-by-one, or if she will go on individual dates with various men.
'Kate Plus Date' will air this fall on TLC.
(Photo: TLC)