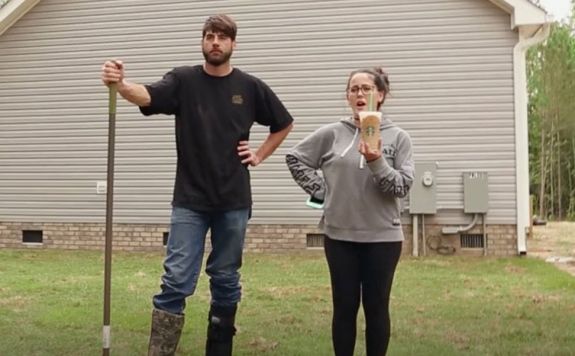 MTV may not want David Eason anymore, but that's not stopping another TV network from trying to get the former Teen Mom 2 star (and his wife Jenelle Evans) to appear on one of its shows!
The Ashley can exclusively reveal that WEtv has been trying to get Jenelle and David to sign on for the upcoming season of Marriage Boot Camp: Reality Stars. The negotiations have been going on for the last month or so. Shockingly, though, David and Jenelle have been turning the opportunity down!
"WE has been hardcore negotiating with them for the last few weeks, but Jenelle and David have already turned down three offers," a source for the network tells The Ashley. "They keep saying no but WE keeps offering them more money."
The source added that the network really wants Jenelle and David, because they know that any show that includes them is almost guaranteed to have major drama.
"The network is really pushing the casting directors to get them," the source added.
WEtv has reportedly offered Jenelle and David more money each time they came back with a new proposal.
"They keep saying 'no' though," the WEtv source tells The Ashley.
This would be for a regular season of 'Marriage Boot Camp: Reality Stars' (like Jenelle's 'Teen Mom 2' co-stars Kail Lowry and Javi Marroquin did). It would not be for the show's "Family Edition" (which is currently airing.) Back in 2016, Jenelle had been planning to do that version of the show with David and her mother, Barbara Evans, but Barb backed out.
"They are going to start shooting the next season in about two weeks," the WEtv source added. "Jenelle and David would be gone for about 10 days, give or take, if they signed on."
One of The Ashley's 'Teen Mom 2' sources tell her that the girls are going to be on hiatus from filming for a bit, so if Jenelle wanted to go to Los Angeles to film 'Boot Camp,' she could.
(Photo: MTV)