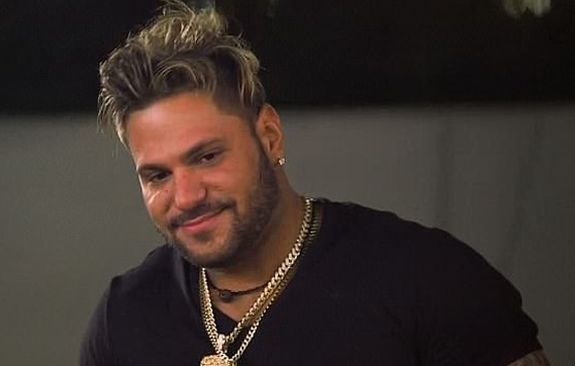 UPDATE! Ronnie and Jen got into a physical fight on Monday. Click here for the latest info.
Jersey Shore Family Vacation star Ronnie Magro-Ortiz has only been with his baby mama, Jen Harley, for a short time but they're already having epic "Raaaahn and Sam"-style fights! On Sunday the new parents got into a nasty fight via Instagram. Although no mattresses were thrown, Ronnie and Jen did hurl some brutal insults at each other.
It all started when Ronnie allegedly found some old sex videos of Jen with her ex. After finding the videos Ronnie took to Instagram.
""Note to self, can't turn a natural born HOE, into a HOUSEWIFE, if you find them in the gutter then leave them in the gutter," Ronnie wrote on the social media site. "Not all people can be saved when they are so far gone. All you can say you did ur best and keep it moving." He ended it with the hashtags "Facts" and "Yeahhh buddy."

Ronnie welcomed his first child, daughter Ariana Sky, less than a month ago with Jen. On a recent episode of 'Family Vacation' Ronnie  (possibly?) cheated on Jen while she was pregnant, so she was obviously not thrilled with Ron's post. She went on her own social media rampage trashing Ronnie.
"Can't turn a coke head into a father," Jen wrote. She also used the hashtag, "Yeahhhh buddy." (I don't think Pauly D would approve of this trainwreck couple's use of his catchphrase.)
Jen then went into the comments and defended herself.
"He's just on a bender and trying to take the heat off himself," she wrote to a fan. "He just needs attention from you guys right now."
When fans said he seemed like he was on cocaine during the last episode of  'Family Vacation' Jen confirmed it.
"It's so obvious," she wrote.
Never one to take things lying down, Ronnie then continued to blast Jen on Instagram.
"If your significant other keeps sex videos of their ex, shouldn't they show enough respect to delete them, esp after being in a new relationship for over a year?" He then asked fans to "#GiveMeYourThoughts" and allowed them to vote "Yes" or "No."
And the fight didn't just stay on social media. Jen posted screenshots of her text messages with Ronnie where he threatened to send her sex videos to her grandmother and her 11-year-old son…as you do.
The whole explosive fight comes just days after a 'Family Vacation' episode aired in which Ron basically told the  world he didn't love Jen the way he loved (and still loves) his ex, Sammi Giancola.
"It's hard having a kid on the way and being with someone you're not sure you should be with." He even admitted he is still in love with Sammi during that episode.
Hours after the social media "Ronpage" Ronnie took to Instagram again, this time with an apology.
"I want to apologize for earlier to my fans and especially to (Jen). I acted out of my gut and not rationally," he wrote. "I should've never acted in such a manor [sic]. My deepest apologizes [sic]."
He then deleted all of his previous angry posts.
Ronnie and Jen have not stated where their relationship stands after their jumbo fight.
(Photos: MTV, Instagram)