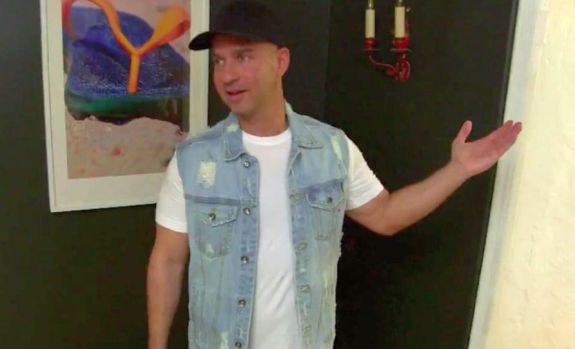 We have a situation—and it's one of sobriety.
Mike "The Situation" Sorrentino has come a long way from his druggin' and drinkin' days on Jersey Shore. In fact, the clean-living reality TV star recently celebrated more than two years of sobriety!
Mike, 35, posted on Instagram on Sunday that he is 28 months clean and sober.
"Here is my 2-year medallion… we do recover," Mike captioned a photo of the Narcotic Anonymous medallion he was given to commemorate the milestone of him reaching two years of sobriety.
"So proud of you!" Mike's 'Jersey Shore' co-star Nicole "Snooki" Polizzi wrote in the comment section of the post. "So honored to call you my family."
'Jersey Shore' fans watched Mike's long journey to sobriety. While living it up in the Shore House, Mike was also battling his personal demons. In 2012, Mike finally decided to check himself in to rehab to kick his bad habits once and for all. After checking into Cirque Lodge in Utah in March of 2012, Mike got clean only to relapse again a few months later.
During a recent episode of Jersey Shore: Family Vacation, Mike credited his then-girlfriend (now-fiancé) Lauren Pesce with helping him through his relapses and getting him to stay sober. The two were college sweethearts and reconnected after the original 'Jersey Shore' ended.
Mike has said going back to the 'Jersey Shore' way of life while filming 'Family Vacation' was hard for him.
"I had to challenge myself to learn how to have fun, while my other roommates were doing their thing," he told Us Weekly at the 'Jersey Shore: Family Vacation' Los Angeles premiere on March 29. "I had to learn to come from a place of staying in my own lane, running my own race. I have to be grateful and blessed that I'm doing this right now with my friends. I'm in a club listening to music, and I just had to learn how to have fun and dance without substance and/or drinking."
While it's not all sunshine and roses for Mike (after all, he is currently awaiting sentencing in his tax evasion trial), his future is definitely looking bright.
"I'm currently living the dream and proposed to my college sweetheart, Lauren Pesce, amongst my best friends on the biggest reality show in the country. We are so proud and excited to share this chapter of our story with the world," he recently told Us Weekly.
Last month, Lauren took to Instagram to express how proud she is of Mike for turning his life around.
"Congratulations to this guy @mikethesituation," she wrote in the caption of a photo of her and Mike. "I've watched him work hard in silence for years, personally and professionally, without getting any recognition. He didn't do it for anyone to notice, he did it to better himself, his life and to create a healthy and positive future for us as a family. I am so proud of you for all you've overcome & the incredible man you are today. You inspire me everyday to be my best and I'm over the moon and filled with emotion that the world is finally able to see your true self at your core."
The (Sober) Situation is currently starring on 'Jersey Shore: Family Vacation,' which airs Thursdays on MTV. Click here to read our recaps!
Related Story: Watch the 'Jersey Shore' Cast Watch Their Cringeworthy Audition Tapes From 2008
(Photos: MTV, Instagram)