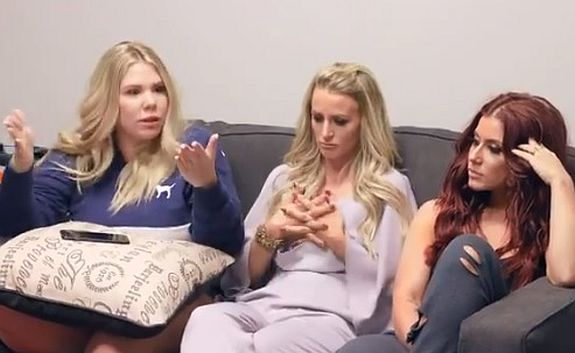 The upcoming Season 8B episodes of Teen Mom 2 are chalk-full of trainwreck fun!
MTV released the new season's extended trailer on Monday night, giving viewers their first peek at some of the crazy things that went down with the cast over the past few months.
One of the biggest surprises shown in the new trailer is three of the 'Teen Mom 2' girls– Kail Lowry, Leah Messer and Chelsea Houska— confronting the show's executive producer Morgan J. Freeman at the Season 8A reunion, and asking him to do something about the tension they say that Jenelle Evans and Briana DeJesus are creating on-set.
As The Ashley told you back in October, a number of verbal fights happened between the cast members during the Reunion taping, and MTV is choosing to air the majority of what went down during that insane weekend of filming.
"So what do we do about Jenelle and Briana, so we don't feel like we have to walk away from the show?" Kail is shown asking Morgan in the trailer.
Here's a look at the other major story lines each of the girls is facing this season. (The Ashley knows that some of her readers live outside the United States and may not be able to view the trailer, so she'll describe it for you!):
Briana DeJesus: The trailer reveals for the first time that Javi had plans to propose to Briana, whom he dated for a few months earlier this year. (Stay tuned– The Ashley will have more on this!) It also shows Briana warning Kail that she will "smack the s**t out of" her if she continues to be "disrespectful" to Briana.
Leah Messer: Leah admits that she and her ex-husband, Jeremy Calvert, "hooked up" and that they are considering getting back together. (Again, stay tuned– The Ashley has more on this as well!)
"Does it make me feel like Addie could have her family back together? Yes," Leah tells her friend in the trailer.
Jenelle Evans: As per usual, Jenelle is battling with her mom Barbara and her second baby-daddy Nathan Griffith. She is also upset because her enemies keep calling Child Protective Services on her. Jenelle insists that everything in her home is fine (even though it's appears that someone has punched a hole in a wall in one of the clips shown in the trailer, at a height that's clearly too high for it to have been one of the kids who did it).
"We have been harassed by you guys, by my ex; we don't need it anymore!" Jenelle yells at the CPS officer who comes to check on her children.
Chelsea Houska: In one scene, Chelsea cries after a confrontation with Adam Lind's mother, who she says "was really mean" to her. Chelsea is upset that Adam is going against the legal rules set up for him when he visits their daughter Aubree. Even Chelsea's husband, the happy-go-lucky Cole DeBoer is angered by the situation. (We see what may be the first time Cole cusses on camera!)
Kail Lowry: Kail's makeup room battle with Briana will be shown, as will her dealings with Javi over his relationship with Briana.
"I don't give a s**t if he moves on!" Kail yells at Briana in the makeup room.
Watch the explosive 'Teen Mom 2' Season 8B trailer below!
What can you expect this season on #TeenMom2? New hookups, explosive fights, big changes…and MORE! ? Here's your EXTENDED LOOK at what's coming! pic.twitter.com/hm5N0YvnAy

— #TeenMom2 (@TeenMom) May 8, 2018


Related Story: Kail Lowry Predicts She & Leah Messer May 'Throw Hands' At Jenelle Evans At Upcoming 'Teen Mom 2' Reunion
(Photos: MTV)