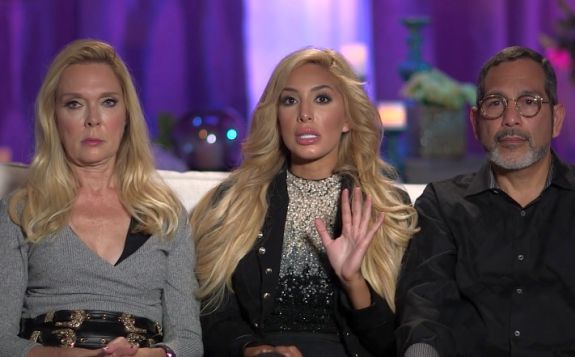 Farrah Abraham's recent arrest has caused an even greater divide among her parents, who disagree about the former Teen Mom OG star's parenting choices and lifestyle.
In an exclusive statement to The Ashley, Farrah's father Michael Abraham weighed in on Farrah's arrest, as well as the recent statements made by Farrah's mother Debra Danielsen.
(Right after the arrest, "Debz OG" told The Ashley that she feels Farrah has "too much volatility and no kindness" and found her arrest "sad and hurtful.")
In an interview with Radar Online, Debra expressed concern for Farrah's nine-year-old daughter Sophia, and the around-the-world lifestyle Farrah is subjecting her to.
"She needs to be with her family, not about strangers and volatility and her mother being arrested," Debz told the site, adding that she plans to try to get legal custody time with Sophia. "It's very disgusting. [Sophia] needs to go to school… She needs to not be dragged on a party all over the world."
In his statement, Michael said he felt that fans and Debra have no need to worry about Sophia.
"I'm not worried at all, I know the truth," he told The Ashley. "Farrah has always been a wonderful mother/parent. She is a hard worker, manager, responsible and smart.
"Farrah has made positive changes in her life and she is thriving!" Michael continued. "She stepped away from MTV/ 'Teen Mom OG' (the lies and drama), her mother (who is selfish and self-serving), an old boyfriend (the relationship was toxic), and other people in her life who were users. Farrah is doing excellent!"
He also addressed Debra's statement that she feels Sophia should be in school and not traveling around the world with her mother.
"The fact is Sophia is in school, a virtual school that permits her to do her lessons, homework and activities anywhere," he said. "Farrah's 'all over the world' travels are not partying, but 90% endorsement work. World travel is excellent education for a child's future. Debra must have forgot that we did the same with both [Farrah's sister] Ashley and Farrah when they were children – yes they traveled the world with us!"
Michael and Debra have been divorced for years and at odds in recent months. (They even appeared alongside Farrah on Marriage Boot Camp Reality Stars: Family Edition last year, but it doesn't appear to have helped their relationship.)
Michael also commented on the statements Deb made about Farrah's arrest and parenting.
"Debra Danielsen did an exclusive interview with RadarOnline.com and once again went against both her daughter and granddaughter making statements that are false," he said. "If Debra really cared, she would have listened to my request while we were finding out the details and facts.  It's never about doing what a parent should be doing, which is supporting her daughter and not throwing her under a bus for money or to be relevant.
"If Debra takes that route [of seeking custody of Sophia] she will be only making the divide between her and Farrah only worse," Michael added. "If Debra wants to be able to see the girls (Sophia), Debra needs to look at herself and change. Stop selling disgusting stories about Farrah which fraudulently diagnosis's mental illness and poor parenting.  You gotta ask yourself….what kind of parent does that?"
(He is most likely referring to an interview Debra did a few months ago in which she stated that she believes Farrah suffers from mental illness.)
In regard to Farrah getting thrown in the slammer, Michael's comments echoed what Farrah posted about the incident on her Instagram– it was all a "big misunderstanding!" (Don't ya hate when that happens?!)
"We have seen this before," Michael said. "The situation was blown out of proportion, a misunderstanding that occurred and there was no battery or trespassing charges. The police were doing their job even though they were misinformed and lied to by others at the hotel."
"This is not the first time Farrah has been arrested. Back in March 2013, Farrah was picked up for DUI after celebrating St. Patrick's Day in Nebraska.
You can watch video of Farrah's recent arrest by clicking here!
Check out some of Farrah's finer "word salad" moments by watching the video below!
(Photos: WEtv, Instagram)