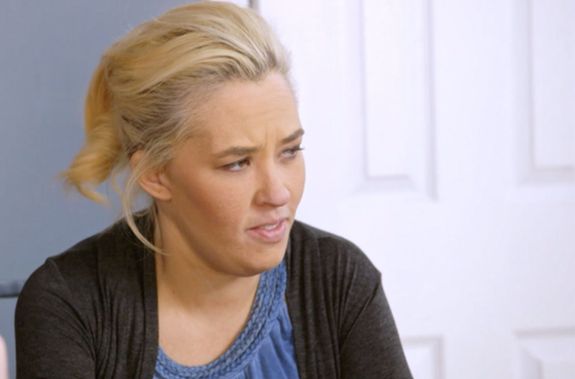 Mama June Shannon famously shed a whopping 300 lbs. over the course of the first season of her WEtv reality show Mama June: From Not to Hot, but now the reality TV mom is seeing the weight creep back on. According to Mama June– who was shown on Friday's 'From Not to Hot' Season 2 premiere struggling to fit into a Size 8 dress that once fit her–the weight gain is due to her recent battle with blindness.
The 38-year-old told People that she has already undergone four surgeries to repair the damaged vision in her left eye. (Fans saw Mama June undergo the first of those surgeries during the first season of 'From Not to Hot.')
Mama June is already blind in her right eye.
"It's been physically and emotionally draining," she told the magazine. "Losing my independence and having to rely on other people for everything has been crazy."
Mama June said she's gained 25 pounds because she can't workout.
"I can't do anything and I have to lay down most of the time and take care of my vision," she said. "I have to worry about that right now. That's my main concern."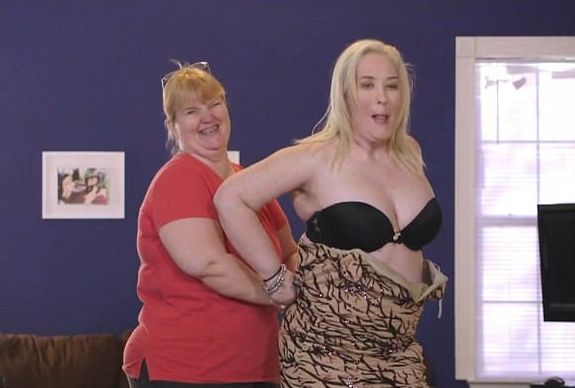 "My eye problems started when I was born. I was born with cataracts and nothing was ever done," Mama June said on an episode of 'From Not to Hot' that aired in March. "I went blind in my right eye four years ago and now my good eye is really bad."
Mama June is currently living in North Carolina with her boyfriend Geno Doak to be closer to Duke University Hospital, where she is being treated. Her daughters, Alana Thompson (aka "Honey Boo Boo" and Lauryn Shannon (aka "Pumpkin) are back in Georgia.
"It's hard to even think about me going completely blind," she said earlier this year. "Who's going to take care of my girls, my house? I'm not going to be able to see Pumpkin's baby (or) Alana. It's going to be awful."
Mama June's failing eyesight has been a topic of discussion since she and her family were starring on Here Comes Honey Boo Boo. During the show's second season, Mama June was afraid to drive a go-kart, due to her poor eyesight, and revealed that she is not able to get a driver's license because she is legally blind.
The new season of 'Mama June: From Not to Hot' will cover Mama June's battle against blindness, as well as her and Alana preparing to compete in a mother/daughter beauty pageant.
The new season airs Fridays on WEtv.
Watch Mama June talk about her vision loss during an episode of 'Mama June: From Not to Hot' in the video below!