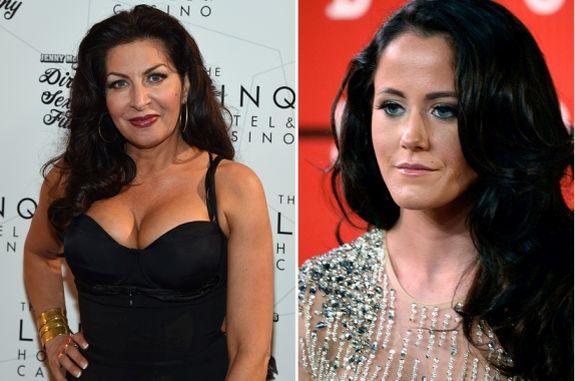 Teen Mom 2 fans have watched as Jenelle Evans' husband, David Eason, has exhibited anger over the past few episodes toward Jenelle, her kids, a representative of the company that built their house, and other people. Many fans have voiced their concerns on social media about David's temper, but on Wednesday, a fellow reality TV star reached out to Jenelle to encourage her to recognize what she feels are signs of abuse and leave David.
Tammy Pescatelli, a well-known comedian who has appeared on Last Comic Standing, as well as her own WEtv reality TV show, A Standup Mother, contacted Jenelle via Twitter to express her fears about David and tell the 'Teen Mom 2' star about her own experiences with domestic violence.
"Dear @PBandJenelley_1, I don't know you. I do know #Violence," Tammy tweeted. "When I was your age I had an extremely violent & controlling BF, who crushed me physically & emotionally. I was blessed to escape w/my life. I was dead inside. I see that same look in your eyes. RUN! Leave!
"If not for you, for your kids," she continued. "Not only do they not need to fear the monster that lives in their house, but 1 rage could be the accident that ends it all. No judgement. Only <3. Reach out. PPL will help. #YouAreNotAlone"
Jenelle has often stated that she feels she and David are edited to look bad on 'Teen Mom 2.' Tammy, who executive-produced and starred in 'A Standup Mother,' acknowledged this idea, and discussed her own experience with reality TV editing.
"I know about reality shows," Tammy wrote to Jenelle. "I also know his explosive anger is dangerous…I understand about reality TV & moments out of context. And I understand you are w/him now & he is your husband. Again, not attacking u- just know, when you are ready, there will be help. For him too."
Jenelle did not take Tammy's advice well. In a series of tweets, she denied that David is abusive or controlling. (She also managed to get a jab in at her second baby-daddy Nathan Griffith in the process.)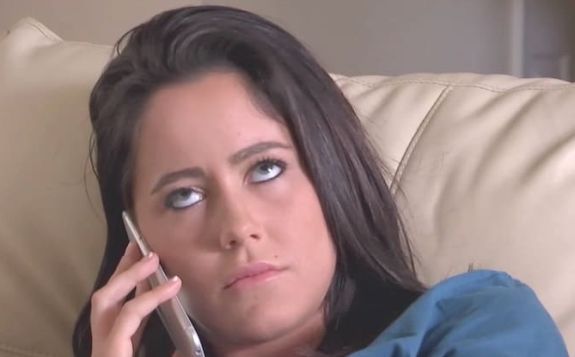 "Dear Whoever You Are, I've been through many many controlling, emotionally and psychically abusive relationships," Jenelle tweeted to Tammy. "My husband does not 'crush me', hurt me, or abuse me in any way. I did run away from many diff men and choose to start over and fresh every single time.
"If you only knew what type of 'monster' David was…. you'd be surprised," Jenelle continued. "When your son refuses to make a Fathers Day gift for his real dad and says his stepdad means more to him… THAT speak volumes. You only know what you see for 5 mins on a show each week, months ago lol"
Tammy then pointed out that Jenelle can't blame editing for all of David's actions.
"I do understand," Tammy wrote. "I've been hurt by bad editing on reality shows & I have been an EP on my own. @MTV & #TeenMom2 can edit situations. The cannot create his explosive bursts of rage. It's not worth arguing bc ultimately, anyone who has been there knows what the outcome will be."
After Monday's episode of 'Teen Mom 2' aired, fans took to Twitter express their fears for Jenelle and her children as well. (The episode contained a message stating that David was fired from 'Teen Mom 2' not long after this episode was filmed.)
In this sneak peek from tonight's #TeenMom2, Jenelle is confused when the police show up to her house. pic.twitter.com/QgcvdLM3sI

— #TeenMom2 (@TeenMom) June 25, 2018
"The hole that was punched eye level in Jenelle's bedroom door, and David losing his temper in front of CPS like that demonstrates a serious lack of control," one person wrote.
"OMG! DAVID IS SCARY I don't know how their kids feel safe cuz he is always acting this way!" another person tweeted. "Her kids see this do they understand it's not ok to act like that! Talking like he was going to knock that cops head in?!"
In a series of recent tweets, Jenelle defended David's actions, as well as the statements that got him booted from MTV.
"I will stand by my husband and his opinions until the day we die," Jenelle tweeted on Saturday. "I'm sorry he offended anyone in the past, but he doesn't HATE anyone. Never said that word. We all have opinions and sometimes they can be a**holes, everyone has one. Hanging on every word ever spoke. #Crazy"
The Ashley broke the news last week that 'Teen Mom 2' will continue with Season 9. However, Jenelle had been refusing to sign her Season 9 contract, due to the fact that MTV and the show's producers were not agreeing to accommodate David in some way. (As The Ashley told you, Jenelle was demanding that David be allowed to be around during filming–even if he wasn't shown on camera or paid– and that MTV pay for David to travel with Jenelle to work-related events, among other things.)
Anyway, Tammy later tweeted that, although Jenelle didn't seem to take her message to heart, Tammy felt she had still done the right thing by reaching out.
"It's worth the hate, if I can help," Tammy tweeted. "It kept me awake most of the night. When you have been bit by an animal, you recognize the look of the attack.I knew I'd take a lot of crap but I felt so alone when it happened 2 me, & I am strong enough now 2 take it! I didn't want that 4her or anyone."
RELATED STORY: Crew Sources Weigh In On This Week's 'Teen Mom 2' Episode & Explain How Crew Handles Suspected Abuse
(Photos: Getty Images/ Ethan Miller; Getty Images/ Frazer Harrison; MTV)