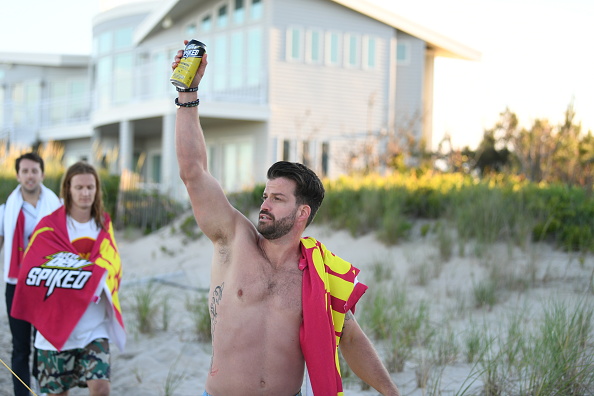 Johnny Bananas is branching out!
The longtime star of The Challenge has just announced his new gig as the host of the late-night NBC travel show 1st Look.
Over the past few months, Johnny has been posting photos to his Instagram account that show him doing random things and visiting exotic places–from kayaking in Alaska, to exploring a pot farm in Northern California. In an interview with People magazine, Johnny explained that his recent travels were all for '1st Look.'
"It was the scariest, coolest experience ever," he told the magazine, later adding, "Just when I thought I'd kind of seen it all and done it all, '1st Look' came along and totally blew my mind."
While Johnny has appeared on a whopping 17 seasons of 'The Challenge' (and racked up over $682,000 in prize money– more than any other player in the show's history), this will mark the first time he's hosting a show.
"What's different about this than 'The Challenge' is, 'The Challenge' it's me and 30 other cast members, and there's a lot of other people to carry the load," Johnny said. "Whereas this is 100 percent on my shoulders, and it's an exciting new experience."
While several of Johnny's 'Challenge' co-stars congratulated him after he posted about his new gig on Instagram, Johnny said that not everyone is excited for him.
"A lot of my cast members are already jealous of what I established for myself on 'The Challenge,' so now when they hear, 'Wait a minute, not only are you the superstar of 'The Challenge' and MTV's golden boy, you now are hosting this amazing show on NBC? I think I might get death threats," he joked. (Well…kind of joked…)
Johnny is just the latest reality TV star to host '1st Look.' Previous hosts include former Bachelorette Ali Fedotowsky and Audrina Patridge of The Hills fame. The show's most-recent host was Ashley Roberts of The Pussycat Dolls.
Despite his new gig on '1st Look,' Johnny assured 'Challenge' fans that he doesn't plan on leaving the MTV reality show any time soon.
"I want to do Challenges until my body tells me no, until MTV tells me no or my mom tells me no, which she's done in the past, but I've always been like, 'Mom, not happening,' " he told People. "All that this is doing is keeping me on my toes. Learning the things that I'm learning on the road, I'm not only becoming stronger physically, but mentally.
"Being exposed to all these different people and cultures and destinations, it really is making me a more well-rounded, sharper player, and that's a very dangerous thing for a lot of my competition on 'The Challenge.'"
The first episode of '1st Look' featuring Johnny Bananas as host airs Saturday, September 29 on ABC.
(Photos: Dave Kotinsky/Getty Images; Instagram)