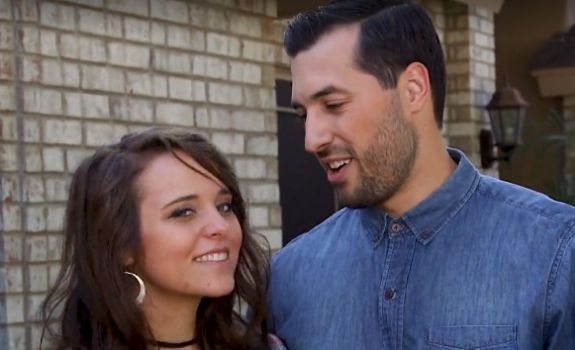 It's a girl for Jinger Vuolo and her husband Jeremy!
The Counting On stars welcomed their first child early Thursday morning, the Duggar Family has confirmed.
Jinger and Jeremy named their baby girl Felicity Nicole. (Jinger's middle name is also Nicole.) Felicity measured 19.5 inches and weighed in at 8 lbs. 3 oz.
"Both mom and baby are healthy, doing great, and resting well," the couple wrote on their website. "We are very thankful for her safe arrival and look forward to life as parents!"
The couple posted the first photo of their baby. Based on a photo, it appears that Jinger had the baby at a hospital or birthing center. (A hospital bracelet can be seen on the baby's arm in the photo.) It is not yet known if Jinger first attempted a home birth like her sisters all have.
Jinger is the only one of her married siblings who waited over a year to have her first child. Jinger and Jeremy got married in November 2016 and announced in January of this year that they were expecting.
At 24, she is older than all of her siblings were when they welcomed their first child. (If you care, Josh Duggar was 21 when his first kid, Mackynzie, was born; Jill Dillard was 23 when eldest child Israel was born; Jessa Seewald was one day shy of 23 when her first kid, Spurgeon, was born; Joseph Duggar was 23 when his son Garrett was born last month; and Joy-Anna Forsyth was 20 when her son Gideon was born.)
Anyway, Jeremy posted a cute family pic to his Instagram on the day his daughter Felicity was born.
To get all of the stats on the Duggar Family babies, check out The Ashley's "Duggar Babies By The Numbers" post here!
(Photos: TLC, Instagram)