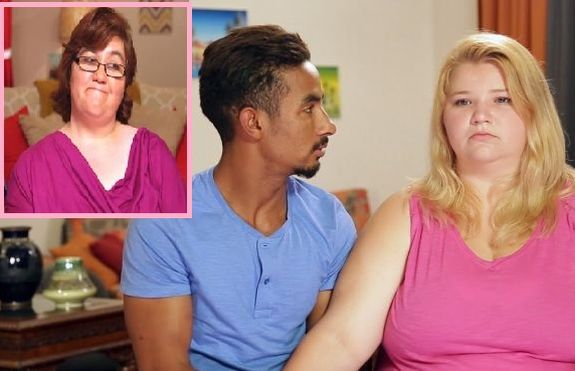 Former 90 Day Fiance star Danielle Jbali says she sees a lot of similarities between Nicole Nafziger's relationship with Azan Tefou and her own failed marriage to Mohamed Jbali, and she's hoping Nicole can learn from her mistakes!
In a new interview with In Touch Weekly, Danielle—who has since divorced Mohamed—revealed that she has reached out to Nicole to give her some advice.
"I told Nicole to go over [to Azan's home country of Morocco] more than once to make sure that he was in it for the right reasons," Danielle said, adding that she only went to Mohamed's home country, Tunisia, once to visit.
Danielle said she also spoke with Nicole about being an American woman in a relationship with a Muslim man and warned her to be conscious of the culture differences.
As "90 Day Fiance" fans will recall, Nicole was very disheartened to find out that Azan wouldn't hold her hand or be affectionate with her while they were together in Morocco.
"I told her to research the religion and culture. That's why I could not believe she was acting like that, because before I went to meet Mohamed, I researched everything," Danielle said. "I asked him questions 24/7, and I even investigated where I was going by looking things up and giving Mohamed ideas of what I wanted to do or what I wanted to see and stuff like that. I really invested myself into learning about his culture and religion. I don't think Nicole did that [with Azan's culture.]"
Danielle said Nicole should have done her research to find out what is not appropriate (or even legal) in Azan's home country.
"I was not like that with Mohamed, trying to get him to kiss me out in public, because I knew through research and what he told me and explained to me," Danielle said. "I respected that. And it just seems like she didn't respect it in the very beginning."
Danielle also gave Nicole some advice about being a single mother in a relationship with a man from another country. While Danielle is the mother of four, she said she thinks it will be more difficult for Nicole because her daughter, May, is so young.
"I could not imagine doing that with a child like Nicole's daughter because she wouldn't understand," Danielle said. "See, my kids are old enough that they know who their dad is and they see their dad. So what is May gonna think if this doesn't work out and Azan has to leave and he's not in her life no more. How is Nicole going to explain that to her?"
Danielle said she would advise Nicole not to encourage May to call Azan daddy.
"That, I would not allow," Danielle said. "My kids wouldn't even call Mohamed 'dad.' I don't understand why [Nicole] is doing that because that's not [May's] dad."
Fans were along for the ride when Danielle's marriage to Mohamed fell apart after she found out that he had been talking to multiple women online. (Sound familiar Nicole?) Mohamed eventually left Danielle to move in with another woman, and the couple divorced.
On last week's episode of "90 Day Fiance: Happily Ever After?" Azan admitted to Nicole's mother, Robbalee, that he had been talking to other women. Danielle thinks Nicole should have been very concerned about this.
"I would have backed out because that is like a big red flag," Danielle said. "And that's why I think Nicole sat back and re-examined the situation. Because what I've seen, when he and Nicole were talking about it, and he was just laughing about it like it was no big deal, that was disheartening. I felt bad for her because that's not a laughing matter. And it's not a joke."
Although Nicole's stepfather Joe Fouraker confirmed last month that Nicole and Azan did not end up getting married in Morocco, it appears that the couple is still very much together. Last week, Nicole posted a pic of her and Azan to Instagram, along with the caption, "I love you forever."
On Thursday, she posted an Instagram photo showing Azan, her mother Robbalee and May. She captioned the pic, "I'm so happy to be surrounded by such amazing people in my life #familyfirst."
(She did not, however, explain why it looks like Azan is strangling her in the photo…)
From the looks of it, Nicole has not heeded Danielle's advice and is still determined to marry Azan!
To read our "90 Day Fiance: Happily Ever After?" recaps, click here!
RELATED STORY: "90 Day Fiance: Happily Ever After?" Star Nicole Nafziger Did Not Marry Azan Tefou in Morocco, Her Stepfather Confirms
(Photos: TLC, Instagram)