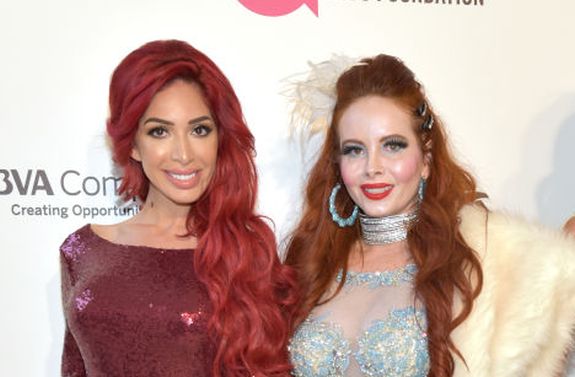 Farrah Abraham's short list of friends recently got a little shorter!
Actress Phoebe Price, who was often seen palling around with the former Teen Mom OG this spring, is apparently no longer friends with Farrah. On Thursday, she took to Instagram Live to reveal what she says went on behind-the-scenes of Farrah's recent ventures. She also told tales of Farrah's (alleged) animal abuse, child neglect and partying!
After Farrah accused Phoebe of being "jealous" of her (naturally), Phoebe blasted Farrah on Instagram Live in a series of videos.
"I'm going to tell you the REAL truth of what's going on about that Farrah Abraham!" Phoebe told her followers. "I'm gonna spill the tea!"
After talking about why Farrah, in her opinion, is still very much the "Backdoor Teen Mom," Phoebe accused Farrah of being a "hooker who has to go to Dubai." (Farrah spent part of last month in Dubai.)
"I'm not jealous of you," Phoebe said. "I can outsell you any day in fashion magazines. All you sell is p0rn…and ya ass!"
In a video made in June following Farrah's Beverly Hills arrest, Phoebe (who was still friends at Farrah at that point) mentioned that she was worried about her friend because she feels that Farrah may have a problem with drugs and alcohol. In her Instagram Live video on Thursday, Phoebe addressed that topic a bit more.
"She drinks too much, she pops pills too much and she's a bad mom," Phoebe added.
Her first topic of discussion was Farrah's questionable parenting of her nine-year-old daughter, Sophia.
"Farrah Abraham is a bad mom!" Phoebe declared, mentioning an alleged incident she said took place when Farrah brought Sophia with her to the Coachella music festival.
"This lady left her daughter with my mother who had brain cancer. She would leave in the middle of night saying, 'Oh, I'm going to get water' and comes back home seven or eight hours later, all f**ked up looking!"
As The Ashley previously reported, Farrah's mother Debra Danielsen has been concerned about Farrah's recent actions and parenting choices, as have some 'Teen Mom' fans. Phoebe is apparently concerned for Sophia as well.
"Farrah leaves her with babysitters and she tries to get rid of Sophia every chance she gets!" Phoebe declared. "She tries to act for the cameras like she's a great mom. I wouldn't be surprised if Sophia got taken away."
The redheaded reality star also addressed the recent death of Farrah and Sophia's dog, Blue. (The dog died under mysterious circumstances and Farrah later took him to be stuffed so he could sit on her mantle. No, seriously.)
"I'm not surprised that dog died!" Phoebe said. "At Coachella, I had to water and walk these dogs because Farrah left them in a basket, not to run around. How would you like to be trapped in a basket for three days?! These dogs were starving for attention! When they barked, she squirted water in their face. Who does that?!"
Phoebe also addressed the fact that Farrah likes to play the victim when she gets called out on something she's done.
"Everybody's out to get Farrah!" Phoebe said sarcastically. "Everybody is so jealous of Farrah…Everything that happens in your life is everybody else's problem!"
Phoebe stated that Farrah isn't the "top celebrity in our nation" as she thinks.
"You weren't invited to Oscars, you got in on my ticket at Elton John [AIDS Foundation Academy Awards Viewing Party]," Phoebe said. "You couldn't get on the carpet at the Cannes Film Festival, you had to use my designers! But, oh, you are so famous and so powerful, Farrah! Bitch, nobody likes you.
"You told me you had no friends," Phoebe said. "You accused Simon [Saran] of drugging you for years. You accused your mama of being a whore. You know what bitch, you are a BAD mom. Your child should be taken away because you are not right. You're bipolar, you have a drug problem and I hope child services steps in to mentally evaluate you because you need help!"
She also brought up Farrah getting booted from 'Teen Mom OG.'
"Nobody wants to work with you!" Phoebe said. "I was there when MTV let you go! You think you're so popular and everybody loves you, you need to get a life…
"You keep repeating the same things about everybody!" she added. "Every friend you have leaves your ass because all you want to do is fight, drink, do drugs and run your f**king mouth!"
Farrah addressed her former friend's brutal accusations against her in an Instagram Live video of her own posted on Friday. (It was full of A+ "Farrah Speak," naturally!)
"By the way, just keep on the upgrade because I am so done with nasty old friends," Farrah said, mostly likely in reference to Phoebe. "I'm sad I was so nice to someone so they have to go make crap up to get in the news. They make stuff up in the press about you because they were nobodies to begin with. Amen, praise the Lord, keep Jesus in the forefront!"
She also posted a photo of herself to Instagram on Friday, taking shots at everyone who she doesn't get along with (i.e. her 'Teen Mom' co-stars, Phoebe and her mother Debra).
"Don't forget to #upgrade – You worked through this week knowing you needed to let some weights go (bad work colleagues, bad friends, not loving family members go… etc) UPGRADE on your Friday it's more fun that way anyway," Farrah wrote in the caption.
(The Ashley refuses to post the photo here, though, because it's gross.)
Farrah also told Radar Online that Phoebe's accusations are false.
"I don't drink at all," Farrah told the site. "I'm training two times a day for my boxing match … I'm too busy running companies, working on my shows, films, and being with my child.
"I don't speak with [Phoebe] anymore, as she is too jealous of my success," Farrah said. "LA is full of negativity and I haven't spoken with [Phoebe] since Coachella. She is a horrible person."
RELATED STORY: Farrah Abraham Criticizes Parents That Bring Their Kids To Coachella, Days After Making Her Own Questionable Parenting Choices
(Photos: Rodin Eckenroth-Getty Images/ Instagram)