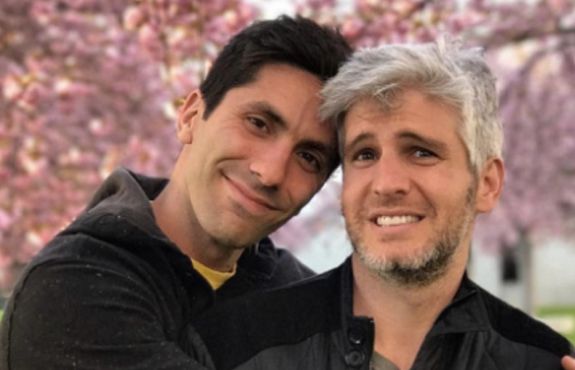 A Catfish host is swimming away!
Max Joseph, the longtime co-host of 'Catfish', has announced that he is leaving the MTV reality show after seven seasons. He discussed his departure in a message posted to his social media accounts on Tuesday.
"Hey guys, the time has come, sadly, for me to move on from 'Catfish,'" Max wrote. "Working on this show for the last seven years has been one of the most meaningful experiences of my life. I've learned a lot about myself, my country and human nature in general."
Max made sure fans knew that his decision to leave the show obviously had nothing to do with his co-host Nev Schulman, whom he praised in his announcement.
"Nev and I have become brothers and our bromance has blossomed before your eyes," Max wrote.
Max stated that the reason he's leaving the show is to focus full-time on his film-making.
"For a while now I have been straddling two careers as a TV host and film maker and, while this level of business is a dream come true, my life can no longer sustain it," Max wrote. "With 'Catfish' still going strong…with no signs of slowing down, I feel it is finally the time for me to make my exit."
Hey guys, the time has come, sadly, for me to leave Catfish… pic.twitter.com/w21HFsfiz9

— Max Joseph (@maxjoseph) August 8, 2018
Max has a long list of writing and directing credits outside of 'Catfish.' Most notably, he wrote and directed the 2015 film "We Are Your Friends" (which starred Zac Efron).
Nev posted a message on his social media, expressing how sad he is that Max is leaving the show.
"Working with Max on 'Catfish' has been a blast,"  Nev wrote. "What started as a casual friendship quickly turned into a brotherhood…Max isn't just a co-host, he's a partner, brother and therapist. His ability to listen, emphasize, and advise is astounding and has truly made me a better man…I'm going to miss him a lot. He's my best friend. Period."
Nev encouraged 'Catfish' fans to continue following Max and support his upcoming projects.
It is with a very heavy heart, that all of us at the #catfish family say goodbye to @maxjoseph – Good luck Max, love you brother. pic.twitter.com/is2b4PDOsd

— Nev Schulman (@NevSchulman) August 8, 2018
"As sad as I am that Max is leaving the show, it brings me great joy to know that he is following his heart," Nev wrote. "While selfishly I'd love to keep him all to myself, the world needs more passionate, creative people and we'll all benefit from his work to come."
Nev did not state who, if anyone, will be replacing Max as his 'Catfish' co-host.
According to Max, the last 'Catfish' episode that he will be featured in will air August 22.
Relive some of Nev and Max's most "bromatic" moments by watching the video below!
(Photos: Instagram, Twitter)