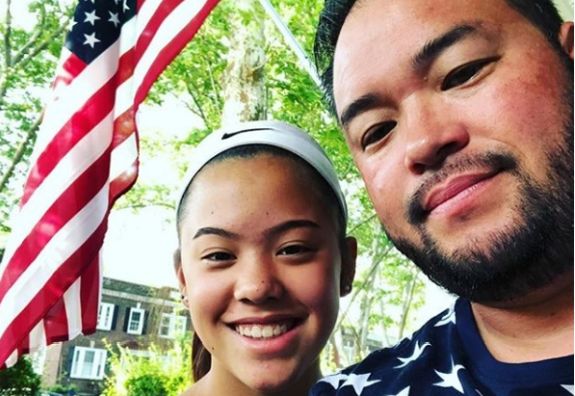 Jon Gosselin has been hinting for months that his 14-year-old daughter Hannah is now living with him, but several of his recent posts to Instagram have confirmed it.
The former Jon and Kate Plus 8 star posted a photo of Hannah– who is one of Jon's eight children with his ex-wife Kate—standing in front of his house. In the photo caption, he congratulated Hannah on "starting fresh," and talked about the "new beginnings" he hopes they'll have together.
"Congrats Hannah on your first day of school, proud of you. I admire your bravery starting fresh!" Jon wrote. "I Love you very much and we have worked really hard to get here. Dedication has really paid off. I'm so happy you integrated yourself into the community, you made friends all summer and now you will grow and graduate with them. I'm honored to be your father!!! Love you, Dad #newbeginnings"
In a photo posted to Instagram last week by Kate, six of the couple's eight children are shown dressed in school uniforms on their first day of the school year. Hannah is not dressed in a school uniform, which likely means she is attending a different school than the rest of her siblings.
Jon actually confirmed on Instagram Live last week that Hannah "permanently lives" with him. However, a source for the magazine stated that Kate still has full custody of all eight of their kids.
Fans have been speculating that Hannah was no longer living under Kate's roof with seven of her eight siblings. (Jon and Kate's 14-year-old son Collin lives at a facility that has a program to help with his behavioral issues, according to Kate.)
Jon and Kate have both said that only some of their eight kids choose to visit with Jon.
"If the kids want to come, they come," he said at the time. "I love them all, but I am going to focus on the ones that want to come. My hands are tied."
In 2017, Jon asked fans to donate money to help him fight for custody of his children. His GoFundMe campaign raised about $3,300.
Currently, it appears that Hannah is the only Gosselin child who currently lives full-time with Jon, though. As far back as 2015, Hannah was expressing her desire to live with Jon instead of Kate and her siblings.
"Jon is filing for custody because Hannah has expressed she is unhappy and uncomfortable in the house with Kate," a source told E! Online three years ago. "In a perfect world, Jon would take all the kids, but he's not in a position to. For now, he's at least trying to help Hannah. Out of all the children, she's the one voicing her discomfort."
In the comment section of the post, some fans encouraged Jon to fight for custody of his other kids, particularly Collin.
"I pray for your ex that she will change her ways," one person wrote. "I only can go by what I see, not hear. Now work on getting your son. He needs you, more then you ever know."
"Please go get the other seven," another person wrote. "Kate should not have any of them. She is a bad mother."
Kate has yet to publicly comment on the status of her custody arrangement with Jon over Hannah. She is preparing to star on her new dating show, Kate Plus Date. It is unknown if Hannah–or any of the other Gosselin kids–will appear on the new show, which premieres this fall on TLC.
RELATED STORY: Jon Gosselin Reunites With Son Collin To Celebrate His Sextuplets' 14th Birthday: See the Sweet Photos
(Photos: Instagram)