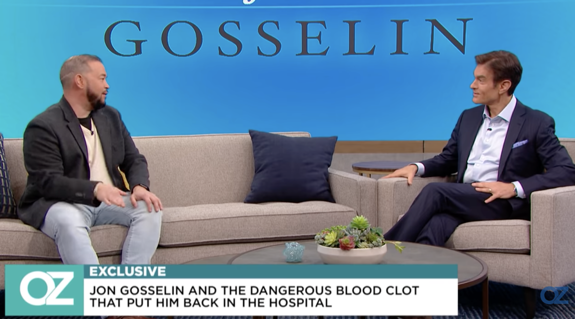 After facing yet another health scare just months after he was hospitalized for COVID-19, Jon Gosselin is again reflecting on the fractured relationships he has with six of his eight children, as well as his past with ex-wife, Kate Gosselin.
The former Jon and Kate Plus Eight star sat down with Dr. Oz Friday to discuss his heath, less than two months after he revealed his COVID-19 diagnosis on the show. During the interview, Jon explained to Dr. Oz that he recently went to his doctor complaining of severe leg and chest pain. It was discovered that Jon had deep vein thrombosis (DVT), a blood clot, which had developed in his leg.
Dr. Oz detailed the severity of Jon's blood clot diagnosis and went on to ask the father of eight what his biggest regret would have been had he died in the hospital. Surprisingly, Jon said he had regrets about his divorce from Kate.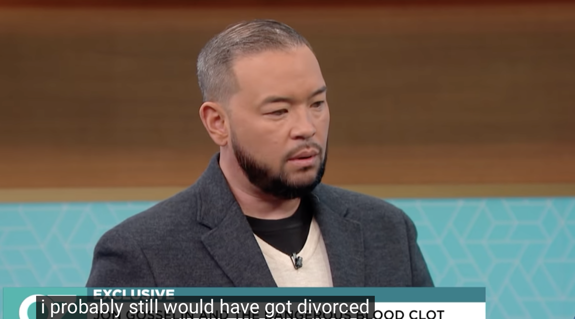 "My biggest regret would have been changes I made before divorce," he said. "I probably still would have got divorced but I probably would have tried to have been like, 'hey let's just more stay in contact' … I would have made it more adamant maybe through the court system or something like that."
While Jon maintains custody of two of his and Kate's sextuplets (Hannah and Collin) he has spoken many times over the years about the strained relationship he has with his other six kids. On Friday, he told Dr. Oz he never thought he'd be in a place where his children are not speaking to him.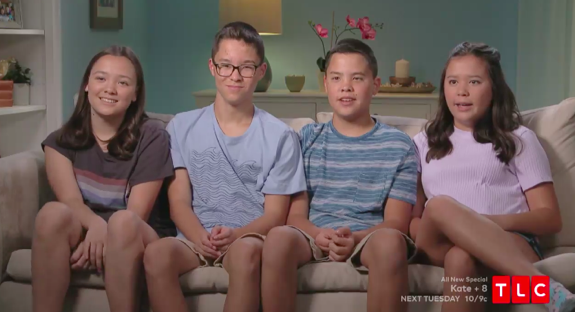 "I thought we'd always be close…but that didn't pan out the way I thought it would pan out," he said.
After publicly revealing his COVID-19 diagnosis and hospital experience in January, Jon said he did not hear from his four children that live with Kate, nor did he hear from his twins who are currently away at college. Jon explained to Dr. Oz why he believes none of his estranged children reached out to him after his interview aired.
"There's just a disconnect … whether it's parent alienation or you know, I can't really reach out to them and there's legalities," he said. "I can't like go to where they move, you know? It'd be trespassing and those kinds of things, so I mean, I guess my plight to them or what I want to say is I love you, my door is always open, you're welcome anytime. There's no regrets or hard feelings or any of those negative things … you can always come see me or come see Hannah and Collin."
As for Hannah and Collin's relationship with their mother, Jon claims Hannah hasn't seen Kate in a year or two, while Collin hasn't seen Kate "in years."
"It's been a long time," he said.
As Jon has mentioned before, Collin and Hannah were "a little upset" that they were not given the opportunity to do a walkthrough of their old home before Kate put it on the market last year. The house recently sold and though Jon said Collin "works next door" to the home and sees it everyday, he "didn't really express anything" after the house was purchased by new owners.
Although all of his children are not on speaking terms with him, Jon said he does keep track of them through social media – sometimes through people sending him things on Facebook or Instagram.
"I think back in the day it was difficult like, 'How am I going to get in touch with them or how am I going to see them?' But with social media and the way it's integrated into adolescents lives, it's just so much easier to see those kind of things," he said.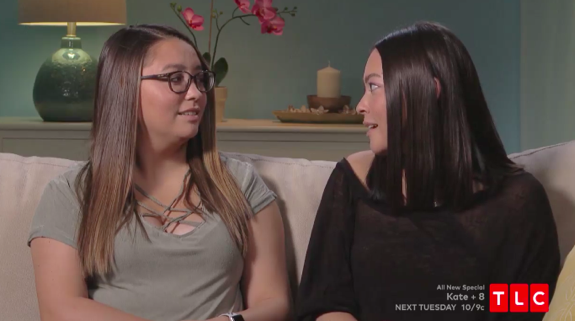 During Friday's show, Dr. Oz presented Jon with the question he said he is asked most often about the father of eight: why isn't Jon making an effort to reach out to his kids himself?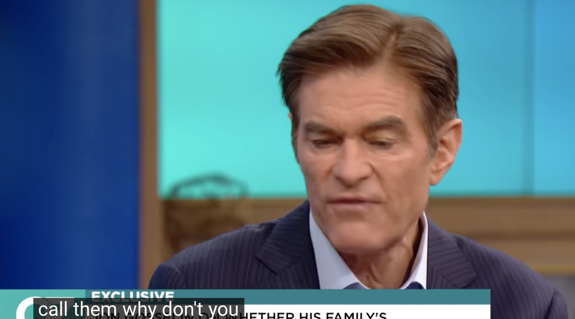 "Why don't you just call them? Why don't you [message] them? Why don't you use the 50 different ways you could get in touch with human beings right now to say, 'I'm here for you if you need me. I'm not going to bother you, but I'm here if you need me. I want to make sure that you know this without any question, I'll always love you for the rest of my life,'" Dr. Oz asked Jon.
Jon claims he has "done all those things" and is now leaving it up to his kids to make the next move.
"Like I said before, I'm welcoming them back into our house if they're willing to come or reach out anything like that, but I'm more putting it on them because I've reached out and given the olive branch," he said. "Now, I can't explain half the things I did in the past or why I did things, but maybe those are table conversations we can have in-person, but I'm opening my house in open arms and if they're willing to come."
When reflecting on the current situation with his kids, Jon said he should have fought harder, using Hannah as an example, as she wanted to live with her father but initially was "just more stoic in her decision-making."
"Maybe the others needed a bigger voice," he said. "Maybe I should have stepped up at that point or you know, said 'Hey, if you don't want to go home … ,' and I did that, but then some move and then some stay and you know, then you're in contempt and all these things happen … ."
Jon said he "should have been a stronger voice at the time" but feared the financial ramifications of "going against someone who's a millionaire."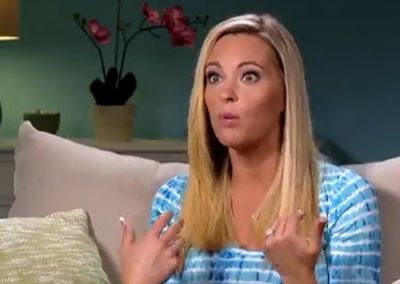 "Fear plays a big part in that, you know," he said. "Like OK, what's best for [the kids]? What's best for me? How am I going to maintain a household if I have to spend all this money to go to court to fight for them? Who's going to stay? It's not just one person, you're dealing with eight different lives all the time."
Jon confirmed to Dr. Oz that following his recent health scare, he has been prescribed a blood thinner by his doctor. Dr. Oz said Jon was a "resilient guy" and will hopefully "leap past this."
"I always come back here with something," Jon joked.
You can watch Jon's full interview with Dr. Oz below.
RELATED STORY: Jon Gosselin Says His Battle with COVID-19 Made Him Want to Fix His Relationships with Estranged Kids; Details Hospitalization Experience
(Photos: YouTube; Dr. Oz Show; TLC; Instagram)