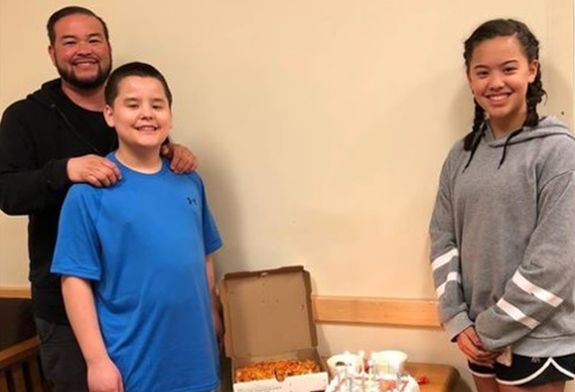 Jon Gosselin of Jon and Kate Plus 8 fame has been awarded sole custody of his 14-year-old son Collin—one of the sextuplets he shares with ex-wife, Kate Gosselin.
According to Us Weekly, Jon appeared in court on Tuesday for a hearing regarding Collin's custody case, but Kate and her attorney were reportedly no-shows.
"Jon won sole physical and sole legal custody of Collin," a source told the magazine. "All other matters were moved to a future court date."
Us Weekly also reported that Kate asked the judge to postpone the hearing, but her request was denied.
As The Ashley previously told you, Jon filed the custody documents over a month ago, stating that he felt Collin would be better off with him than with Kate.
For the past few years, Collin has resided in a residential treatment facility for children with special needs. Kate has said in the past that Collin was in the facility for behavioral issues. In the court docs he filed, Jon revealed that Collin is finishing up his inpatient program at the facility this month.
At the time of Jon and Kate's 2009 split, Kate was awarded full legal custody of all eight of the children, though the exes were both granted shared physical custody. Currently, 14-year-old Hannah resides with Jon full-time, though the couple's 18-year-old twins Mady and Cara, as well as remaining sextuplets Alexis, Leah, Joel and Aaden continue to live with Kate full-time.
Collin will likely be joining Jon (and Hannah) soon, as he is expected to complete his program and and return home before Christmas.
Jon has remained active in Collin's life. Last month, Jon posted several photos of Collin during a visit home, and back in May, Jon and Hannah visited Collin at his residential home to celebrate his birthday.
During one of Collin's weekend visits last month, Jon told followers that his family (including his girlfriend, Colleen Conrad, and her two children) had found their Christmas tree and were ready to "let the holidays begin."
Kate has yet to comment on the new custody ruling.
(Photos: Instagram)