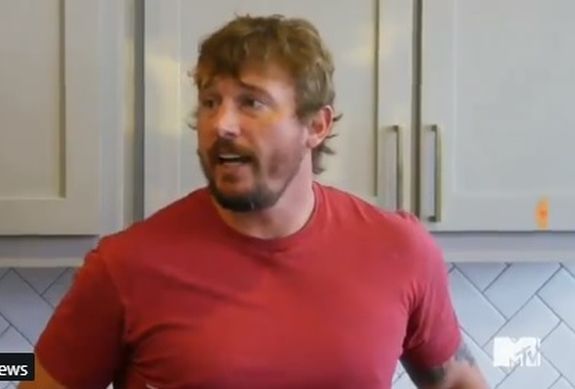 Dakota Meyer may be a star of Teen Mom OG, but he's certainly not a fan!
After Monday's episode aired, Dakota took to social media to rip MTV and its parent company Viacom for allowing 'Teen Mom OG' to stray so far from its original purpose— to show the hardships of teen parenthood— and only look for drama.
"What's sad is that Viacom has turned 'Teen Mom' into a trailer trash 'Real Housewives' instead of showing what the true struggles of parenting are," the ex-husband of Bristol Palin wrote in a message posted to his Instagram account on Tuesday. "I'll bring my VLOG back and show you what single parenting looks like since they can't seem to figure it out."
In the caption of the post, Dakota continued his tirade against the show.
"It's time to call it what it is @TeenMom, parenting is way more than everyone sitting around bitching about their exes," he wrote.
Dakota was likely fired up over a particular scene from Monday night's episode in which Bristol talks to her son Tripp about the possibility of him continuing to have a relationship with his former stepdad Dakota, despite the fact that Dakota and Bristol are divorced. Tripp was seen saying he did not want to keep in touch with Dakota, although the boy looked incredibly uncomfortable having the conversation with his mother, let alone on camera for a TV show.
While Dakota has frequently used social media to take jabs at Bristol (just as she has done to him), he has stayed relatively quiet on his feelings about the show, except to say that he was basically forced into filming by Bristol.
"I hate it but I had to in order to get my kids," he told an Instagram follower back in October.
Bristol has yet to respond to her ex's post; however (not surprisingly), Ryan Edwards' wife, Mackenzie, "liked" Dakota's rant about MTV on Instagram.
Watch the scene in question from Monday's 'Teen Mom OG' episode below!
"I'll support you in whatever you wanna do." 💞 Bristol is having a talk with Tripp about his relationship with Dakota after the split on tonight's new #TeenMomOG. pic.twitter.com/FkVzHkUtlc

— #TeenMomOG (@TeenMom) December 3, 2018
RELATED STORY: 'Teen Mom OG' Dad Dakota Meyer Says Divorcing Bristol Palin Has Been Good For His Health: Says He's Happy After Getting "Rid of the Cancer" In His Life
(Photos: MTV, Instagram)