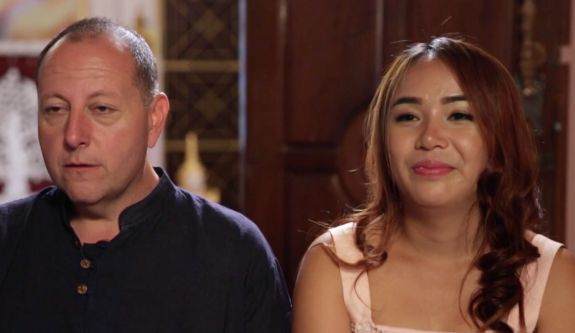 It's been a few months since 90 Day Fiance: Happily Ever After? Season 3 ended, but earlier this week, one of the season's couples, Annie Suwan and her (employment-challenged) husband David Toborowsky gave fans an update on what's been going on with with them since we last saw them.
During an interview on The Jenny McCarthy Show, Annie and David chatted with Jenny McCarthy about their current living situation, whether or not David finally got a job, and if they still plan to have children together.
Jenny started the interview by asking the question that most "90 Day Fiance: Happily Ever After?" fans probably want the answer to: did David finally get a job?
While David danced around his answer, he did actually admit that he is still sans full-time employment.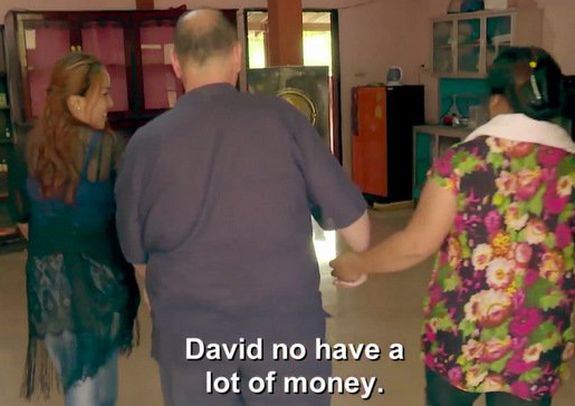 "Let me kind of explain," he said. "I am working on some projects, not full-time, but I've been doing some projects in the political arena, helping some candidates with campaigns. Obviously, it's not a long-term thing because elections end in November, but I'm doing a little campaign consulting work…coming up with some branding for people on both sides of the aisle."
David, who was taking hand-outs from his very generous friend Chris Thieneman during Season 3, admitted that his "campaign consulting work" did not earn him enough to pay all of his bills.
"It's enough to pay some of the bills, but not enough to live here in America long-term," David said. "It's not what we want from a long-term perspective, but it is something in the interim while I'm still looking for a position."
David claimed that he's been offered jobs all over the world, and that people from everywhere from Oman to Thailand are asking him to come with for them.
"We're looking at every option right now," he said.
"It's not that I feel [certain jobs] are beneath me," David said. "There are certain jobs I can't physically do at 50 years old…if I put down [on a resume] that I was at McDonald's for 30 days, 60 days, people want to know why. When you say, 'I just took this job to have a job,' they wonder why somebody else wouldn't hire you."
Jenny brought up the fact that, when you're being forced to living in a storage unit as David and Annie were during Season 3, you can't be so picky about what position you accept. David attempted to explain why he hasn't accepted any of the "many" positions he's been offered.
"Coming back to the U.S. was very different than I anticipated," David said. "I was working in Asia, I was teaching economics in Thailand and China…I was making, even by western standards, a very good living. At 50 years old, it's hard re-entering the job market."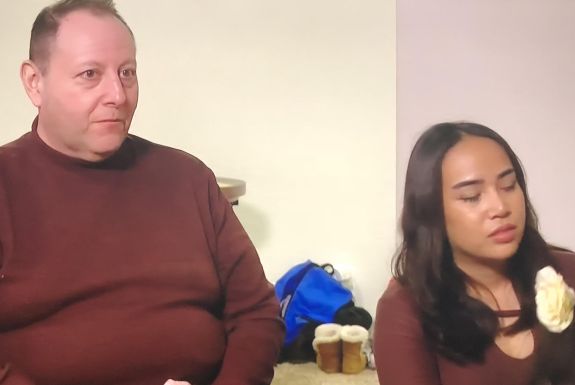 The couple claimed that they are considering moving back to Thailand, and that Annie is still not able to legally work in the United States because she hasn't received her work visa yet.
Annie and David confirmed that they are still living in the storage facility apartment. (During the interview, David insisted it was a "Manager's Unit"…)
"We've tried to do a few things to make it more homey, if you will," David said of his storage unit abode. "Chris did put in a larger hot water tank so we didn't have to take a two-minute shower, which is awesome."
Annie doesn't appear to be any more thrilled about living in their "Manager's Unit" than she was during the show. She stated that she really wants a new apartment and/or a car that has air conditioning.
"I look at David all time and say, 'You suck, you suck, you suck!'" Annie said.
The couple is about to celebrate their first anniversary on November 1. However, it doesn't sound like they will be welcoming the child that Annie wanted any time soon.
"I'm not sure at this point," Annie said, when asked if she still wants a baby with David. "I'm still living in the storage unit and I don't want to raise my children here…"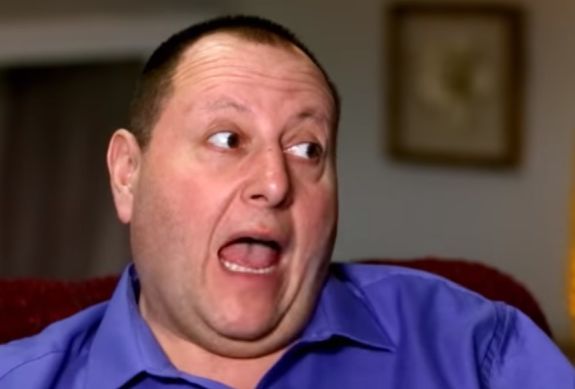 "If David [gets] some money, I think it's better to take [the] money and get a car with air conditioning," Annie said.
Annie said that her family is happy because she is able to send some money back to them in Thailand every month.
"We send a little bit, even when I do make some money, but it's all relative to what you make," David added. "It's something that's common to do. You help the family there."
To listen to David and Annie's full interview, watch the video below!
RELATED STORY: "90 Day Fiance" Couple Jorge & Anfisa Nava Answer Questions About Their Marriage, Having Kids, Their "90 Day" Cast Mates & More
(Photos: TLC)