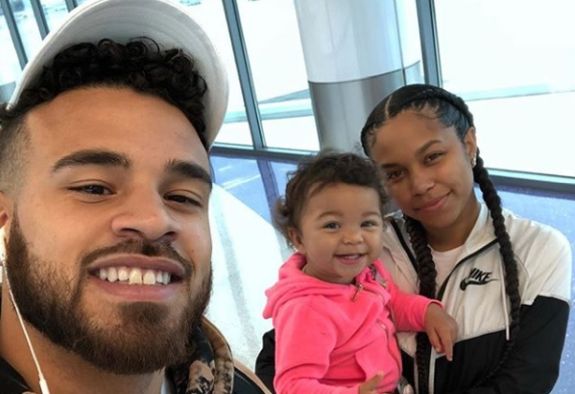 Back in June, The Ashley broke the news that MTV had chosen Cheyenne Floyd to take Farrah Abraham's spot on Teen Mom OG. Some fans were skeptical that The Ashley had the correct info, given that Cheyenne came from MTV's Are You The One? and wasn't even a teen mom, but MTV has finally confirmed that Cheyenne is, indeed, joining the show's cast.
On Thursday, MTV News announced that Cheyenne will join Catelynn Lowell, Maci Bookout, Amber Portwood (and now) Bristol Palin on the upcoming season of 'Teen Mom OG.' Later that day, Cheyenne and her baby daddy Cory Wharton did an Instagram Live to discuss how they ended up on the show and what fans will be seeing.
As The Ashley previously told you, MTV was seriously considering either Mackenzie McKee or Ryan Edwards' wife Mackenzie to take the fourth spot, but both options "fizzled out," according to one of The Ashley's sources.
"[The network] realized that the fans weren't going to be excited about either option," the source said. "So they continued to look."
The producers eventually decided on Cheyenne, who gave birth to daughter Ryder in April 2017. (Unlike the other 'Teen Mom OG' girls, Cheyenne was not a teen when she gave birth. In fact, she was 24 years old. She's now almost 26 years old.
"They contacted Cheyenne and sure enough we've been shooting right after I got back from ['The Challenge'] 'Final Reckoning,'" Cory said during an Instagram Live done on Thursday after the news broke.
Ryder is set on stuffed animals ?? pic.twitter.com/o4QBNhn2jJ

— Cory Wharton (@MTVCoryWharton) July 22, 2018
The Ashley's sources have been telling her for months that Cheyenne was filming. (Kail Lowry's old producer, JC Cueva was moved over to cover Cheyenne's story.)
"I think we're going to show people that your kid needs to come first and co-parenting can work," Cory said. "I think people are going to be surprised…I think it's going to be good for you guys to see me in a different light. This is just going to be a whole new side of me, and a whole new side of Cheyenne that you've never seen."
"I hope it reflects how we are as a family," Cheyenne said, after confirming that she and Cory are not currently dating.
Cheyenne was the original replacement for Farrah; however, Bristol was brought on when it looked like Maci was going to stop filming the show. As The Ashley previously told you, Maci refused to film if her ex, Ryan, was allowed to continue with 'Teen Mom OG.' MTV eventually sided with Maci and let Ryan and his wife Mackenzie go from the show.
(The Ashley's sources tell her that Maci didn't want Ryan filmed because she didn't want Bentley to be able to watch his drug struggles play out. Ryan and Mackenzie told a different story as to why he wasn't going to be on the show anymore, but this is the real reason!)
MTV decided to keep both Cheyenne and Bristol on the show (even after Maci began filming) because they wanted to bring the "five girl dynamic" to 'Teen Mom OG,' since it had been working well on 'Teen Mom 2,' The Ashley's sources told her.
TEEN MOM OG here we come October 1st !!https://t.co/oHMmuDF7Sz

— Cory Wharton (@MTVCoryWharton) September 6, 2018
The original 'Teen Mom OG' cast members are not thrilled with Cheyenne and Bristol joining the cast. As The Ashley told you, the originals were not told about the additions before the news of Bristol's casting was leaked to the media. In fact, in recent weeks, some of the original OG'ers voiced their anger about not being notified about the casting changes.
"Do I have anything against her as a person? No," Catelynn Lowell said of Bristol on Kail Lowry's Coffee Convos podcast. "Do I dislike her? No, because I don't know her. Do I think it's weird that you're throwing somebody onto the 'Original Girls' story? Yes."
"We started a franchise, built it, sustained it for 10 years, I think we deserve the respect to know what's going on when you're doing a major franchise shift [to something] we helped build, create and sustain. I feel like that's more of respect thing," Tyler Baltierra said.
On his Instagram Live, Cory stated that he's excited to meet the other 'Teen Mom OG' couples.
"We haven't met any of the other couples but I'm excited," Cory said. "We're not competing, it's not 'The Challenge,' so i don't have to vote these people in, so there's no reason not to like these people."
"I think we are bringing something new to the show. We get along, we co-parent," Cory said. "And, let's be honest, there are no other biracial couples on the show."
Fans were upset that MTV chose Cory, who is 27, and Cheyenne, who is almost 26, are on a show about teen parenting.
@AREUTHE1 and @ChallengeMTV alums Cheyenne Floyd and @MTVCoryWharton are joining 'Teen Mom OG.' ?‍?‍??? Teen Mom OG premieres Monday, October 1, at 9 p.m. ET. ❤️? https://t.co/FWRjc80PVG pic.twitter.com/tdVz5vJMMh

— The Challenge MTV (@Challengemtv___) September 6, 2018
"We know but we're young parents, and we co-parent and we're trying to figure it out," Cheyenne said on Corey's Instagram Live video.
"We're the same age as everyone on the show now," Cheyenne added.
Cory and Cheyenne confirmed that they will discuss on the show why Cheyenne kept it a secret that Cory was the father of Ryder.
The new season of 'Teen Mom OG'— featuring Bristol and Cheyenne– will premiere October 1 on MTV.
RELATED STORY: MTV Has Chosen A Totally Unexpected Replacement For Farrah Abraham on 'Teen Mom OG!' Get All the Details
(Photos: Instagram, Twitter)