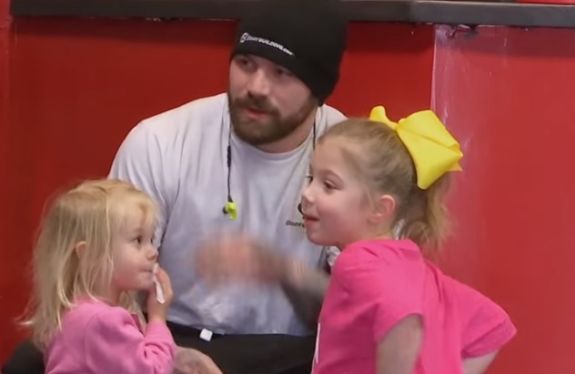 In a surprising turn of events, Teen Mom 2 dad Adam Lind has given up all of his parental rights for his youngest daughter, Paislee. On Friday, Paislee's mom (and Adam's ex) Taylor Halbur announced on Instagram that her husband, Joe Leonard, had officially adopted Paislee.
"It's official… Paislee Mae Leonard #happyadoptionday #happytears," Taylor captioned photos posted on Friday of Paislee and Joe together.
The Ashley can report that the court hearing to relinquish Adam's parental rights as Paislee's father took place today. According to court records obtained by The Ashley, Adam made a physical appearance in the courtroom.
He was asked various questions by the judge, and was required to verbally confirm that he was aware that he was terminating his rights to Paislee forever. Adam confirmed that he was aware that the decision was permanent.
"The court shall make an order terminating all parental rights and obligations in the parent or parents in which they have existed and releasing the child from all legal obligations to the parents, even though the proceeding for termination is brought by only one parent," the law of the state reads in regard to parental right termination. "The court shall also order that the parental rights are transferred to some other person or persons, or authorized agency as may, in the opinion of the court, be best qualified to receive them. The order may contain the power by the person or persons or authorized agency to consent to the adoption of the child."
Taylor has been with Joe since Paislee was very young. The couple got married in January, and Joe was was able to legally adopt Paislee as soon as Adam relinquished his rights. (Joe is already the father of a young daughter from a previous relationship.)
The Ashley can confirm that this court case was for Paislee only, and did not affect Adam's parental rights to Aubree, his daughter with Chelsea Houska. Adam still maintains all of his parental rights for Aubree.
Adam has been arrested several times this year alone,with one of those arrests being, in part, due to him not paying child support for Paislee.
On an episode of 'Teen Mom 2' last season, Chelsea stated that Adam was in bad shape financially.
"He has no bank account because that got closed," Chelsea said of Adam, who, at the time, was trying to get the amount of child support he pays Chelsea for their daughter Aubree lowered. "He has no vehicle; people are driving him around…When asked how he pays his bills, he says he doesn't. He has no job."
Chelsea has stated that her husband, Cole DeBoer, would love to adopt Aubree.
"In a heartbeat, Cole would [adopt Aubree]," she said in May during an appearance on Kail Lowry's Coffee Convos podcast. "But in order for that to happen, Aubree's dad would have to agree completely."
It is unlikely that Taylor and Adam's court case will be part of the next season of 'Teen Mom 2,' as it was not filmed and Adam has not (willingly) appeared on 'Teen Mom 2' since Season 7.
RELATED STORY: 'Teen Mom 2' Star Chelsea Houska Talks About the Relationship Her Daughter Aubree Has With Her Ex Adam Lind
(Photos: MTV, Instagram)