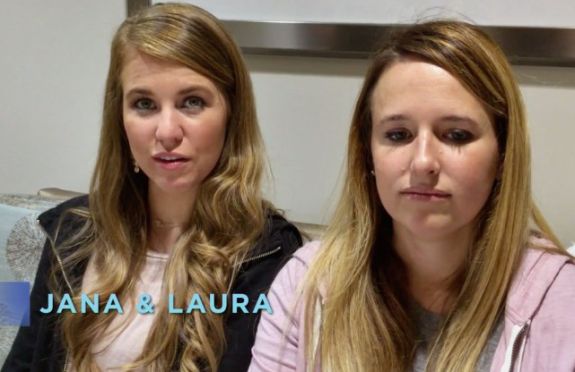 Jana Duggar's bestie, Laura DeMasie, is finally addressing the recent rumors that speculate that she is dating the Counting On star.
Laura, who has been appearing frequently with Jana on the Duggar family's show for the past few seasons, took to Twitter earlier this week to squash any suspicion that she and Jana are more than "just friends."
After a fan reached out to Jill Dillard's always-outspoken-on-Twitter husband, Derick, to ask if Jana is really dating Laura, Derick replied, "Uh no." 
Some fans didn't believe Derick, letting him know on Twitter that, even if Jana was dating Laura, the Duggars would not admit it, due to the fact that many of them have been outspoken against all things LGBTQ in the past.
"Derick you should have put just 'no' . the 'uh' implies you don't know lol, so this is not confirmation for the masses," one person tweeted to Derick.
"I said 'uh' because I didn't get the sense it was a serious question," Derick replied. "And your follow-up kinda proved my point."
Since fans weren't buying what Derick was selling, Laura swooped in to make things very clear.
"How about this then: No," she wrote in response.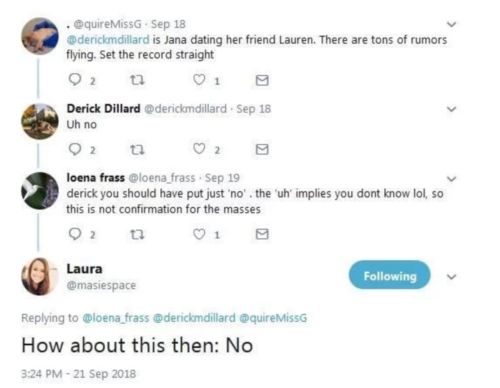 Unfortunately, 28-year-old Jana was not able to address the rumors for herself, as the Duggar kids seem to only be able to get social media accounts after they are in a courtship. (It is not known if this is an "official" family rule, but so far no Duggar kid has made their way to Instagram or Twitter before courting.)
While the "Laura and Jana" rumors are relatively new, speculation as to why Jana has remained unmarried, despite the fact that all of her of-age younger sisters have said "I do" has been happening for years. Jana has never directly addressed any of the rumors that have circulated about her love life (or lack thereof).
She did, however, reveal how it feels to be single and watching your siblings get married and have children. In an interview with Crown of Beauty magazine last year, Jana talked about how hard it can be to wait for her Prince Charming (emphasis on Prince) to find her.
"I know how it feels to wait for Prince Charming to come along," Jana told the magazine. "I'm still waiting. Waiting is not always easy. Especially in those times when all the married siblings are getting together and you can't go along because your not part of 'that' group. But waiting doesn't mean sitting and literally waiting. No, we need to be busy with where God has us and being content and joyfully serving Jesus there."
In the same interview, Jana said that her favorite Bible verse is Psalm 37:3-7, because she finds it relevant to her life.
"It speaks about trusting the Lord, delighting in Him and resting in Him, which comes down to being content and joyful with where Christ has you," Jana explained. "Wherever we are in life, there will be places we need to learn to be content…"
Jana making some delicious homemade bread for Christmas day! It's a family favorite. 🙂 pic.twitter.com/OSekB9Muoz

— The Duggar Family (@duggarfam) December 24, 2016
Back in 2016, Jana addressed her unmarried status during an episode of 'Counting On.' She confirmed that she's had plenty of interested suitors in the past.
"There have been different guys come along and ask but they haven't been, I don't know, the right one," Jana said in an interview. "I'm not just out to get married to the first one that comes along.
"[I'm in] this weird in between stage. I'm not a younger one, but I'm not an older married one with kids," Jana said. "[I'm] just being busy with where God has me right now and being content in this place and learning as much as I can and go on and live life."
Jana's father, Jim Bob Duggar has also stated that he has tried to find Jana a mate.
"Jana is one of the prettiest girls in the world and one of the sweetest girls," he told People magazine in 2014. "There have been a lot of guys who have been interested in her. I have gone to her about each one, and so far she hasn't felt that is the way the Lord is leading."
Wherever she's being lead, it's apparently not to dating her BFF Laura, though.
RELATED STORY: Jana Duggar Reveals Why She's Still Single & Talks Openly About Wanting to Get Married
(Photos: TLC, Instagram, Twitter)