Rest assured, folks: as long as young people are still making "oopsie" babies (not to mention irresponsible decisions), MTV will be there to capture it all on camera!
MTV announced this week that the "freshmen" of the Teen Mom franchise—the cast of Teen Mom: Young & Pregnant—will return to our TV screens on October 15 in new episodes that will make up Season 1B. All five original girls—Lexi Tatman, Ashley Jones, Jade Cline, Kayla Sessler and Brianna Jaramillo— will be returning for Season 1B.
In the season's trailer, we see that the drama will continue this season with the girls, their baby daddies and their families.
"Last season, five moms-to-be literally mommed up," the trailer lets us know.
(Insert eye roll here…)
"The babies have arrived," the trailer states. "But how do these moms handle what comes next?"
What comes next is apparently a fun-filled season of baby milestones, break-ups and even a potential physical fight or two. (I mean, this is a 'Teen Mom' show after all…there has to at least be some domestic violence shown…)
The trailer lets us in on some of what we may see this season. Kayla (finally, finally, finally) breaks up with Stephan for good, Jade and Sean deal with relationship drama, Lexi and Kyler try to make things work (even though he acts like he can't stand her 99 percent of the time), and Briana moves to Oregon.
As stated above, all five original 'Young & Pregnant' girls will be back, including Ashley, who, as The Ashley previously reported, proclaimed earlier this year that she was quitting the show. Back in June, Ashley went on an Instagram rant, claiming that she was portrayed as a "monster" during Season 1A, and that joining the show was the worst decision of her life.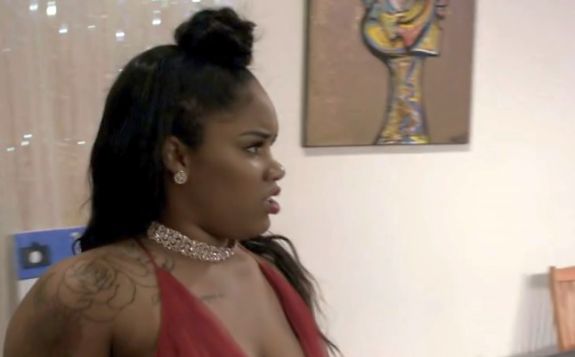 Judging by the trailer, Ashley will be bringing a heavy dose of her usual drama to Season 1B. We see her getting in a near-physical fight with Shen, the mother of her baby-daddy Bar.
"It's just hard," a tearful Ashley says later in the trailer.
'Teen Mom: Young & Pregnant' Season 1B premieres October 15 on MTV.
Watch the trailer below!
RELATED STORY: 'Teen Mom: Young & Pregnant' Star Ashley Jones Blasts MTV; "Joining This Show Was By Far the Worst Decision of My Life"
(Photos: MTV)