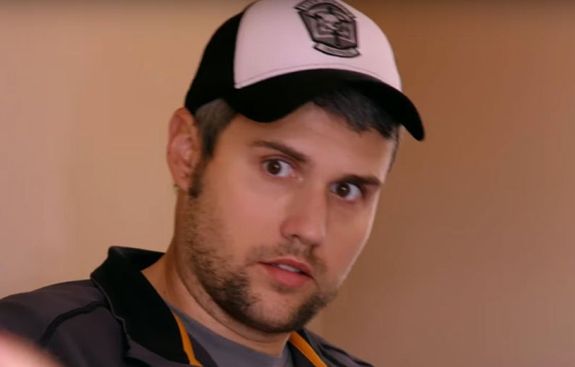 Ryan Edwards is reportedly back in rehab for at least the third time.
Radar Online is reporting that the former Teen Mom OG dad has been in an Alabama 'hab for at least a month. The Ashley's sources have confirmed that Ryan is, indeed, back in rehab.
Ryan, who is the dad of Maci Bookout's son Bentley, is expecting another son with his wife, Mackenzie Edwards. (She is due to give birth to a baby boy in about two weeks.)
Unlike his last attempt at rehab during the summer of 2017 (where he spent less than a month seeking treatment for a long-term heroin addiction), Ryan is reportedly doing a long-term inpatient rehab program this time around.
"[Ryan] isn't supposed to be out [of rehab] until February or March," Radar's source stated. (This would mean Ryan is doing somewhere around six months of inpatient treatment.)
This also means that Ryan will miss the birth of his second child later this month.
View this post on Instagram
"Mackenzie moved out of the lake house they were living in and is now living with her parents," the site's source stated.
While she may be away from her husband, Mackenzie has made it no secret that she plans to stand by her sobriety-challenged husband. Earlier this month, Mackenzie posted a photo of herself with Ryan to her Instagram account. The photo caused a lot of Mackenzie's followers to criticize her for staying with Ryan. Mackenzie, however, did not hold back in her responses to the nay-sayers.
"I'm so sorry but I will continue to stand up for what I believe in no matter how chopped, edited and jumbled it may be," Mackenzie wrote in response to one critic. "I have stuck by my husband through some of the darkest times imaginable. Have mistakes been made? Hell yes. Have they been accounted for, dealt with and resolved, yep. Why do I post pictures of my husband and myself? Because we do love each other. And that is real life. If you want to fault me for standing by my husband and sticking to my vows, then don't follow me."
Mackenzie has yet to comment on Radar's story, but the site claims it has two additional sources that back up the first source's story about Ryan being back in rehab.
Radar reached out to Ryan's father, Larry Edwards, for confirmation of Ryan's return to rehab.
"You know I can't comment on that," Larry said.
They also asked if Ryan would be present for the impending birth of his son.
"You know I can't say," Larry replied.
Radar also checked with Tennessee court clerks in Hamilton County and Red Bank to see if the rehab stay might have been court-ordered, but the clerks could not confirm or deny that.
As 'Teen Mom OG' fans know, Ryan has a history of substance abuse issues. In March 2017, he was issued a citation for "simple possession of heroin." At the time, police found 14 needles and a bag of heroin in Ryan's possession. Ryan was arrested again in March of 2018 and August of 2018 in relation to the original arrest.
Ryan was also caught by MTV-issued dashboard cameras nodding off at the wheel on his way to marry Mackenzie in May of 2017. The next day, Ryan checked himself into rehab for the second time. (In case you're wondering, Ryan's first attempt at rehab was back in December 2012, according to his ex-girlfriend, Dalis Connell.
Ryan and Mackenzie have both admitted that he "had a problem" in the past but have recently been claiming that he is clean and sober.
Back in July, Ryan and Mackenzie both proclaimed that Ryan was no longer using drugs. The couple got booted from 'Teen Mom OG' this summer. Although they claimed that MTV didn't want to film Ryan sober because he didn't bring enough drama, The Ashley told you what really went down! 
Anyway, The Ashley will officially confirm this if and when she hears confirmation from her own sources.
RELATED STORY: Mackenzie Edwards Calls 'Teen Mom OG' "Lame, Fake Boring & Scripted"