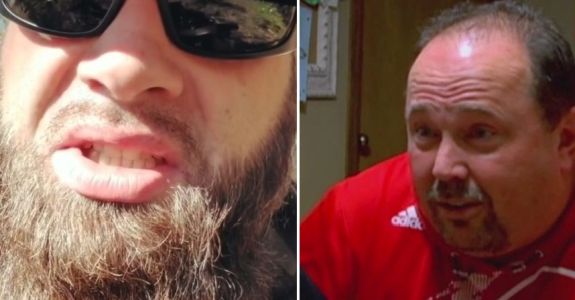 Just in time for Halloween, Jenelle Evans' husband David Eason has posted a creepy video threatening his former Teen Mom 2 co-star Randy Houska!
In the video, which was posted to David's Instagram on Wednesday, David (shown in extreme close-up) talks directly to Randy and offers to realign his jaw and pull his teeth out.
"So Mr. Randy. Let me ask you a question, punk," David says. "When's the last time you had your jaw realigned? You need to get it straightened up? I'll do it for ya, free of charge. Come on down to my dentist office, bud. I can even pull teeth. I can realign your jaw!"
The post has since been deleted from David's Isntagram account; however a Twitter user captured the video in full. (Be aware that the video does contain naughty language.)
Wow. If he hadn't already lost his mind, he certainly has now. Threatening @PapaRandlicious is a huge mistake. David is a #loser #abuser #scumbag pic.twitter.com/uWXjFJLG49

— Miracle Story (@theyhavethedumb) October 31, 2018
On his Instagram stories, David posted a screenshot of a tweet Randy posted on Tuesday, answering fans' questions about Jenelle's recent admission that she's having her jaw realigned. Randy, who is a dentist, was asked if the procedure Jenelle describes sounded feasible. (Many fans have speculated that Jenelle's jaw was injured by David during the domestic violence incident that occurred between the Easons earlier this month.)
Randy stated that, "Jaws are 're-aligned' after they have been 'unaligned,'" essentially saying that he, too, believes something happened to Jenelle that made her need to repair her jaw.
That didn't set well with David. He captioned the screenshot, "Someone take this mans dental license away!"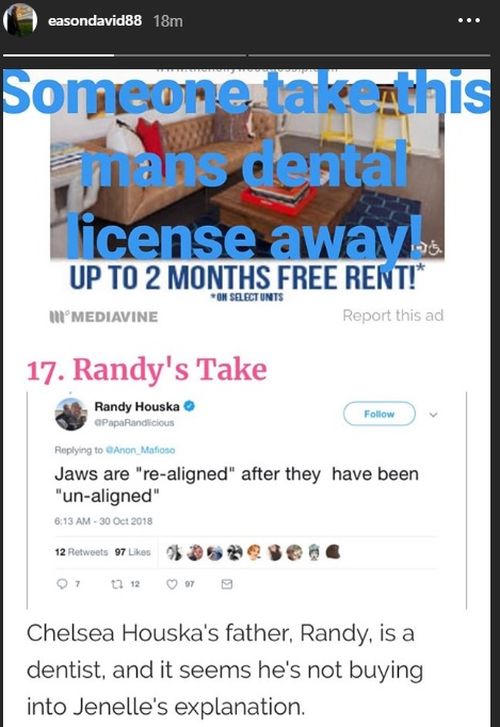 In a second video, David asks Randy why he has to keep "talking s**t" about him. He then growls, "I've got guns. Don't f**k with me."
David is most likely mad because Randy called him on Twitter out after The Ashley broke the news that a domestic violence incident had occurred on The Land on October 13.
David Eason is a tiny, insecure bully of a little man in an adult body. No child should be anywhere near him https://t.co/db2IeaZFej

— Randy Houska (@PapaRandlicious) October 18, 2018
David is no longer allowed to appear on 'Teen Mom 2' or participate in the filming of the show in any way, due to a homophobic rant he posted to Twitter in February. While he has attacked several of his wife's co-stars on social media in the past (most recently Kail Lowry, whom he attacked via Instagram comments earlier this week), this marks the first time that David has ever actually threatened physical violence toward any of them.
After fans brought the video to Randy's attention, he joked that "maybe I should send a cease and desist." (As The Ashley previously told you, last year Jenelle hired a random lawyer to send out cease and desist letters to her co-stars and various media outlets who write stories about her. Randy received one of the letters, so Randy's comment is obviously a nod to that ridiculousness.)
Fans advised Randy on Twitter to take out a restraining order on David, or to call the police. Randy has not yet stated publicly if he plans to do anything about David's threat.
At press time, Chelsea had not yet commented on the video.
"I hope Chelsea refuses to film unless Jenelle is fired after this… Sorry honey, you can't keep your man from making public threats, ..you gone," on person wrote in the comment section of David's post. "We all know they ain't choosing Jenelle over Chelsea."
Stay tuned; The Ashley will update this story when more information is available.
(Photos: Instagram, MTV, Twitter)