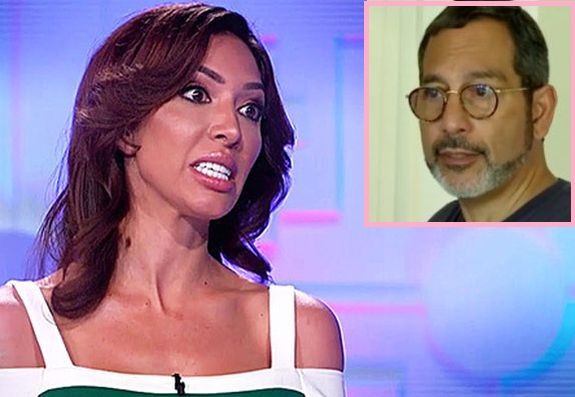 It's official: Farrah Abraham's "anti-bullying" boxing match against Nicole "Hoopz" Alexander is off.
Radar Online broke the news on Friday that the former Teen Mom OG star had pulled out of the fight, which was due to take place November 10 in Atlantic City. 
In an interview with The Ashley, Farrah's dad Michael Abraham said that reason Farrah pulled out of the fight was due to the fight's promoters not complying with their contract, as well as them not following through with their promises to promote "anti-bullying" with the fight.
Oh, and the fact that they added Mob Wives star (and known Farrah enemy) Drita D'Avanzo as the fight's officiant.
"The fight's promoters are the ones who leaked this story to Radar," Michael told The Ashley. "They have been in non-compliance with the agreements we had for the fight."
Radar's source claimed that Farrah had made huge demands– asking for 30 hotel rooms and flights for six people, etc.– but Michael denied that.
"Our requirements for travel— which were already agreed upon— are nowhere near as big as they said. It is very customary for this type of thing," he told The Ashley. "For the record, I have already purchased my own flight and hotel room. It is not out of hand to ask that her trainer and Farrah and her team be flown out to the fight!"
"Basically, this whole thing is their failure to comply with agreements," Michael continued. "We have not backed out. They're the ones trying to force Farrah to back out because they f**ked up.
Michael said that there were other big issues that caused Farrah to pull out. Michael stated that the fight's promoters refused to reveal which, if any, anti-bullying charities would be benefiting from the fight.
"We were very focused on the anti-bullying issue," Micheal said. "That's why Farrah agreed to do this fight. We have been on the promoters, asking them what percentage of the proceeds are going toward an anti-bullying cause, and what organization is it going to? Are we raising money or just awareness? Is the organization going to be at the fight? We are now a week out and we have nothing."
The addition of Farrah's nemesis, Drita, was another factor.
"We told them that 1) you need to take care of your contractual agreements and 2) you need to get rid of Drita," Michael said.
"Drita has it out for my daughter, and that's known," Michael added. "And now she's been put in a position of authority with this fight and that's not safe. Farrah does not have to put her life in jeopardy with someone like Drita…she is out of control. That person could do anything–bring weapons or whatever– and we're not going to play that game."
As The Ashley previously told you, Farrah and Drita had a very public spat this summer, with Drita threatening to whoop Farrah after the two had a disagreement while attending the same event in June.
"I'm going to slap the s**t out of that Mr. Ed-looking f**ker," Drita told Page Six of Farrah in June. "What she needs a good old-fashioned smacking."
Michael told The Ashley that Farrah is currently dealing legal issues stemming from her arrest in Beverly Hills this summer, so Farrah is worried that if Drita tried to start something with her, she wouldn't be able to defend herself.
"My daughter is still dealing with her court issue right now," Micheal said. "She's been working with the judge and the last thing she needs is to have a problem like Drita."
"They're setting my daughter up for failure," he added. "Drita is not qualified to officiate a fight."
In his interview with The Ashley, Michael made it clear that both he and Farrah respect Farrah's opponent Hoopz.
"All of us think highly of Hoopz," Michael said. "She's been very professional and is quite an athlete. We thank Hoopz. She's been working hard. Hoopz should be upset with the promoters, and the fans should be upset with the promoters."
In a statement posted to Instagram on Friday, Hoopz provided her thoughts on Farrah not fighting.
"She's using the promoter as a reason to back out," Hoopz wrote. "The fight is still happening with or without her. We agreed because of the cause, not because of Farrah. See everyone November 10th."
(Michael confirmed to The Ashley that a replacement fighter has already been found for Farrah.)
According to Radar's story, Farrah can be sued for "millions of dollars" for breaching her contract. According to Farrah's mom, Debra Danielsen, that's not going to happen.
"Farrah worked hard and in earnest; but this [promoter] hasn't provided any legitimate officials, ticket sale revenues, merchandise or press coverage," Debra told The Ashley. "Farrah is a single mom and doesn't have millions! This guy has seen Farrah as an easy ticket to get money from. He is not legitimate or a man of integrity going after a single mom."
Michael agreed.
"The terms were there, and we have all the proof [of contract] that we need," he told The Ashley. "Bring it on, this isn't the first time. If [the promoters] had pulled their mindset out of the gutter and treated people the way they were supposed to according to the agreement, everything would have been good."
In an Instagram Live video posted on Friday, Farrah– fresh outta court– gave her take on what happened.
"The celebrity boxing and the person who is charge, and the other promoters associated, does not know how to do business… I can't put myself in a liable situation where they have someone publicly saying that they want to beat my face in or things of that nature," Farrah said. "Putting me in a bad situation, a legal problem with police, so the best thing for me to do is stay away from that, so that's what I'm going to have to do per my legal and my anger management."
Since it doesn't look like we're going to get to watch Farrah box Hoopz, click here to watch her get knocked around the boxing ring while fighting a female opponent last weekend!
UPDATE: In an emailed statement to The Ashley, Boom Cups founder Michael Mak stated, "Farrah has not backed out of the fight…
Nothing has changed…"
Stay tuned!
(Photos: MTV, CBS, Instagram)